How To Carry A Dog On A Bike?
For many dog owners who love cycling, figuring out how to bring their furry friend along on their ride is a common challenge. While some dogs may be able to run alongside their owners, others may not have the stamina or ability to keep up. That's where learning how to carry a dog on bike comes in handy.
From using a specialized bike basket or trailer to ensuring your dog is properly secured and comfortable, I'll cover everything you need to know to safely and comfortably transport your four-legged friend on your biking adventures.
So, if you're ready to hit the road with your pooch by your side, read on to discover how you can accommodate your furry pal on your two-wheeler.
Why Cycle With Your Dog?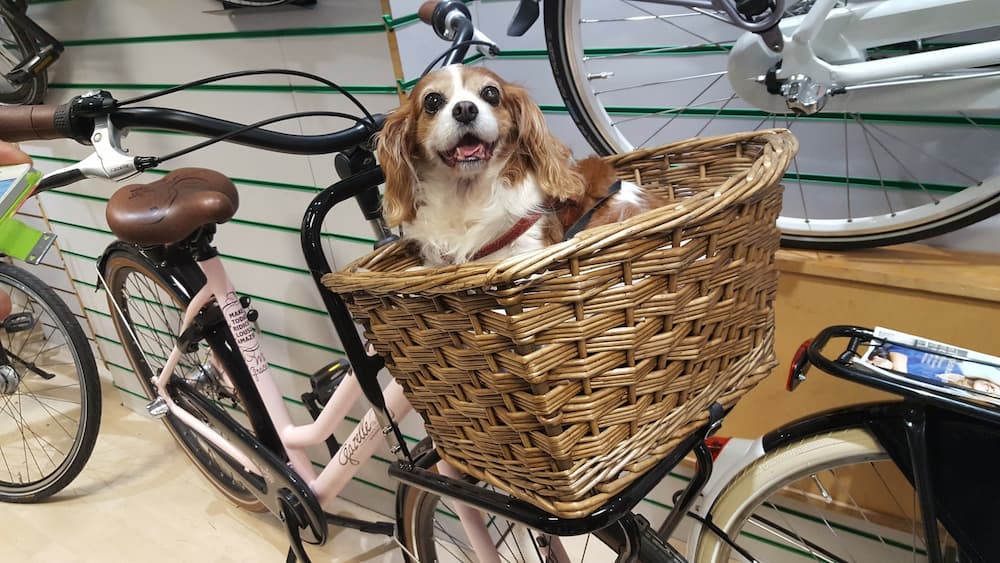 We're all trapped behind the four walls in this age. If you're busy at work, you'll barely have time to spend with your dog. Cycling with your canine is the perfect way for you to relieve stress, stay active, and bond with your dog.
You'll be amused at how eager and having a good time they are while outside in the fresh air. It will also be a terrific opportunity for both of you to explore. This is extremely beneficial to dogs' socialization and wellness.
How to Carry a Dog on a Bicycle?
Cycling with dog is in many ways easier than carrying cat on a bike. Still, you must realize that dogs also are unpredictable. Dogs may become uncomfortable as a result of the moving bicycle and try to escape from their secure position.
It can be hazardous even if you let them off the leash and trot alongside you. This is due to the instability of street traffic. After all, we all want to ensure that our dogs are safe. There are several methods for taking a dog on a bicycle ride.
How to Transport a Large Dog on a Bike?
Transporting a large dog on a bike might feel troublesome for a lot of people. So, we're here with some of the most effective solutions.
Cargo Bicycle
One of the most convenient ways to transport a large dog on a ride is to use a cargo bicycle. You may be familiar with it since it has been transporting children or other people, as we all know. However, they are also suitable for your dogs.
Cargo bikes are akin to any other type of bicycle. The only difference is that the rear wheel is 15 inches further back. Backing up the wheel creates an enormous amount of room that can be utilized to add more seating. This enables for more storage, a larger basket, or the transport of a larger dog.
These bicycles are typically large and heavy. Its structure is typically made of metal, which adds to its weight. The bicycle is more stable on the road thanks to the thick frame and wide-set wheels. As a result, both you and your dog will have a good time on the voyage.
It gives the rider maximum comfort in addition to stability. It's also quite wallet-friendly, which is an added advantage. This bike includes a folding basket for transporting your dog. The bicycle's style and aesthetics are pretty stunning. If you're looking to buy one, this could be a good option.
Dog Trailer
Another technique to never miss your "dog company" is to attach a trailer to the back of your bicycle. They adore this mode of transportation, much as children do.
Whatever size your dog is, from medium to huge, it will fit comfortably inside. This chariot-style seat behind the back wheel provides plenty of room for your dog to relax.
However, a leash should be added to the seat to prevent them from leaping out. The cushion, on the other hand, is both washable and removable. As a result, keeping them clean is a breeze.
There are numerous trailer alternatives available on the market. If you're set on including a trailer in your dog's purchase, there are a few things to consider. Quality, pricing, features, and weight capacities are among them. The warranty is another important thing to consider.
If you want to learn more about trailers, then make sure to check out our best dog trailer review where we have also picked out the best ones available in the market for you.
Related reading: Best Dog Trailer Reviews & Buying Guide
Trike
Trikes have their own set of advantages. Trikes are useful for a myriad of purposes. For starters, they give a cargo area in front of you. In a nutshell, it lets you keep tabs on your large dog. Next, it provides complete security as well as sufficient space for them to enjoy the view with the master.
How to Carry a Puppy on a Bicycle?
You can't put puppies on a bike like a large dog. They need more stable solutions as puppies tend to be jumpy. Let's explore our options now.
Front Bike Basket
We've all seen girls riding bicycles with baskets attached to the front. Smaller breeds of dogs can also be carried in these baskets mounted on the handlebars. Of course, larger breeds like Danes and Mastiffs are too large for your bicycle.
It's a fantastic choice for dog owners who don't want to leave their pets alone. It also comes with a clasp for your dog's collar. As a result, you don't have to be concerned about your pet becoming wounded. I still suggest you take some time to learn how to ride your bike with your dog in the basket.
Pet Backpack
This choice is distinct from the others. So, if you want to make traveling with your dog a little easier and more convenient, investing in a carrier backpack is a good idea.
We all know they aren't the type to sit around and do nothing. These backpacks, on the other hand, are made specifically for the comfort of your pets. They're also quite long-lasting. If you have small to medium-sized dogs, this is the perfect thing to have on hand.
Do you still have concerns that this backpack will be too small for your dogs? It does, however, provide safety features for them in addition to comfort. It also contains features such as side pockets for carrying dog equipment. The straps are stretchy enough to relieve pressure on your shoulders even if you carry the bag on your back.
You and your dog will be able to go on exciting rides with this backpack. For adequate airflow, the sides of this backpack are entirely ventilated.
In a purse
If you prefer to carry things in your hands, carrying the puppy in a handbag may appeal to you. These bags are also well-ventilated to allow for enough airflow. Just hang the bag on your shoulder when you ride the bicycle.
Carrying a purse has several benefits that may appeal to you. There is no way for the dog to escape or damage itself because it is chained on the top.
The purse as a whole has a lot of open room for your pet to sit comfortably. As a result, if you want to travel in style with your pet, a purse is the way to go.
Conclusion
Dogs are the most devoted pets you can own. That's the companionship you've always wanted, from their excitement whenever they see you to their protection. So, if you want to spend more time with your dog, going on a bike ride together can be a great place to start.
So, whichever option you choose, taking into account your budget and demands, we hope you and your dog have some of the best times of your lives together.