9 Best Front Bike Basket Reviews & Buying Guide
There isn't a single reason not to have a bike front basket. Some people complain that front baskets affect the aerodynamics and handling of the bike. Still, most of them won't be racing anyway. So if you're a casual cyclist, a front basket for your bike would be the best thing you can do right now.
However, the market is oversaturated with bike front baskets, and it's not that easy to find one that's right for you. To help you out, I'm going to share the top 9 best bike front baskets that you can buy right now. So, let's get started!
Best Front Bike Basket Reviews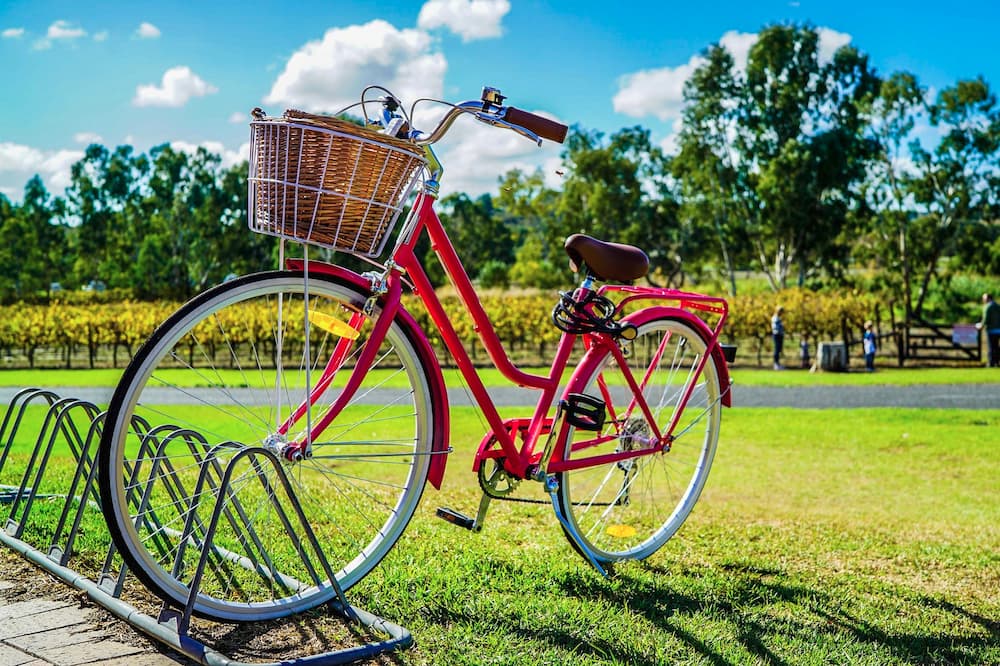 In this section, I'll review the best baskets (in my opinion) that I've come across during my research.
Related reading: Front Bike Basket vs Rear Bike Basket – The Feature Comparison
1. Retrospec Detachable Steel Apollo-Lite Lift-Off Front Bike Basket with Handles (Steel)
Retrospec Detachable Steel Apollo-Lite Lift-Off Front Bike Basket with HandlesCHECK CURRENT PRICE
Let's start with this alloy steel bike front basket from Retrospec. The Retrospec Steel Apollo basket is an excellent choice for anyone looking for a steel front basket for their bike. It features hooks for easy mounting and is roomy enough to store many items at once.
Since alloy steel is less prone to rust than regular steel, I'd prefer it over baskets made of steel. Plus, it's an integrated handle, so you can easily carry it in your hand.
Even if your bike's handlebars are narrower than usual, you should be able to adjust it by bending the hooks a bit, as they're pretty flexible. The basket is also suitable for the safe transport of pets.
They're also available in different colors. You can get them in black, brown, glossy white, lavender, moss green, and pink. The colors are very bright and deliver what they promise.
Product Features
Dimensions: 9.5″ x 14.5″ x 7.5″
Weight Capacity: 10 lbs.
Built-in handle for hand carrying
Six color options
Hook attachment system for easy attachment and removal
Made of weatherproof alloy steel
Pros
Lightweight and durable
Fits perfectly on almost all types of bikes
It can be used to transport pets
Cons
The durability of the handlebar hooks isn't the best
2. YLuBik Wire Bike Basket (Wire)
YLuBik Wire Bicycle Basket with HandlesCHECK CURRENT PRICE
Next up, I have this mesh basket from YLuBik. The advantage of mesh baskets is that I can use them to carry even the smallest things that would easily fall through the bars in a regular steel basket. They're also more malleable, so they adjust easily when I'm trying to fit something large in them.
This basket is made of steel wire, and the wire is thick and robust. It's a load capacity of 20 pounds, which should be enough for regular use. You can also use it as a bike basket for dogs. It's equipped with a handle that's very comfortable to grip. You need to attach it to your bike with the hook.
Product Features
Dimensions: 10.24 "x 7.87 "x 11.81"
Weight capacity: 20 lbs.
Mesh construction makes it convenient to carry smaller items
Made of thick and strong steel wires
Fastening system with hooks
Comfortable handlebar
Pros
Large basket for your transportation needs
No additional tools are required for mounting
Can carry a decent amount of weight
Cons
Doesn't fit perfectly for certain types of bikes
3. ZIMFANQI Bike Handlebar Bag (Insulated)
ZIMFANQI Bike Handlebar Insulation Bags 4L Bike Front Basket Storage with TPU Touch Screen Phone Holder Bicycle Handlebar Bag Bike Pouch for Outdoor Cycling CampingCHECK CURRENT PRICE
This handlebar bag from ZIMFANQI is unique because it allows you to carry small items while having a special place for your phone. The best part is that you can see and use your phone through a cover because the cover protects it from rain and weather while you read.
The size of this bag is medium. You can carry enough things in this 4-liter bag. It's made of 900D polyester fibers, and the zippers are rainproof, so the bag is weather resistant. The inside of the bag is covered with aluminum foil, which thermally insulates the bag. That's why you can use it for food delivery.
Aside from these great features, the bag also has waterproof zippers that last longer and won't rust. The zippers also have reflective elements on both sides to make them easier to find. Overall, this bag is an excellent choice for anyone who wants to use their phone while cycling.
Product Features
Dimensions: 9.21 "x 6.42 "x 2.83"
Weight capacity: 8 lbs.
A special place for the phone while it's being used
900D polyester fibers and rainproof zippers
The internal aluminum foil layer provides thermal insulation
Strap attachment system
Pros
Water and heat resistant
GPS option
Requires no additional tools for installation
Cons
Not for rocky off-road roads
4. ZUKKA Handlebar Basket (Plastic Wicker)
ZUKKA Handlebar Bike Basket,Front Handlebar Adult Storage Basket, Waterproof with Leather Straps,Bicycle AccessoryCHECK CURRENT PRICE
Next, I recommend this great handlebar basket from Zukka. This basket is made of high-quality wicker plastic that makes it waterproof and gives it the ability to withstand any weather. It will not splinter or break, no matter how hard you abuse it. It also feels soft to the touch.
Even though the straps are a bit tight, the leather feels genuine enough. The weaving is perfect, and those with experience in weaving will see that right away.
There are two adjustable straps on the back that you can use to attach the backpack to your bike. Since it's equipped with a strap system, it's comparatively difficult to put it on and take it off. It's woven with a man-made weaving technique and looks as good as it seems.
These baskets come in three finishes. You can get them in brown, natural or white color.
Product Features
Dimensions: 10.63″ x 8.27 "x 8.07"
Weight capacity: 15 lbs.
Made of the high-quality wicker plastic
Waterproof and weather-resistant
Hand braided technology
Adjustable attachment straps
Pros
Environmentally friendly handwoven basket
It can be easily adjusted
Sturdy overall construction
Cons
Small form factor, not suitable for off-road use
5. Retrospec Bicycles Cane Woven Basket (Woven Cane)
Retrospec Bicycles Cane Woven Rectangular Toto Basket with Authentic Leather Straps and Brass BucklesCHECK CURRENT PRICE
Then there's the Cane Woven basket from Retrospec, a leather basket that comes in three colors. You can get it in either dark stain, natural or black. The basket itself doesn't weigh much and is one of the lightest baskets on the market.
They're woven from durable cane, so they'll stay intact even if they're heavily used. You'll need to attach them to the front handlebars of your bike with genuine leather straps with brass buckles, and you won't need any tools to do it. Despite the great features, there's one limiting factor: the weight capacity of 5 pounds.
Although this bike basket is suitable for all kinds of lightweight stuff, I recommend it especially for transporting your pet. I've found that carrying a pet with a weight capacity of five pounds is effortless, and the compact dimensions of the basket give your pet enough room to sit inside.
These baskets come in black or natural colors. There's also a dark stained version, where the natural surface is stained a dark brown.
Product Features
Dimensions: 14″ x 10″ x 9″
Load capacity: 5 lbs.
Available in three stains
Made of high-quality leather
Authentic leather straps with brass hardware for attachment
Weight capacity of 5 pounds
Pros
Environmentally friendly basket
Strong and durable construction
Lightweight
Cons
Cannot carry loads over 5 lbs
6. COFIT Detachable Bike Basket (Cloth)
COFIT Detachable Bike BasketCHECK CURRENT PRICE
The COFIT bike basket is one of the best baskets for carrying groceries and food. With this waterproof and weatherproof basket made of 600D oxford fabric, you can transport everything safely. You can use it as a grocery bag, pet, camping, outdoor carrier, and commuter organizer.
The COFIT bags are available in black and gray. No matter which one you choose, the lining is white. The bag has a carry handle with tear-resistant sponge pads that protect your hands during heavy lifting. The bag also offers several additional pockets. It offers both interior and exterior pockets so you can keep your stuff organized.
Overall, this front bike basket is a perfect size. Even though the basket is reinforced, it doesn't seem too heavy. The padded handles are also convenient.
Product Features
Dimensions: 13.78″ x 8.27″ x 9.45″
Weight Capacity: 11 lbs.
2 additional side pockets and one front pouch
Durable aluminum handles with tear-resistant sponge pads
Made of waterproof oxford fabric
The lightweight aluminum frame is also rust-resistant
Pros
Easy to attach and detach
Sturdy basket with resistance to water and heat
Versatile and esthetically pleasing
Cons
Not the best option for small bikes
7. Wald 157 Giant Delivery Basket (Large)
Wald 157 Giant Delivery BasketCHECK CURRENT PRICE
Next, I've another recommendation for an alloy steel delivery basket, this time, it's the Wald 157. If you need a large delivery basket, this is the one you should choose. This alloy steel basket can carry heavy loads. In addition to its high load capacity, it's enough space to carry large items.
The depth of the basket is 9 inches. However, this basket is also quite heavy. The entire package weighs a little more than 7.7 pounds. Because the basket is so large, it's not compatible with bikes that have quick-release or suspension forks.
On the other hand, it's not for everyone either. I recommend it for those who need a large carrying capacity. You can get it in either black or silver, so I'm confident you'll be able to combine it well regardless of your bike's color.
Product Features
Dimensions: 18.25″ x 12.25″ at the bottom
Weight capacity: 15 lbs.
One of the largest front baskets
Reinforced back, bottom, and front for added durability
Available in two finishes
Comes with reinforcement straps for added stability extra strength
Pros
Can carry large products
Robust construction
Fits almost all types of bicycles
Cons
Stability issues have been noted after loading with heavy loads
8. Wiel Bike Basket With Liner (Foldable)
Wiel Bike Basket with Black Liner Rainproof CoverCHECK CURRENT PRICE
This one from Wiel is a unique basket. It's made of alloy steel, but it offers much more than just the necessities. The package provides a waterproof liner/lid that allows you to completely cover the basket. The basket is huge and provides a capacity of 14 liters.
In addition, the basket is foldable. It's heavy and massive, but you can easily fold it up and store it away. Although it's a large and sturdy bike basket, it's very lightweight. The cover is made of 210D nylon and PU. So you can turn the basket into a rainproof basket within seconds.
In its price range, it's definitely one of the best compact bike baskets on the market.
Product Features
Dimensions: 13.3″ x 9″ x 7.8″
Weight Capacity: 33 lbs.
Made of high-quality weatherproof alloy steel.
210D nylon and PU cover can easily turn it into a rainproof basket
Folding design
Pros
Lightweight but durable
Most suitable for high handlebars
Easy to assemble
Cons
Doesn't come with mounting hardware
Smaller than most baskets in the same price range
The protective cover isn't the best
9. Onway Handlebar Bike Basket (Basket and Bag Combo)
Onway Front Handlebar Bike Basket Folding Bicycle Lift-Off Basket with Carrier Tote Basket Liner Bag, Brown/BlackCHECK CURRENT PRICE
Last but not least, I have the handlebar bike basket from Onway. This package includes a bicycle front basket and a liner bag that fits perfectly inside the basket. I love this combination because it's a two-in-one product. You get a bag and a basket.
The basket has a hook mount system. But it also has two screws to help you secure the basket. Overall, it's very convenient to carry all sorts of things on your bike.
Product Features
Dimensions: 13.4″ x 7.9″ x 7.9″
Load Capacity: 15 lbs.
Provides both a basket and an inner bag
The carrying bag provides ample capacity, fits well in the basket, and is high quality.
Very lightweight
It can be attached with the included screws
Pros
Quick to unfold and fold
A reasonable amount of space, similar to a shopping bag
No annoying odor, even after regular use
Cons
Not recommended for grocery delivery or commercial use
Front Bike Basket Buying Guide
Now that you've looked at the top products on the market, it's time to choose just one. We know it can be hard to choose one product out of all these great offerings.
That's why I'd like to give you a few tips on how to find the right front bike basket!
Related reading: Best Rear Bike Basket Reviews & Buying Guide
Material
There are bike front baskets made of three different materials: metal, fabric, and plastic. All of them offer unique features. Metal baskets are the most common, and there are a lot of materials available. Steel baskets are cheaper, but we recommend aluminum baskets because they're lighter and rust-resistant.
Fabric baskets are very versatile and lightweight. They can hold quite a few items, and sometimes they can even be stretched to accommodate other things. However, they aren't as durable as metal baskets.
Finally, there are baskets made of synthetic material. They're sturdier than baskets woven from fabric or bamboo. They also last longer than fabric baskets, but they weigh more.
Size
Front bike baskets for bicycles come in different sizes and shapes. There's no golden rule for choosing the size because each of us has different requirements. So you should go by your needs. Among the listed products, the Wald 157 is the largest basket with a volume of 2835 cubic inches. The smallest basket, the YLuBik, has only 950 cubic inches of space.
I don't think a larger basket is practical for everyone. A bigger basket means you've to carry extra weight all the time. On the other hand, a larger basket doesn't necessarily give you more cargo capacity. So you've to weigh whether or not you'll use the extra space the basket provides on a regular basis.
Weight Capacity
Size isn't the only factor determining how much you can carry in a bike basket. Another essential factor you need to consider in this case is the weight capacity of the basket. Two baskets of the same size can have different weight capacities, which means that you can't carry the same load in them.
Among the products listed, the cane basket from Restrospec offers the lowest load capacity at only five pounds. Wiel's bike basket provides the highest load capacity, at 33 pounds.
However, a basket with a larger capacity isn't immediately suitable for everyone. You should opt for a basket with a higher capacity if you plan to carry heavier, but not larger, items. The weight of items depends mainly on the material they're made of. So you should first find out if you need a bigger basket or a basket that can carry a heavier load.
Mounting
There are two main types of mounting systems. You can mount the basket either with built-in straps or hooks.
Both are convenient, but we think that straps are much better in terms of versatility. With them, you can easily attach the basket to any bike, while hooks aren't compatible in every case. Even if they're compatible, they can cause a rattle. However, hooks are much more durable than straps.
Ease of Detaching
While straps are more versatile, hooks allow you to detach the basket quickly and easily. So, if you're someone who likes to remove the front basket often, you should opt for a basket with a hook system.
Space-Saving Design
Not all front baskets are space-saving. Some have special features, such as foldability, that can help you save space when you don't want to carry anything in the basket. There are also find collapsible baskets on the market, but they're rare to find.
COFIT, Wiel, and Onway baskets offer a foldable design among the products reviewed. So you can save a lot of space when you don't need the basket.
Additional Compartments
If you want to carry different things in the front basket, it can be beneficial to have a basket with additional compartments like side pockets or front pouches.
Even if these compartments aren't too spacious, you can easily carry small accessories in them. Besides, you can find them quickly when you need them.
Handle
If you need to carry the basket by hand, a bike front basket with an integrated handle is a good idea. Some baskets are equipped with built-in handles that allow you to easily carry them by hand.
Thermal Insulation
Although thermal insulation isn't everyone's cup of tea, there are baskets with thermal insulation on the market, and they work pretty well. These baskets have a lid that closes tightly and are lined with insulating material. I highly recommend buying insulated baskets if you're delivering food on your bike.
Several baskets offer insulation and are listed above. The ZIMFANQI basket is a good example. Even though it doesn't offer much space or cargo capacity, it outperforms most competitors with its insulating properties.
The liner bag provided with the Onway basket is also insulated and offers a lot of storage space. So you can easily transport food in it.
Color
Bike front baskets come in a variety of attractive colors. If you value the esthetics of your bike, you should think carefully about the color of the basket. There are many options, so you should take your time.
Safety Features
Some bike front baskets come with additional safety features. Even though straps and hooks do an excellent job of securing the front basket to the bike, they may not stay secure if someone tries to snatch them. In such cases, baskets with lockable lids and extra screws to secure them will undoubtedly save your stuff.
Frequently Asked Questions
Do you need a front bike rack to install a bike front basket?
No, you don't need any additional add-ons like a front bike rack to your bike for attaching a front basket. The basket you buy comes with either straps or bolts that allow you to attach the basket directly to the bike.
Conclusion
These were the best bike front baskets you can get right now. Even though they're all fantastic, you mightn't be satisfied with every one of them.
I suggest you take a look at our buying guide to find out what factors you need to consider when choosing the best front bike basket for you. I'm sure you'll find the right one if you follow these guidelines.