7 Best Dog Bike Trailers 2023 – Reviews & Buying Guide
Are you someone who loves to cycle around the neighborhood, but it breaks your heart to leave your little pup behind? Or do you simply want your fluffy friend to breathe in some fresh air and enjoy the summer breeze? If yes, we are here to tell you what you need to look for in a perfect bike trailer and what's best for your pet dog.
Cycling is one of the best exercises out there. Its refills your energy and makes you feel fresh as a peach. And having your favorite pooch sit behind you all that time would be a delightful treat: for the dog and yourself!
We know that cycling also needs a great deal of attention on the road. With that, it might worry you about your pet's safety and comfort on bumpy roads. So your best dog bike trailer will be steady, breathable, and most importantly, safe and secure.
7 Best Bike Trailers for Dogs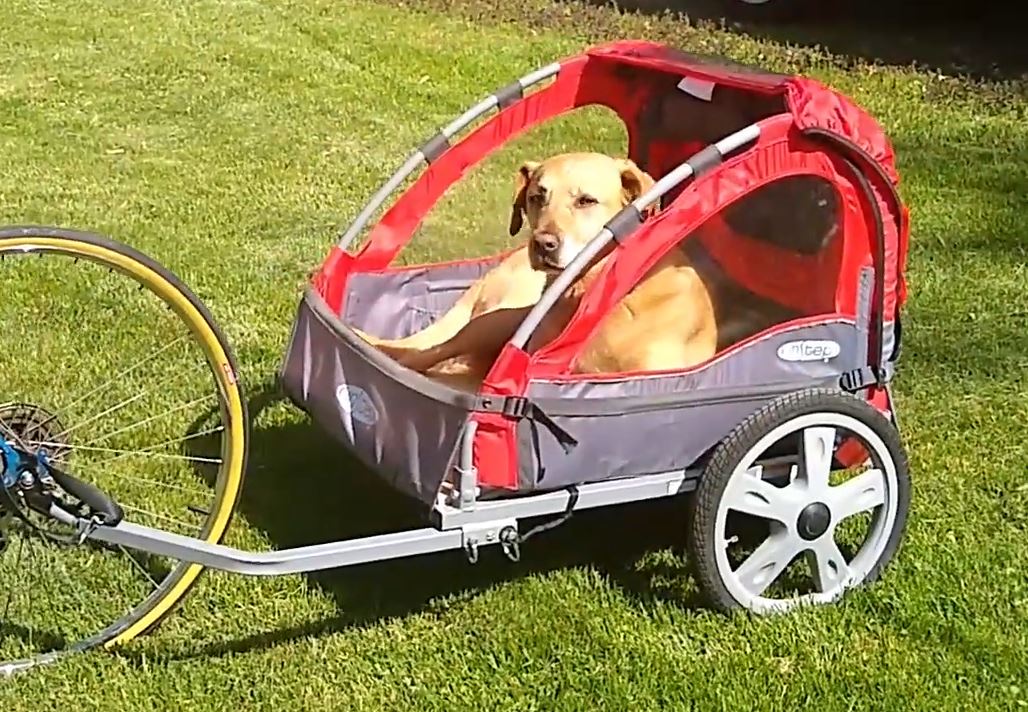 For you to decide which trailer works best for your pet dog, let me guide you fully: on what factors to consider before buying one and which trailers are the best on the market.
Here is my selection of the 7 best dog bike trailers.
Burley Design Tail Wagon Trailer (Feature Rich)
Burley's trailer makes it to the top of our best bike trailer list for dogs and for good reasons.  Burley has come up with a wagon trailer that is so spacious; it can hold up to 75 pounds. This means two medium-sized dogs will easily fit in this trailer.
The perfectly airy mesh windows mean dogs have enough ventilation for a breezy outing. While the side battens provide maximum stability, the hand brake, safety flags, and reflector ensure safety. You can also clean all that dog hair out after every other outing by just removing the floor. You'll probably love the pocketed tailgate that makes loading and unloading straightforward.
Features:
Airy Mesh Windows
Removable Floor
Dual Working Covers
Visibility and safety Flags
Water-resistant Zippers
Quick Folding System
Cargo pocket tailgate
Kickstand
Pros:
Spacious capacity
Maximum safety features
Breathable waterproof covers
Convenient folding
Easy Cleaning
Cons:
Schwinn Rascal Bike Trailer (For Small and Medium-Sized Dogs)
Schwinn's Pet trailer produces trailers for smaller dogs, with a capacity of up to 45 lbs. With the strong coupler, you can safely attach your cycle to the trailer without having to look back every minute. The seats can be removed and washed as often, while the attached leash can be adjusted to any length.
This trailer folds perfectly to a tiny size, making it comfortable for you to carry it anywhere you go. The covers have breathable windows while the tires are air-filled, you pumping them with other bicycle pumps is always an option. However, you might have to be careful on bumpy roads. For your toy poodles or pugs, this is one of the best bike trailers on the market and will guarantee a smooth ride.
Features:
Washable seat
Adjustable leash
Foldable steel frame
Extra quality coupler for attachment
Pros:
Simple assembly
Removable seat
Easy tire filling
Smooth ride
Cons:
Wheelbase not wide enough
Aosom Elite Bike Trailer (Collapsible Design)
Among the best bicycle trailers for dogs, Aosom's Elite assemble is one of our favorites for its unique ability to ride on both smooth and rough roads, thanks to its 20 inch double rear wheels. This means you can take up your little fluffy friend to great adventures in the wild.
The reflectors and visibility flags give enough safety even in dim light situations. This easy assemble, quick collapsible design has a size that can fit small or medium dogs. Along with spectacular airing covers, this trailer has zips on all four sides. So your pet dog can breathe in that freshness by just peeping out-front, back, or top.
Features:
Fast collapsing assemble
Moisture and UV light resistant cover
All side door zips
D-ring security
Rough road efficient
Quality Safety accessories
Pros:
Affordable
Roomy
Quick detaching wheels
smooth and rough roads capable
Enough Storage
Cons:
Plastic attachments are comparatively delicate
Best Choice Stroller and Trailer (Dual Purpose)
Equipped with safety flags and reflectors, this is a versatile product that can easily change into a stroller. This trailer from the Best Choice brand is one of the most bought assembles for its good looks and fine features.
It might not be the most spacious for your big friend, but it is surely considered one of the top-selling from our list of best bike trailers for dogs. The fabric window will keep out all those bugs and flies away from your dog, as the brake system ensures full security.
Features:
Dual usability: stroller and trailer
Hand lock system
Stroll Hitch
Fabric Window
Weather-resistant materials
66 lbs. capacity
Pros:
Looks attractive
Untroubled Assembly
Sturdy riding
Removable pillow seating
Durable
Bug-free covers
Cons:
Not enough space for big dogs
PetSafe Steel Pull Behind Bike Trailer for Dogs (For Large Dogs)
Petsafe designs dog trailers keeping in mind that some dogs may not fit in the usual average sizes available in the market. This one comes in two sizes. Larger dogs can find a comfy spot inside this well ventilated, weather-resistant trailer. This one has extra stability for its large wheelbase, so dogs with joint issues or older ones can enjoy bump free rides.
The covers are waterproof and will protect your pet from bad heat. The nicest feature for us has to be the several pockets where you can keep your pet's water holder, snacks, or even that extra leash or hitch if the first gets lost. So we made sure this steel-made ride makes it to my best dog bike trailers list.
Features:
Dual Sizes
Large wheelbase
Several multi-use Pockets
Variable-length leash
Water-resistant covers
Additional hitches
Pros:
Maximum Ventilation
Incredibly stable
Multipurpose holding pockets
Washable pillow
Cons:
Aosom Elite-Jr 2-in-1 Trailer/Jogging Stroller (Affordable)
If you are someone who goes out for a good cycling and walking session but can't leave your pet friend at home, this could be the one to impress you. This convertible and super budget-friendly trailer can also be used as a stroller.
Although this trailer isn't for a tricycle owner, this design makes for a breezy and protective trailer with both zippered and non-zippered ventilation systems. Swiveling front wheel, along with back wheels, makes it perfect for all kinds of rides.
It does not have a safety leash, but the D ring and storage space makes up for it and earn it the place among the best pull behind bike trailer for dogs.
Features:
Jogger plus Trailer dual design
Water and UV resistant Oxford fabric
Zippered doors
Comes with a D ring
Fast folding wheels
Removable hitch
Pros:
Convertible design
Simple Assembly
Multiple entering doors
Adequate space and ventilation
Weather and dust protecting fabric
Cons:
Booyah Large Dog Stroller/Jogger
One of the affordable products among the best dog bike trailers is this Booyah stroller plus trailer that fits large dogs inside its breathable, spacious assembly. This stroller has wheels that set-back for extra stability when a dog enters the trailer. The suspension is available, while the braking system allows both sudden brakes and slow deceleration.
The sides stay sealed in place and create a secure surrounding while the top is open. The wheels are made of aluminum, so they will stay rust-free, while you could remove and wash those cushions ever so often. This large trailer is a good choice if your dog is old, wants to go out but can't.
Features:
Dual-mode stroller/trailer
Washable cushion
Lockable front wheels
Flexible braking system
Aluminum wheels
Adequate storage space
Double entry ways
Pros:
Easy to assemble
Extra stability for old dogs
Storage space available
Removable Pillows
Great for large dogs
Cons:
Uses fabric in front instead of the deck for protection
A bit bulky
Dog Bike Trailer Buying Guide
Among all these dog bike trailers, which one should you choose? Below, we've discussed all the components that a good pull behind trailer for dogs should have.
Related Reading: How To Carry A Dog On A Bike
Size and Capacity
When it comes to the best bike trailer for dogs, size does matter! If your dog is a beagle or poodle, a maximum capacity of 45 lbs. will be enough. However, if your pet is good in size, like a golden retriever or English mastiff, you might want to measure the insides for assurance. 60 to 75 lbs. will be a good size; make sure you sit your pooch inside at least once before buying. It could be comfortable and roomy.
The Connecting Hardware or Hitch
There is a universal hitch, and there are ones that you need to adjust. A dependable hitch will make sure your trailer does not tumble off if you cycle fast or take a tight turn. A good dog bike trailer will have a hitch that makes a rough ride, a steady one.
Handling and Maneuverability
Your dog will either love or hate cycling with you, depending on how the trailer moves around. The handling will largely depend on how large the pet is or the trailer itself is. A bicycle trailer should be light enough and easy to move around, on turns and stops especially.
Construction Materials and Durability
How long your trailer lasts will largely depend on its construction and materials used. Framing plays an important role and often makes a difference in all the bike trailers for dogs. Steel is heavier but a lot more durable than aluminum. Good quality material will most definitely determine the durability of your trailer.
The plastic needs to be of good quality. Frames will be mostly made of steel, sometimes aluminum. If your dog is heavy, it's best to go for steel. For smaller, lightweight constructions, aluminum frames suit better.
It is also significant to consider the cover fabric or mesh material as a low-quality one that will result in frequent tears. Oxford fabrics work well, as they are breathable, water and weather resistant.
Storage
A larger dog bike trailer usually comes with storage space. If extra pockets aren't there, this storage space can help you keep your dog accessories and additional gear when you are out.
Styling
Few trailers are compact and bag-like. Few look more like strollers. This will be a personal choice depending on how you or your dog likes it. Some of the bicycle trailers have an open top, while some have zippered sides. Consider the ventilation factors, colors, and compactness for the style you like.
Suspension
If you only ride around smooth town roads or around the pavement, the suspension is unnecessary. The bumpier the ride, the more you need a good suspension. A reliable pet bike trailer has superior suspension, meaning the jerk on a rough road will not sweat you sweet cur.
Wheels
A long lasting bike trailer for dogs will come with fast releasing wheels made of aluminum that prevent rust. Look for double rear wheels and lockable, swiveling front wheels. These provide more stability, flexibility as well as security.
Flooring
The floor on which the dog will rest has to be a hefty one. For flooring mats, we usually recommend rubber in comparison to decks. Rubber makes for hard and steady flooring and does not wear away so easily.
Entry and Exit
This is primarily important for the ease of your dog to enter or get out of the trailer. Equally important is whether you can clean it comfortably through the entrance. Some dogs shred a lot of hair, few others. Good dog bicycle trailers will have easy entering and exiting facility.
Alternative Uses and Versatility
There are many trailers; even a few we have shortlisted among the top picks of trailer for dogs that are convertible. These versatile assemblies are surely worth considering, from trailers to joggers and from a stroller to trailers.
Dividers and Kick-Stands
Dividers will be needed if you travel with two dogs. While kickstand will support your resting trailer if you plan to stop during your ride.
Exterior Pockets
If you are someone who likes to take more than just a water bottle while out on a ride with your dog, exterior pockets are a great feature in all dog bike trailers. Although not mandatory, this helps you carry extra leashes, gears, or treats for your pet for a longer ride.
Extras
All trailers come with leash hooks. These will make sure your pet does not run away every time it gets exciting. Safety flag and reflectors are important for low light riding and ensure safety for your pet.
Braking System
A sturdy braking system is pivotal in ensuring safety for yourself and your dog. If you are a fast cyclist or the area where you ride has bumps and tight turns, consider buying a trailer that comes with a flexible braking system. Good braking will ensure both sudden and stable stopping and steady decelerated halts.
Warranty
If you have never bought a bicycle trailer for your dog before, we highly suggest you buy one that offers a good warranty. You might even consider a warranty ensuring trailer if you have confusion over dogs' to trailer 'size.
Bike Trailer for Dogs Frequently Asked Questions
How can I attach the dog trailer to my bike?
Dog bike trailer is conventionally hooked to your cycle's rear using a tow bar. The first step would detach the fast release by removing the spring bolt, turning over the rear wheel's lever.  Then fix the hitch of the trailer to your vehicle's axle.
After installing the hitch through the holes, reattach the quick release and lock it tightly by closing the lever. Next, fix the tow bars and align them in place. Check if it's locked properly, and you are good to go.
You can find more information in our article about how to attach bike trailer.
How much weight can a dog bike trailer handle?
For this, you should find out the towing or trailing capacity of the pull behind bike trailer for dogs that you plan to buy. Weigh in your dog properly and make sure your dog weighs less than the trailer's labeled towing capacity. To give you an idea of the capacities, a dog weighing 120 lbs. will be comfortable inside a 35 to 40 lbs. capacity trailer.
Are Bike trailers for dogs safe?
They are completely safe. The construction of the trailer will depend on the materials used. If you buy one of our recommended dog bike trailers, you will well-constructed trailers that are safe. Make sure you follow all the instructions and install the trailer properly.
We also suggest you drive carefully and at a good pace. For additional security, look for a wide base, safety flags, radiators, and efficient connectors. You may also consider buying a trailer with a flexible braking system if that is your concern.
How do I clean a dog bike trailer?
You can clean it with either soap water, or mild detergent. We recommend you use mildly warm water and detergent solution to clean any fabrics in the trailer. You may want to line-dry the covers instead. Remember to never use any strong chemicals or solutions like bleach.
Can I put my Dog in a Child Bike Trailer?
We highly recommend that you buy a specialized dog trailer instead of using a child bike trailer. Child bicycle trailers are different from the ones made for dogs, as they have plastic sides that prevent airflow inside the trailer.
The dog won't be able to enjoy the side views either. Trailers made for children are less flexible. The seats are fixed to their places and prevent the dog from turning and looking back with a child bile trailer, many important features like leash connectors.
Four-sided mesh, or even roomy space, will be missing, which usually comes with a pull behind bike trailer for dogs.
Final Words
If you are already having thoughts of taking your dog out for that long bike ride, we suggest you hold on to that thought and buy yourself and your fuzzy friend a long-lasting, comfortable, and rock steady pull behind bike trailer for dogs.
Cycling together will be great for both of you, while your pet friend can enjoy the wind and the sun without taking a step. The trick would be knowing what to buy and what features to look for. We hope our guide and reviews of the best dog trailers for bikes help you make the right choice. Happy fluffy riding!
Related Articles