How To Carry Water On A Bike?
Dehydration is one of the most dangerous things to suffer from when you're cycling. This is why drinking water while riding is very important. Even if you're going for short 10 to 20-mile rides, you should be able to carry at least one or two bottles of water with you.
However, most people fail to carry an adequate amount of water with them when they're out cycling. In this article, we'll make your life easier by sharing some amazing ways in which you can carry water on a bike. So, let's get right to it.
How to Carry Water on a Bicycle?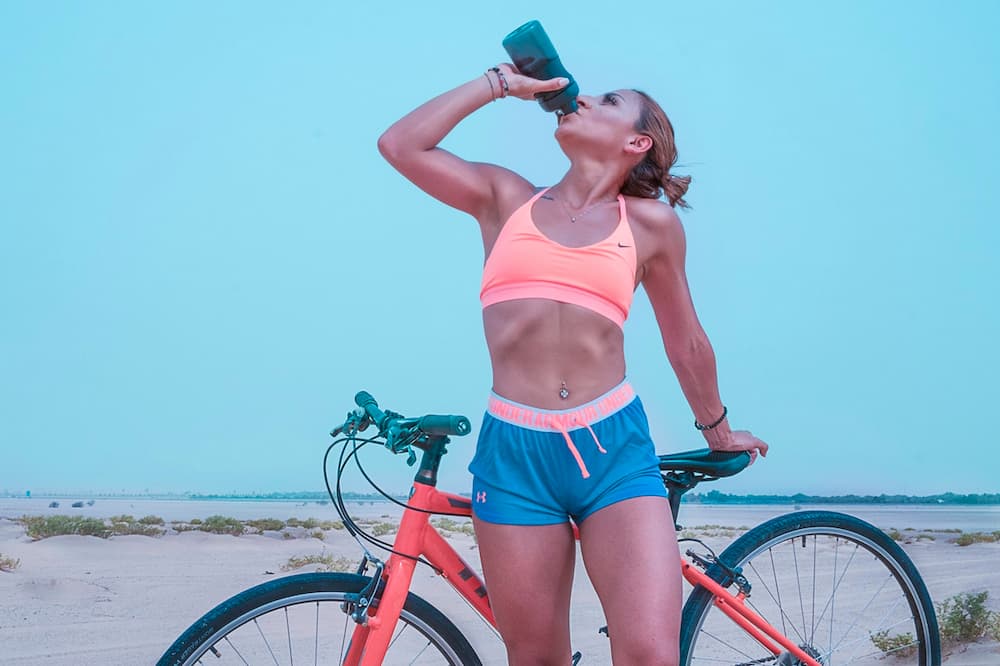 Carrying water and other drinks on a bicycle is extremely easy if you just know the proper technique. We've discussed some of the most convenient ways below.
Bottle In Cage On Downtube
USHAKE Water Bottle CagesCHECK CURRENT PRICE
This is perhaps the most common way of carrying water on a bike. Most bicycles are equipped with bottle cages on the downtube (and you can easily install it even if you bike does not have one), and if your bicycle doesn't have one, you're just unlucky. Bottle cages are the stock way of carrying your water bottle. They do, however, have some limitations.
These cages won't let you carry huge bottles. Rather, you'll be able to carry typical "Sports Water Bottles". This also means that you won't be able to carry a lot of water with you. However, if you're going for a 10 or even 20-mile ride, you may be more than okay with this method.
Hip Packs
Hip packs are amazing ways of carrying different things without disrupting your cycling experience. These packs are designed to allow your bike to comfortable and without any obstruction. Most hip packs are designed to hold one or more water bottles. If you want to carry an extra bottle of water without any disturbance and if you're comfortable carrying these, then you should definitely get one of these.
Fanny Pack or Waist Pack
evoc Hip Pack Pro Hydration Waist Pack with 1.5L BladderCHECK CURRENT PRICE
Fanny packs are waist-mounted bags that are more convenient than backpacks, and they come with a drink tube that will allow you to route the tube straight to your mouth. If you don't want to carry any water bottles with you and if you go for short rides, then you can definitely get one of these.
In fact, if you want to carry more water along with the remaining water bottles, even then you can go for this method. However, this may not be very comfortable if you're already carrying a backpack.
Soft Bottles
HydraPak SoftFlaskCHECK CURRENT PRICE
If you want to carry a water bottle in your jersey or tracksuit, then you should definitely consider getting a soft bottle. In fact, if you want to carry a water bottle in your backpack or any other sort of pouch, then we highly recommend checking these out.
Soft bottles offer tons of features that can make your experience more comfortable. For starters, you'll be able to squeeze these bottles in your jersey pockets or stuff them into your pouch or backpack even when they're almost full. This means these take up the least possible space while carrying.
Wearables
Eyourlife Wearable Hands Free Wrist Water BottleCHECK CURRENT PRICE
There are many wearables that you can purchase. One of the most amazing types of wearables that we've come across till now is the one that you put in your hand. These pouches aren't like regular backpacks or fanny packs.
Rather, they are designed to fit around your forearm, and they stretch up to a considerable area around your arm. The bladder is spread across the entire wearable, and there's a drinking valve on top that'll let you take a sip when you want to.
We've found this amazing, but we aren't sure whether this is for everyone or not. Not everyone may feel comfortable carrying a liter of water around their forearm. Some people reported that such wearables tend to tire out their arms fast. However, given that you won't even need to work with your hands much, we don't find this problematic. Rather, it's a great way of staying hydrated over time.
Hip Flasks or Water Belts
G-Run Hydration Running Belt with BottlesCHECK CURRENT PRICE
You'll find different hip flasks on the market. These flasks will allow you to carry a significant amount of water. However, these require a special cage that will either come with the flask or needs to purchase separately.
Would you require one of these flasks if your bicycle already has a water bottle cage? No. However, if you want to carry more water than your bike currently can, then you can definitely install one of these.
Behind the Seat Water Bottle Cage
TriSeven Premium Cycling Saddle Cage HolderCHECK CURRENT PRICE
The space behind the seat is always or mostly empty. You can always utilize this space if you want to carry more water than you currently can. There are multiple behind-the-seat water bottle cages that you can purchase. These usually allow you to carry one or more water bottles. Plus, they come with pockets that'll help you with other essentials as well.
When should you carry these packs? Well, if you don't want to install a water bottle cage on the downtube, or if you don't want to carry any type of pouch by yourself, then carrying these would be a great option. They won't slow you down, and you'll feel as if they don't even exist! They are extremely lightweight too, so you won't have to spend any extra energy carrying them!
Bottle Holder for Handlebars
VLTAWA Bike Water Bottle HolderCHECK CURRENT PRICE
If you want to keep the water bottle in your hand's reach all the time, then you should definitely get one of these. Bottle holders for handlebars are meaningful mods that can be purchased at a low price. These are very easy to install, and they make carrying water bottles very easy.
What's more, is that they allow you to carry your water bottle at your hand's reach. Whenever you need to take a sip, you won't have to stop. You can keep on paddling and take a sip with your free hand.
Some people may feel uncomfortable with the extra weight on their handlebars. However, if you're looking forward to a way to make your drinking experience more convenient, then this is one of the best methods for you. Plus, it'll help you carry more water than usual as well.
Water Holder on Lower Seat Tube
We've already seen how you can attach a water holder just underneath the comfortable seat of your bicycle. In this method, you'll be installing the water holder on the lower seat tube of your bike. The lower tube of bikes is rarely used. In fact, not many accessories are designed to be installed there, and if you install anything there, it's not supposed to obstruct your pedaling motion.
This is also a great way of increasing the overall carrying capacity of your bike. However, this may not be the most convenient way of carrying water. Although the position of the cage will ensure that it doesn't obstruct the motion of your feet, you'll still have to get off of a bicycle to free the water bottle from the cage.
Backpack With Hydration Compartment or Hydration Backpack
Neboic 2Pack Hydration Backpack Pack with 2L Hydration BladderCHECK CURRENT PRICE
Backpacks are the best way for carrying tons of stuff at once. If you can get yourself a spacious cycling backpack, you'll be able to carry a lot of water with you. Thankfully, most of us have a backpack or two.
If you're going for a 20 or even a 30-mile ride, you'll be able to carry enough water for yourself in any backpack. When you're going for such rides, chances are that you're going to return to your home once you're done. So, you won't need to carry anything extra either.
So, backpacks can essentially be used instead of all the other techniques that we've talked about till now. However, these don't come without any drawbacks. First of all, carrying tons of water on your back won't come without any performance penalty. You're likely to suffer from back pain if you exert yourself too much. Then again, you're likely to perform worse with the bag than without it.
However, if you want to carry a lot of water with you during the rides, then you should definitely consider carrying a backpack with you.
How to Carry a 20 Liter Water Bottle On a Bike?
Carrying 20 liters of water bottles on the bicycle is no small feat, especially given that each bottle cage doesn't allow you to carry more than one liter of water.
So, what should you do when you have to deliver a 20-liter water bottle on your cycle? If you must carry a single can that holds 20 liters of water, then the only method that you can follow is the following.
To do this, you need to tie the water bottle to the rear rack of your bike. You can also tie it in the same way you would tie a pannier to your bike. In that case, you can tie it somewhere along with the front wheel of your bike, but that's bound to make navigation tougher.
This is why we highly recommend trying the water can on the rear rack. However, even that's going to create a huge imbalance in the bicycle. Then again, you won't be able to take that water easily.
So, if you must carry that amount of water, we recommend doing so in multiple smaller containers or bottles. If you do that, you'll be able to carry a huge amount of water without creating any imbalance in the bike or disrupting the navigation. Then again, it'll be easier for you to take that water.
Conclusion
You can easily prevent dehydration if you know how to carry on a bike while cycling.
Bottle cages on the downtube, hip packs, fanny packs, soft bottles, wearables, hip flasks, behind-the-seat water bottle cages, and bottle holders for handlebars are all great ways to do it. I recommend the TriSeven Premium Cycling Saddle Cage Holder as it is installed behind the seat to carry the water bottle. You will be able to not only utilize space, but it is also very lightweight.
If you need to carry a 20-liter water bottle, then the water bottle needs to be fastened to your bicycle's back rack. But, it is still safer to make sure to only carry water in small portions.