How To Lock Multiple Bikes Together?
If you are planning to cycle with friends or family, knowing how to lock multiple bicycles together is crucial to ensure their safety.
While using a single lock may be convenient, it's not always secure enough to protect all the bicycles. This guide on how to lock multiple bikes together provides various options and techniques to keep your two-wheeler secure and deter thieves.
From using a cable lock or a U-lock to intertwining the bicycle's wheels or using a locking station, there are several ways to lock multiple bikes together. By mastering these techniques, you can cycle with peace of mind knowing your rides are protected, and your investment is secure.
How to Lock Two Or More Bikes Together?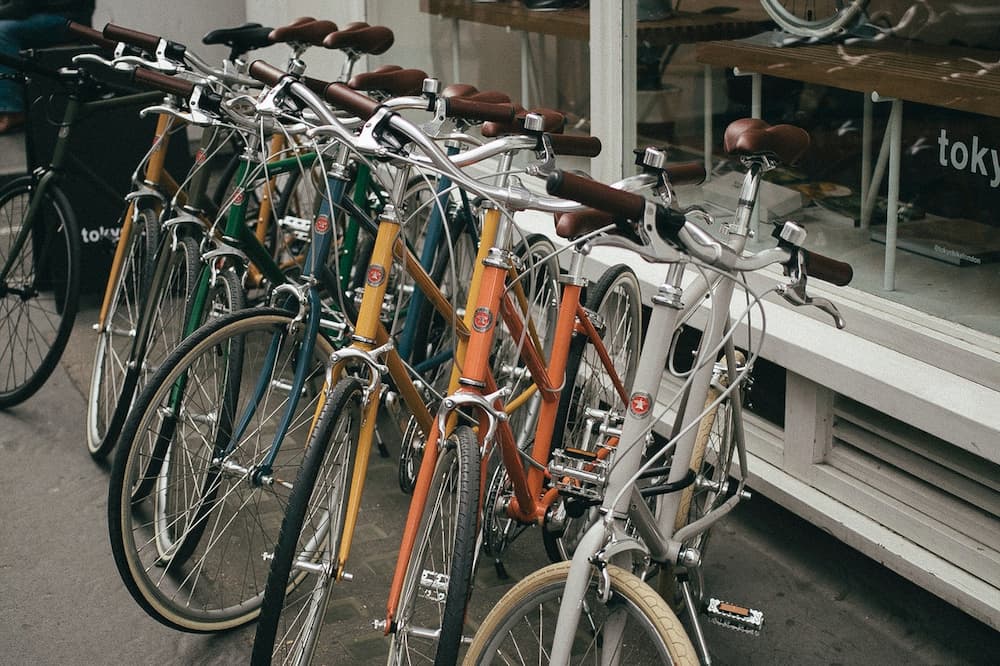 Since bike thefts happen all the time, it's important to lock up your bikes within seconds.
Whether it's in the middle of a busy street or in the garage of your apartment, whenever you need to park your bikes, you should strategically secure them with locks and ties.
Tie with Cable Lock
A long cable lock is all you need to tie your bikes through and around until the end loops meet the lock. With a 6′ coiling able with loops, you can tie six bikes together. Wrap the cable around the farthest bike top tube and through the cable loop similar to a noose.
The closest bike gets the loop and is padlocked on the other side of the cable. This method requires the cable to pass through a secured bike rack.
Chain and U-lock
A chain is preferable for up to 4 bikes to keep them secured and easy to transport. If the number of bikes exceeds 4, a long chain isn't a good solution.
Choosing a Fixed Object
Bicycles are only secured if they're well attached to a fixed object. Make sure you have got an immovable object nearby that can't be deformed or moved. If it's a metal railing, you'll need to tie your bikes to that railing.
Hiplock Homie
Ultimate security for multiple bikes is possible with the Hoplok Homie. It's a 1.5m long, secured and hardened steel chain with shackle. The product is designed to protect multiple bikes together. In addition, the Hiplock Homie is very robust and protects the frame and the wall hook.
Locking Bikes in Garage
You'll need a D-lock, a standard Kryptonite cable for all the frames, and another D-lock for the last bike to lock more than six bikes. Also, an Oxford HD chain lock can help you lock multiple bikes together.
The product has a double padlock that's well made and has a steel shackle. If you want to lock multiple bikes and attach them to a wall, you should screw a chain and anchor bolted into the wall.
Related reading: How to Lock Your Helmet to Your Bicycle?
Locking Two Bikes
You should park the bicycles next to each other, preferably in opposite directions. Position the bikes so that the seat tubes of the two bikes are close together. Then, a U-lock can go around any solid object near you and around the two seat tubes. You just have to figure out how to carry the u-lock with you.
You also need to use two cable locks that go through the wheels and frames simultaneously.
Kryptonite U Lock
The Kryptonite KryptoLok Series 2 lock with 4 feet cable can help you lock two bikes together. The thirteen-millimeter-thick steel shackle can withstand cuts and violent attacks.
The crossbar design provides increased protection. The ability to secure two bikes with this U-lock depends entirely on the types of bicycles you have. For two road bikes, the nine-inch deep U-lock is more suitable.
Locking up Two Bikes with 1 Mini Lock
Master Lock 8170D brings you a heavy-duty U-lock with two keys and a hardened steel body. This lock is enough to lock two bikes with the help of a strong iron fence or other secured object.
For more than two bikes you can proceed with the same steps. But in this case, you need more locks and a fence or an object you can rely on.
Expert Tips on How to Lock Multiple Bikes Together
Make sure you use a strong and durable lock, otherwise you'll lose two bikes at once when the thief breaks it open.
Try to park and lock the bikes in a busy place where the thief has no privacy to tamper with the lock or try to cut the bike lock.
Don't leave room inside the U-lock for a crowbar.
Place the lock in a location inside the bike frame where it's more difficult for the thief to access it.
Never use the lock inside the wheels. The thief could easily detach the wheel from the bicycle.
Related reading: How To Carry a Jacket On a Bike?
Final Words
No matter what brand you use, make sure you use a high quality lock. Don't just take the cheapest U-lock in town, because that's usually of inferior quality.