How To Carry A Laptop On A Bike?
Some things are simply indispensable these days, and one of them is the laptop. Although transporting a laptop is usually not a big problem, it can be pretty tricky if you want to transport it on a bicycle safely.
To make things easier for you, I am going to share all the ways you can carry a laptop on a bike.
After reading through this article, you will learn several viable ways to transport a laptop on a bicycle so that you can choose the best possible option for you.
Which Is The Best Way To Carry a Laptop On Bike?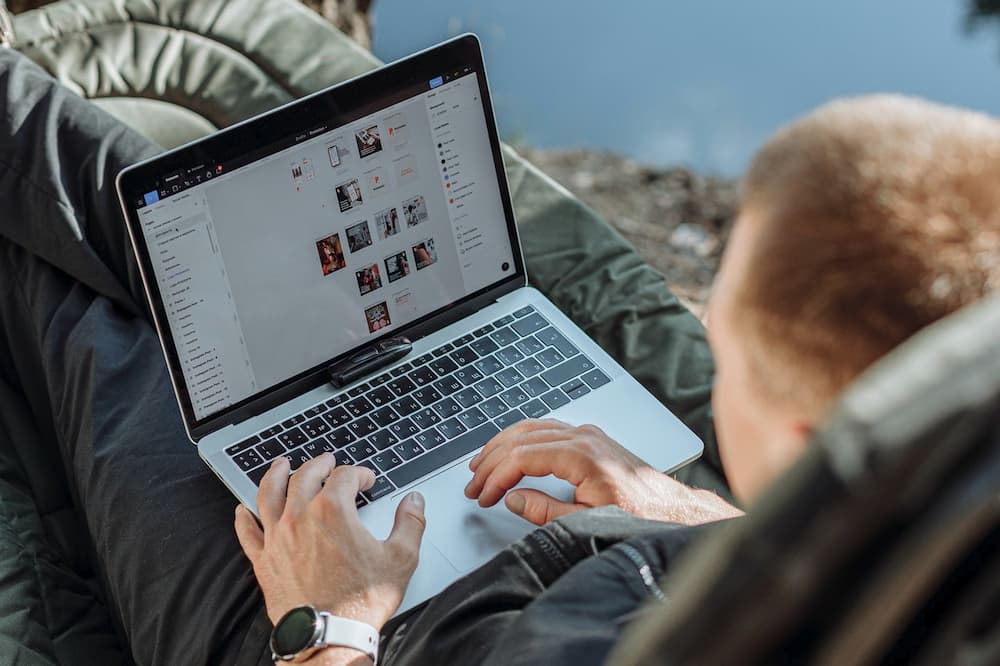 There are several ways to carry a laptop while riding a bicycle. Pick the one you like the best.

In Laptop Backpack
Volher Laptop BackpackCHECK CURRENT PRICE
First, you can try to carry the laptop in a laptop backpack. These backpacks differ from regular backpacks. They usually have a special compartment protecting your laptop from scratches and dents.
Usually, you can get such a backpack in the store where you buy your laptop. If you don't get it when you buy your laptop, you can also buy it from an online marketplace. I recommend you do that because there you have got a wider choice of products.
When you buy a laptop backpack, make sure that it's waterproof. Imagine carrying your laptop in a backpack while it's raining. If the bag isn't waterproof, you'll only damage your laptop and the data stored in it.
For this reason, a laptop backpack is considered a safe way to carry a laptop on a bike. In fact, you can easily carry your gear in these backpacks no matter what mode of transportation you use. The backpacks are comfortable to wear on your back. You can choose the bag depending on the size of your laptop, so you won't be forced to carry a bigger bag than absolutely necessary.
If you're looking for a high-quality laptop backpack, we highly recommend this one from Volher.
You can get it in 17 inches and 15.6 inches, making it perfect for carrying laptops. Even though it's a laptop backpack, it's just enough space to carry other things besides your computer. It's built like a tank and is water-resistant, so you don't have to worry about your laptop getting broken in the rain. You can also store other electronic devices in it.
It also has extra features like a hidden anti-theft compartment, an integrated USB charging cable, and a USB port that makes the bag even more functional and secure.
I believe this is definitely one of the best backpacks you can buy right now.
In Regular Backpack
Under Armour Adult Hustle 4.0 BackpackCHECK CURRENT PRICE
If you don't want to get a laptop bag, you can get by with a regular backpack. The problem with regular bike backpacks is that they aren't built to carry a laptop, unlike laptop backpacks. If you don't feel like carrying other things besides your computer, then you'll be fine with a laptop backpack.
However, if you want to carry other things with your laptop, a regular backpack is better.
If you're looking for a high-quality backpack, you can check out this backpack from Under Armour Adult Hustle. It's loaded with great features, so you're sure to love it. It features water-resistant pockets where you can store your electronic devices. It also offers a 15″ laptop compartment where you can safely carry your laptop. Therefore, this backpack is much more suitable for carrying a laptop than regular backpacks.
It offers two side bottle pockets and a D-ring on the front for additional attachment points. The bottom panel is sturdy and abrasion-resistant. There's also a large compartment for shoes and laundry on the bottom of the backpack, making it even more practical.
In Messenger Bag
OIWAS Messenger BagCHECK CURRENT PRICE
Another option is to carry your laptop in a bike messenger bag. Messenger bags are a great way to carry your computer if you don't want to carry a backpack around. They rest comfortably on your shoulders and back and are also very light and comfortable to use.
The main problem with these bags is that it's challenging to find a messenger bag where you can comfortably carry your laptop, as most bags aren't designed to hold a computer. To help you find the right bag for you, I will introduce you to a product I came across during my research.
I'm recommending none other than the OIWAS messenger bag. This bag is made of waterproof material with a thickness of 600D, so it can protect your electronics even in the rain. The bag weighs only 1.22 pounds and has a capacity of 14.2 liters. You can carry it either as a messenger bag or as a laptop bag, thanks to its design.
Not only does it have a high-quality finish, but it also looks very premium. All in all, it's a great bag that I highly recommend if you're looking for something other than a backpack.
In Bike Pannier
Rhinowalk Bike Bag Waterproof Bike Pannier BagCHECK CURRENT PRICE
Finally, we have got the bike panniers. They're kind of the universal solution for carrying everything on your bike. As long as you have a bike pannier, you don't have to worry about carrying stuff on your bicycle. They attach to the rear rack of your bike and allow you to carry a ton of things at once.
Most bike panniers are water-resistant in some form. But since you'll be transporting a large electronic device in particular, we recommend you buy a waterproof pannier. And for that, I highly recommend the pannier from Rhinowalk.
Rhinowalk offers a high-quality, lightweight, and waterproof bike bag that you can attach to your bicycle's rear rack. It's a beautiful bright yellow color that you can see from afar, even in the dark. It's made of high-quality double-sided 840D TPU material, which is IPX5 waterproof. It's also wear-resistant, cold-resistant, tear-resistant, and heat-resistant. You don't need a rain cover to prevent water from entering.
Besides, it offers a capacity of 27 liters. It has various compartments to carry multiple devices and documents, including your laptop.
As you can see, it's not only built like a tank but also in a way that makes carrying laptops easier. That's why I can recommend this pannier.
Preparing Your Laptop For Bike Commute
You simply cannot depose your laptop in your backpack without proper protection or precaution and the right preparations. Laptops are expensive devices, and if you consider carrying one on a bicycle, it can be frail as well.
On bumpy roads, and with so many shock vibrations to absorb, laptops are prone to permanent damage when carried recklessly on a bike. That's precisely why it is so important to know the right ways of preparing your laptop for bike commuting.
Some cyclists pedal their way to work and need to carry laptops every day, even if it's for short distances. Some cyclists like to carry their laptops with them when they are off for a long bike tour. Some even backpack their laptop with the rest of their clothes and gear.
No matter what kind of laptop you have or what bike riding you are in, you may want to keep a few factors in mind before being able to safely ride your bike with a laptop.
Factors to Consider Before Carrying a Laptop on a Bike
When you are aware of the dangers and circumstances involved in riding your bike with a laptop on it, you would be able to ensure the safety of your laptop much better.
Here are a few factors to consider before you head out with your priced and valued gadget:
Where Do You Prefer to Carry It?
You have two options when it comes to carrying your laptop while you are riding your bicycle. You can either carry it on your bike or you. This would depend on your comfort.
Sometimes, it is easier to not have anything on your and keep your laptop and everything else on the bicycle. However, your body can take a lot more shock and vibrations, saving your laptop all the shock absorption it would have been subjected to otherwise.
Moisture is Your Laptop's Enemy
Humidity, moisture, rain, or snow. You would want to keep your laptop or any other electronic device miles away from any kind of liquid. Even humidity can ruin your laptop and damage it permanently.
For that, you may want to keep your laptop inside a waterproof, padded, and laptop specialized cover to begin with. Checking on the weather before heading out, even if you are using a well-padded shell, the climate must be mostly dry when you are out.
Vibrations Can Damage Your Laptop
Other than moisture, jerks, vibrations, and too much shock absorption by the laptop body can damage the internal parts of your device.
SSD, HDD, batter, screws, and bolts, all run the risk of becoming loose if you are on a bumpy road. If you are traveling far with your laptop on gravel roads, you would need to make sure anything other than your laptop absorbs the shock, even if it's your own body.
It is worth noting that SSD or solid-state drive in a laptop is much more stable than HDD or hard disk drive. HDDs are more prone to violent vibrations and can also be more easily damaged.
What Type of Riding Are You Up for?
How you could carry your caption while you are out on your bicycle and what carrier you would use would largely depend on what kind of riding you usually are involved in.
More so, that also determines the type of bicycle you ride and what kind of road you take. Your laptop would require more padding, as well as suspension if you take longer, rougher roads.
If you are planning to take your bike on the roads, it's best to use a bicycle with suspension and more stability as well.
The Size of Your Laptop Matters
Certainly, bigger laptops are bulkier and more difficult to carry than smaller laptops. For laptops that are more than 15 inches, you would want to make sure you use the right laptop sleeve pad, covers, and bags to begin with.
You may also want to keep in mind that a laptop has chargers, sometimes sockets, and other add-ons that you'd need to carry as well.
Preparing Laptop for Bake Commuting- Step by Step Guide
The following steps elaborate on how you can prepare your laptop to safely carry it on the bicycle, despite all the bumps and vibrations.
Step 1
Before you get started, be sure to turn off your laptop. It is vital that a laptop with HDD is not spinning. The spinning laptop's hard drive could be damaged if it is on during vibrating travels. You might even turn your laptop to notice missing data and files.
We also advise that you shut down your working laptop for a considerable time before packing it. Since laptops can heat up, you would not want to put a heated laptop into a cover or bag in any way.
Step 2
As the first layer of the guard for your laptop, it is best to go for a padded laptop sleeve as a covering. When shopping for one, you may want to consider the multi-layer laptop sleeves that have both anti slip, water resistant, and portable properties.
Since this is the first covering it should be lightweight as well. There are several laptop sleeves on the market to choose from but we have found a favorite in Arvok's laptop sleeve . Not only does this sleeve qualify for all that we have mentioned, but you can also find the size that is best suited to your laptop.
Step 3
Next, it's time to accommodate all the accessories that come with the laptop. Hardshell laptop sleeves work just fine as well, with added protection from impact and external pressure.
Covers such as this are equipped with additional compartments so that you can pack your earphones, mouse, external keyboard, or chargers to carry.
Step 4
Although this won't be necessary for ones who think the first layer of laptop sleeve cover is enough, we recommend you add another second layer of protection for guaranteed protection against the weather and dust outside. For this, all you have to do is slide the sleeve cover with the laptop into a bag of your choice.
You can choose a dry bag, small backpack, or something as simple as a plastic zippered bag for this. However, we encourage you to get a cycling backpack, having sections and compartments for other accessories as well.
The size of the bag pack matters as much as the water-resistant cover of the backpack does. A smaller size is easier to carry and also adds less weight to your bike.
Inside the bag, you can add some sort of extra padding in the form of clothes, sweaters, or jackets if the backpack you are using is too large and leaves room around the laptop inside the bag.
Step 5
With the first 2 or 3 layers of protection already added to your laptop, you now have to slide and pack your laptop into the final carrier before mounting it on the rear rack of your bicycle.
Panniers come in different styles, some convertible, a few specially designed to carry laptops, tabloids, files, and folders.
Multifunctional or convertible panniers have been favorites for cyclists who need to carry their laptops and other accessories, thanks to the versatility of these bags. The main feature to look for in panniers to carry a laptop is whether it is fully weather resistant.
An expert tip from commuters who regularly bag their laptops to carry them on their panniers is to take the laptop on the right side of a two-sided pannier. This is because whenever cyclists park, or as their bikes fall, the left side of the bicycle usually takes the hit or impact.
That way you keep your multi padded laptop away from a direct hit and possible serious damage. When you lean your bicycle on the right side, your laptop is also less likely to be stolen as well. For that, we also prefer a convertible pannier that you can take off without trouble and use as a backpack.
Step 6
Once you have placed your laptop on one side of the pannier, most naturally the left or other side would need to be filled with something just so that the laptop, being a heavy device, does not weigh down the bicycle on one side.
For that, you can either fill up the other side with clothes and jackets or other gear that you might need to carry. It is also wise if you fill up the empty spaces inside the pannier with soft clothes just so there is the least movement when you are on the road.
What you should not pack into the same pannier as your laptop would be anything that could spill or make a mess. This includes food items, no matter how packed they are, liquid drinks, or other viscous items.
Step 7
Before pedaling, you must secure the pannier onto the rack carefully.
Make sure to check the pannier by testing out a short ride to see if the pannier carrying the laptop jiggles when you ride the bike. If it does, you may want to mount the pannier on the rack, place it correctly and then secure it again.
Step 8
If you are on smooth terrains, you do not have to look out for bumps as much. However, when carrying an electronic device such as a laptop with you, you might want to avoid roads with rougher surfaces. Slow down and keep an eye out for bumps and you can safely carry your laptop on your bike.
Dos and Don'ts of Carrying a Laptop on a Bike
Carrying a laptop on a bike is easy than transporting a desktop computer, but it can also quickly go wrong. If you stick to the dos and don'ts, it's easier to transport your laptop safely.
In this section, I'll go over the dos and don'ts so you can get a bag that will allow you to transport your laptop safely.
Dos
The first thing you should look for is a waterproof or at least water-resistant bag. If the bag isn't waterproof, you won't be able to protect your laptop from the water. Most bags have some level of waterproofing. You should go for the highest level you can find there. I guarantee that you won't regret this decision.
Another point you should consider before buying a suitable bag for carrying a laptop on a bicycle is its dimensions. If the dimensions of the bag don't match those of the computer, you won't be able to accommodate the laptop properly. If the bag is smaller, the laptop won't fit inside. If it's larger, the laptop may tumble around.
Don'ts
No matter what, never carry your laptop without a bag. You never know when it's going to rain, and if it really does, you won't be able to protect your laptop. If you're looking for a bag, make sure you choose a waterproof one. Otherwise, a sleeve won't do you much good either.
Also, make sure you're comfortable with the medium you choose. Let's say you choose a backpack. However, you may feel that you'd have been better off with a pannier. Consider all your options carefully, so you don't regret your decision.
Conclusion
Preparing a laptop for bike commuting the right way can save your laptop from a lot of damage and vibration when you are riding with it. With cycling to work becoming the new commute for many, more and more people want to know of ways that would take their laptops to their destinations in one piece, and what preparations that might entail.
Although a lot of people do not prefer something as heavy as a laptop on their backpacks when they set out to ride a bike, taking your laptop on a backpack is a much safer method. Panniers are subjected to wobbles and bounces, but that can be solved with the right packing.
You may only use a pannier if you are sure to add enough layers of soft protection over your laptop covers. Ether you use a backpack or pannier, always remember that using water resistance, moisture stopping covers is a must.
These were the best ways to transport a laptop on a bicycle. Now that you know them all, it's time to pick the right one for you. Well, there's no perfect or best option here. These methods offer some advantages and disadvantages, and whether one method suits you or not is entirely up to you.
Since it all comes down to your preferences, I recommend that you consider each method so that you can find the right one for you.