How To Carry A Surfboard On A Bike?
Surfing and cycling are two sports that work well together, especially if you live near the shore. However, if you are not familiar with the proper methods, transporting a surfboard on a bike can be quite challenging, especially. If you want to hit the waves but do not have a car, fear not!
In this article, I will guide you through the steps on how to carry a surfboard on a bike safely. There are many ways to carry a surfboard on a bicycle as each method comes with its own sets of pros and cons, so we will go over everything you need to know.
Let's get started!
How To Carry A Surfboard On A Bike Without A Rack?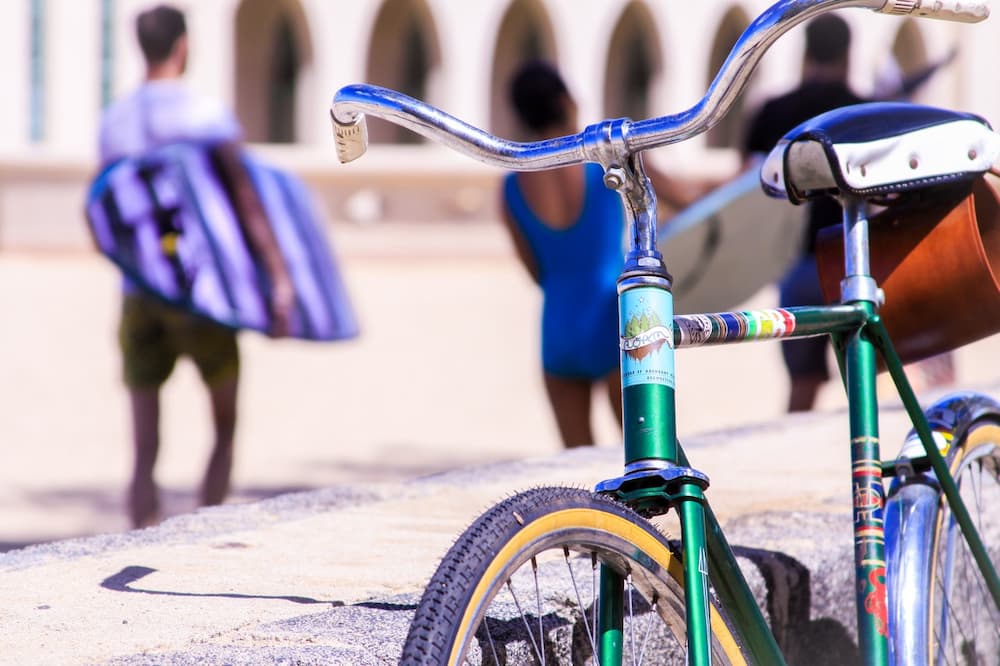 Now, a lot of people seem to prefer carrying their surfboards on a special bike rack. However, certain reasons may discourage an individual from getting a rack for his bicycle. Why?
Well, firstly, the bike may not be designed to provide space for a rack. Plus, racks don't come free, and spending the extra may not make sense to you. Then again, if you don't go surfing often, then carrying an extra rack with you the rest of the days may not make sense. Then again, if it gets windy, then you'll have a hard time cycling with the surfboard strapped to your bicycle, which will act as a sail.
So, if you don't want a rack in the first place, that's okay as well! It's just, you'll have to take some extra steps for carrying the surfboard with you.
You need only two things for this to work. You'll need a backpack, and two sets of ropes. You need to strap the surfboard to your backpack with the ropes. Make sure they're tied together tightly so that the surfboard doesn't fall off in the middle of the ride.
Once you're done with that, you can regularly wear the backpack, and the surfboard will stick to you without any problem. Although you may need a few tries to get this right at first, once you get hang of this, it won't bother you much.
There are two drawbacks to this method. Firstly, the surfboard may end up slipping from your back if you don't tie it tightly, and that's completely up to you to make sure that you're doing this right.
Secondly, if the wind is blowing towards you from the front, then you'll face resistance, and this will force you to work harder than you needed or intended to.
Surfboard Bike Trailer
Burley Flatbed Aluminum Utility Cargo Bike TrailerCHECK CURRENT PRICE
Bike trailers are one of the accessories that can make carrying a surfboard on a bicycle easy. These are designed to help you carry a lot of weight at once, and they're spacious enough to hold the surfboard parallel to the ground, ensuring that it doesn't bump against the ground while you're cycling. Then again, these will let you lay the board flat to the ground, so you won't have to deal with the wind either.
If you're looking for a quality bike trailer, then we have just the product for you. We highly recommend the Burley Flatbed from Burley Design Store. This is a high-quality universal bicycle trailer that can be found at an affordable price, and it provides all sorts of features that you should look for.
This trailer can carry up to 100 pounds, so you can carry your favorite surfboard, or boards, without any hesitation. The trailer is equipped with two wheels on each side that are high enough to maintain a distance between the ground and the trailer even when you're riding on a rough patch. These are also designed to keep the trailer upright.
It comes with a standard forged hitch, and you can connect or disconnect it to your bicycle without any hassle. When you aren't using it, you can fold it to store it away easily. The aluminum builds not only makes this durable, but it makes it extremely light as well. So, you should face no problem carrying it properly.
Surfboard Bike Racks
Surfboard bike racks are the go-to choice for most cyclists who decide to carry their favorite surfboards on their bicycles.
Due to the massive demand for racks designed to let you carry surfboards, different varieties started to emerge. Today, we're going to share the top bicycle  varieties that we think are the best that you can get right now. So, let's delve deeper into this.
Surfboard Bike Rack For Longboard
Carrying longboards can be a bit more challenging than carrying a surfboard with a smaller form factor. This is why you need a bike rack that's specially designed to help you carry a longboard. These racks come in two-part designs that you need to install at the front and rear of your bike.
As their name suggests, longboards are too long to be carried vertically on your bike. So, you'll need to carry them across the length of your bike, and that's exactly what these racks will allow you to do.
Moved By Bikes MBB Longboard RackCHECK CURRENT PRICE
If you're looking for the best bike rack for longboard, then we highly recommend this one from Moved By Bikes. It's easy to install, and all you need to do is place your longboard on it so it rests on both hooks of the rack. And that's it! The mount is designed to keep the longboard still on it no matter how bumpy the ride is.
It's light and it's durable. So, we highly recommend this product for those who want to carry a longboard.
Surfboard Rack For Bike
No one said that you can't carry your surfboard sideways if it isn't a longboard. For those of you who own a short surfing board and still want to carry it on the side, we suggest going for the surfboard bicycle rack from Ho Stevie!
Ho Stevie! Surfboard Bike RackCHECK CURRENT PRICE
This surfboard bike rack for sideways placement offers a unique design that you aren't likely to find anywhere else. You need to install this rack on the stem of the seat tube. The rack branches off into two parts, and both of them form a 'U' loop.
You need to put the surfboard inside the 'U' loop of the rack, and then there's an elastic strap that'll let you fasten the surfboard in place.
We found this design truly amazing as it allows the users to carry any shape and size of surfboard on the sides without any problem. We highly recommend this.
Conclusion
Carrying a surfboard on a bike can be a challenge for its weight and size, but it is possible to overcome it.
If you prefer not to use a bicycle surfboard rack, I have discussed how you could use a backpack with ropes. For those looking for bike racks, I will suggest the Moved By Bikes rack for longboards, which is easy to install and very secure.
By learning about the perfect way to carry a surfboard on a bike, you can ensure you do not end up with a broken surfboard!