Best Bike Messenger Bag Reviews 2023 & Buying Guide
Cycling offers numerous benefits, from promoting an active and healthy lifestyle to reducing your carbon footprint. However, cyclists often struggle with limited storage for essentials, as bike compartments and pockets can only hold so much. Enter the bike messenger bag—a versatile and cyclist-friendly solution to this common issue.
Bike messenger bags offer the convenience of additional storage without compromising your cycling experience. These compact bags feature multiple compartments to accommodate all your essentials for a ride, eliminating the need to stuff your pockets. For many urban cyclists, messenger bags represent a stylish and practical accessory, making them a must-have piece of cycling gear.
With countless models available, finding the perfect bike messenger bag can be daunting. Each offers varying features, colors, capacities, and quality. Our comprehensive guide will help you navigate the options and select the ideal bag for your needs.
7 Best Bike Messenger Bags
Though there are many messenger bags on the market, we will review some of the best messenger bag models sold and used by cyclists. All of the bike messenger bags reviewed here are designed to fit well and utilize weight distribution most efficiently for your body.
Currier Bag vs Messenger Bag
Before we start shopping, let's get one thing out of the way.
You may wonder what is the difference between a messenger bag and a courier bag.
The answer is simple – bike courier bag and messenger bag is the same thing.
Timbuk2 Classic Messenger Bag (Water-Resistant)
This is a craftsmanship with over 30 years of experience in the field of bags. Timbuk2 Classic Messenger Bag is a close-fitting shoulder bag is simple yet classy and does precisely what it advertises. And it has a whopping variation of sizes and custom colors options. Depending on which size you will use, there's plenty of storage for all your essentials (plus a change of clothes).
Bag Features
Pockets: 6 slip, 1 zip
Water-resistant
Water bottle pocket
Vista loop for attaching blinking lights
TPU liner for easy wipe
Grab handle for lifting
Pros
Comfortable and adjustable shoulder strap
Durable, weather-resistant materials
A fair amount of organization
Can fit up to 16-inch laptops
Affordable
Cons
Bag gets floppy (especially without a laptop)
Not comfortable for heavier stuff or loads
Liner pockets can cause the front of the bag to deflate when fully packed
Chrome Citizen Bike Messenger Satchel Bag with Seat Belt Buckle
The Chrome bike messenger bags are considered one of the best messenger bags in the business, and it's the industry standard of messenger bags. Chrome has mastered the art of making durable and high-quality messenger bags with its awesome design over the years.
Although Chrome Citizen Bike Messenger Satchel bag fits in a higher price range, you'll know it's worth it whenever you look at the build and feature. That's why so many urban cyclists consider this one of the best bike messenger bags for commuting. Though it comes in only one size, fits all your daily essentials, including a 17-inch laptop. Overall, the bag is an all-rounder with just the right amount of features for a city life cyclist.
Feature
Military-grade materials
24 Liters of capacity.
Quick-release seat belt buckle strap
Daisy-chain loop included attaching a bike light
Lifetime guarantee on the bag
Reflective logo & strap
Pros
Nine colors to choose from
EVA padded shoulder strap
Cross chest buckle helps stabilize the load
Durable nylon and waterproof liner
Industrial strength hooks and loops
Able to carry a 17-inch laptop
Industrial strength Velcro holds the flap down
Lifetime warranty on the bag
Cons
Only comes in one size
Tablet sleeves are sold separately
No handle
Timbuk2 Especial Stash Weatherproof Messenger Bag
Timbuk2 Especial Stash Weatherproof Messenger Bag comes in two different variations in sizes (medium and large)  that suit you the most. This cycling messenger bag is made of quality materials and has 17L of volume capacity, which is sufficient for most cyclists. This hard rider messenger bag has all the glory, like abrasion-resistant, highly reflective, customizable fit that both left-handed and right-handed people can use. The Napoleon side entry gives the user ease of access.
Bag Features
Napoleon side-entry pocket for easy access on the inside without undoing the flap
Ambidextrous shoulder strap with quick-release buckle
Removable crossbody strap to ensure cross-body stabilization
Ventilated panel in the back of the bag for airflow on your back.
Magnetic buckles on the flap
Reflective hits
Pros
This bag fits most 15-17 inch laptops
Magnetic buckle
Next level design
Vista loop to attach a blinking bike light
Weatherproof
Good strap length
Lifetime warranty
Cons
The bag is a little short of compartments
The bag can wear the color off quickly
Osprey Men's FlapJack Courier Day Pack Bag
Suppose you are looking for a perfectly organized bag for carrying your electronics gadgets and other cargo with ease without breaking the bank. In that case, the Osprey Men's FlapJack Courier bag is an excellent choice for you. The Osprey FlapJack Courier Bag is a messenger bag for daily commute around the town. Headed to work or wandering around the outskirts, this 20L bag will help carry the essentials with you. Store items like a laptop, tablet, a bunch of snacks, even a rain jacket, plus a bit of reflective material to increase visibility to others in low-light situations. Unless you're an avid bike commuter, you can go by with this bag at ease.
The pack consists of a hybrid internal/external water bottle pocket — the pocket closes up when you weigh the shoulder strap, closing the water bottle inside so it stays securely inside and doesn't get scratched or damaged in bike transit. There are brilliant accessory organization pockets that keep the cables of your electronic gadgets organized and out of your way, with different options for usability ease.
Feature
Seven interior slip pockets, two internal zip pockets, three slots for cards
A zippered pocket gives some extra storage for smaller items that need quick access.
Padded grab handle.
Padded laptop sleeve (tablets too).
Water bottle pocket for different shapes and sizes.
Pros
Excellent laptop pouch
Water bottles carrier
Ample pockets and organization options
Easy to adjust the shoulder strap
Inexpensive
Weather and water-resistant
Cons
Not the best for avid bikers
Not waterproof
Manhattan Portage Professional Bike Messenger Bag
The Manhattan Portage Messenger bag is built with a robust and long-lasting material that can tolerate heavy use in busy and fast-paced city life and makes it easy. This bag has a vast storage capacity for your everyday needs. Large reflective stripes will make sure that you are seen from behind. Also, there are three color options to choose from Navy, Black & Orange.
Bag Feature
Made of quality Cardura Plus nylon
1,600 cubic inches of volume inside the bag
Spacious main pocket, an interior zippered room for small items, and a large zip pocket below the flap to store accessories.
Vinyl lining to protect the items inside the bag from sudden rain showers or beverage spills.
Velcro closures
Pros
The bag pockets have zippers.
Waterproof material of the bag.
Metal strap buckle.
Big reflective neon stripes.
Cons
Some buyers thought it should be bigger.
A little bit stiff.
Banjo Brothers Messenger Bag
The Banjo Brothers Messenger Bag is an excellent option for any average everyday rider for his/her necessary stuff. The messenger bag is made of best in class ballistic nylon fabric and high-quality materials. Inside we have a removable padded laptop divider and cell holster. For such a sturdy, featured-packed messenger bag, Banjo Brothers have got this in at an exceptionally reasonable price.
Bag Features
Ballistic fabric construction
14.5-inches long, 11-inches high, and 7-inches wide
Internal padded laptop divider
Six pockets – slip pockets
Velcro-secured and zipped – plus slots for pens.
Backside reflective piping and a tab for a safety light
19-liter capacity
Pros
Ballistic fabric
Dedicated laptop sleeve
Removable Divider
Shoulder Pad moveable strap for Right or Left Shoulder
Loads of side pockets for small items
Cell phone holster
Water-resistant
Compact size
Cons
Can only fit up to a 14-inch laptop
"Water-resistant," not fully water-proof
Could have more reflective panels
Kemy's Messenger Bag
Don't let the look deceive you cause Kemy's messenger bag looks much better in person than in the photos. Add the budget-friendly feature on top, which makes this bag more appealing. It has a spacious room in the main compartment that lets you store a 17-inch laptop with ease, and it's a waterproof bag. You won't go wrong in choosing the Kemy s Messenger bag for your cycling experience.
Bag Features
Nylon Material
Water-proof zippers
Big enough main laptop compartment for even a 17-inch laptop
Adjustable shoulder strap
Check your bag through security without taking away devices.
Pros
Great value for the price
Waterproof
Spacious main compartment
Reflective logo for safety.
Cons
Side compartments are not that spacious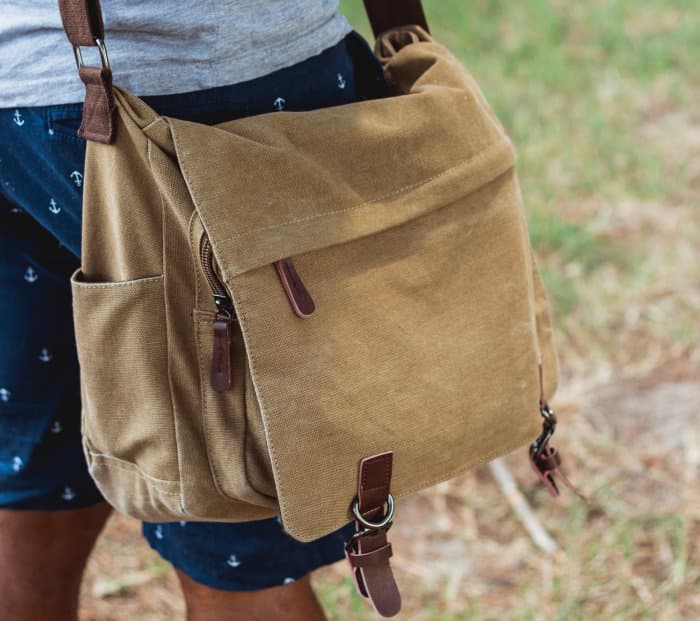 Bicycle Messenger Bag Buying Guide
Do you daily commute to school, college, or work? In any case, a bicycle messenger bag will satisfy all of your carrying needs. If the bag you have like is comfortable, waterproof, and comes with ample additional perks, you're making the proper choice. Brands such as Banjo Brothers, Leaper retro, Timbuk2, Chrome has a wide array of messenger bags. With that said, all the products listed here are excellent choices. The simplest option for somebody else won't be the simplest one for you. Make sure to check the feature packs of each bike messenger bag that suit your needs the most and the best cycling messenger bag for you.
Comfort
All the cycling messenger bags above are more or less comfortable for everyday use. Though there is no single winner here. The Timbuk2 Especial and Timbuk2 Classic bags with long shoulder straps and curved air mesh straps with cotton canvas design ensure comfort level and ease of use, unlike others.
Ventilation
Ventilation is vital as these bags are cross-body and wraps around your back. Luckily all of the manufacturers above have made the bicycle messenger bags as ventilated as possible. Make sure to look for a well-ventilated design.
Waterproof Features
Waterproofing and water resistance are not equal things. All of the bags here are water-resistant, but only some of them are fully waterproof messenger bags, meaning they won't let any liquid get inside the bag even when drowned in a little bit of water. Some people don't face such environments where they don't need a fully waterproof messenger bag. TPU liner on flaps can keep the rain and shower out, which is adequate for most people. And the non-waterproof ones are less costly.
Size
There are different sizes of cycling messenger bags on the market for different types of people. Some of the products featured here have different sizes for the same model, which means more options. Especially, the Timbuk2 has many different sizes for a single model and a ton of color selections for your preference.
Materials
Nylon is among the popular options but you can find a stylish leather messenger bag if you are looking for something displaying higher status.
Additional Features
Additional features can be a unique bag feature in a strap, like the Chrome Citizen messenger bag, which has a bottle opener in the belt. Handlebars and quick eject buttons on the bag are two added features that some cyclist messenger bags may have. These are not obligatory but will assuredly make your life easier and the product more appropriate. If the bag has reflective materials, you won't be needing to worry about riding a bike at night. And there are so many designs out there to choose from. Pick yours!
Frequently Asked Questions
Are messenger bags in style?
Some of the bags reviewed here are the epitome of style when it comes to design. They can be sleek and compact, which will revamp your style if compared to bike commuter backpacks.
Why are messenger bags fit for biking?
Messenger bags are made as a complementary product for biking because you can't stuff all your cargo in your pocket when biking, be it bicycle or motorcycle. These shoulder bags reviewed above are mostly ergonomic and feature-packed so that it doesn't get in your way of driving. If you need to take anything out of it, all you have to do is pull the bag to the front and take what you want.
How to put on a messenger bag on a bike?
Wearing a messenger bag on the bike is as simple as wearing a seatbelt in a car. The bag wraps diagonally over your shoulder and has a crossbody strap, and whenever you need to reach for the bag, you articulate your belt back to bring the messenger bag in front.
How to ride a bike wearing a messenger bag?
The messenger bags shown above are perfect for riding a bike. It's just a different take on the sling bags you see every day. They won't make you compromise on your bike riding.
Can I carry groceries in my messenger bag?
Yes, you can carry groceries in your messenger bag. If you regularly go shopping on your bicycle, I suggest to consider getting an insulated bag, like these, I have reviewed in my review of backpacks for groceries.
Conclusion
Whether you are a student or a job holder, or a dedicated cyclist, you must have seen or heard about messenger bags. It's a useful tool for any regular biker and a good alternative to a cycling backpack.
You should always opt for a messenger bag if you need to carry many multiple small items in one go, including a laptop. There are many brands around like Chrome, Timbuk2, and Osprey.
And here, we presented the best in-the-line cycling messenger bags in 2023 for cyclists worldwide. Check the features of all of them to decide which one is the best choice for you.
Related Articles