Different Types of Bicycles – Bike Type Guide
With over a billion cycles in use presently, cycling is one of the oldest and most popular recreational sports known to man. While the sporty vehicle has undergone myriads of changes, each modification has invented a new kind of bike, for a different purpose and diverse terrain.
This also makes it difficult for buyers to choose the most fitting type for themselves among the sea of selections. Before going in for a bike purchase, enlighten yourself a little about what each type of bike entails and where you can take them.
The Different Types of Bikes
We're going to discuss types of bikes, each having distinct functionality, scope, and performance grading. They differ in terms of speed, stability, size, and gear. Wheels and brakes are also varied based on what roads each is ridden on and how often.
Related reading: Bike Frame Material Guide
Mountain Bike
Mountain bikes, all terrain bikes, ATB, or MTB are the names given to this classification of popular cycle type that is particularly designed to be used on unpaved roads. A mountain bike can take in the most abuse, thanks to its sturdy build and thicker wheels with incredible grip and traction, whether it's choppy hill roads or sandy desert terrains.
Due to higher rolling resistance, Mountain bikes are much slower than other traditional bikes but the front and rear suspensions provide first-rate stability in turbulent passages. Mountain bikes can be categorized into the following:
Enduro
On the expensive end are enduro bikes with dual suspension and a better gear ratio. These bikes are designed to be ridden upslope without the hassle and are often used in competitive sports.
Trail
The more popular mountain bikes are trail bikes due to their availability and versatility, both in design and usage. One can choose between suspension on the rear, front, or both sides.
Cross-Country
Cross country or XC bikes are ideal for unpaved roads that are not sloping. XC bikes being hardtails are most commonly used by tour riders.
Downhill
These are made to sustain slopes and slides on choppy roads and are thus incorporated with strong rear suspension and carbon frame construction.
Road Bikes
Road bikes are made to be used on smooth paths and are a conventional choice for road racing and casual cycling or tour biking. The lightweight frame coupled with thin tires maximizes speed, as well as, aerodynamics.
These aluminum framed bikes with rim brakes (now disc brakes, too) and small rear cassettes are easy on the legs and can be ridden for hours without struggle. Road bikes can be put into the following groups:
Race Bikes
These are most favorite for ones opting for speedy rides. Race bikes are lightweight and span of thin wheels for maximized aerodynamics.
Gravel
A more upgraded and latest version of road bikes is a gravel road that combines the ability of typical road cycles to be comfortable for longer rides. Still, it can also take on rough terrains due to the sturdy frame and disc brake system.
Endurance
Endurance road bikes are used in long road racing and hilly pathways. With slightly varied geometry and less stiff tubes, endurance bikes allow low gearing and more clearance feature highlights in providing comfort.
Folding Bikes
Each part of this bike type folds conveniently from the saddle to the handlebar so that one can store or carry it anywhere one goes.
The 20" composed wheels are robust enough for bumpy ways and can be carried at the back of other vehicles and boats without a bike rack. These bikes come in multiple speed gear options as well as suspension selections.
BMX Bikes
With a fixated frame and single gear speed feature, a BMX or Bicycle Motor Cross bike is distinguished from other cycles for its compact design made especially for stunts and jumps. These dirt ready bikes are having lightweight frames and knobby wheels while sporting exceptionally strong rear brakes for stunt performance and racing benefits.
The freestyle BMX bikes have axle pegs and fatter frames, as well as wheels while the Dirt Jumper BMX bikes comprise more typical features like bent wheels and rear brakes.
Touring Bikes
The touring frame comes with pannier racks that help you with carrying the luggage. When deciding about the must-have accessories for your bicycle, you at least get a crack in the rear and mudguards that keep you dry from puddles. The frame tends to be longer and has more gaps to accommodate these features.
Similar to the sportive design, touring ones have a long head tube and an upright position for riding. Steel is commonly used for making these frames still. The frame offers durability and a springy feel.
Recumbent Bike
Recumbent bikes are one of the most versatile types of bikes with varied wheelbases, multiple wheel options, and an adjustable seat that is closer to the ground. In this bike, the rider is expected to lay on their backs and pedal in that position, distributing the weight equally on the seat.
Post injury healing processes and indoor cardio workouts are what recumbent bikes are mostly used for.
Cyclocross Bikes
These are designed for the winter times and riding on shorter courses. Usually, there is a combination of obstacles and surfaces.
The design offers height, which in turn provides clearance from the mud. Occasionally titanium and steel are used to make the frame. However, often you'll need to pick up the bike and run in the course, which makes carbon fiber as well as aluminum more preferable.
Cyclocross bike's frame can take wider tires making it great for potholes. The frame can handle any terrain as you change its tires.
Cruiser Bikes
Cruiser bikes are most popular among relaxed and causal riders and the laid-back design of the bike aids for a cruising smooth ride.
The seat is lower in height, while the spring saddle is double ended to go with a handlebar that is curvy in shape. Such niche bikes are not meant to be ridden on sloppy ways or rough terrains.
Hybrid Bikes
If you want to find a middle ground for features of a road bike, mountain bike, and touring bike, a hybrid bike is the one for you.
Flatter frames and bigger wheels make it easy for riders to cruise on both smooth roads and choppy terrains. Like mountain bikes, hybrid bikes can involve front and rear disc brakes.
Tandem Bikes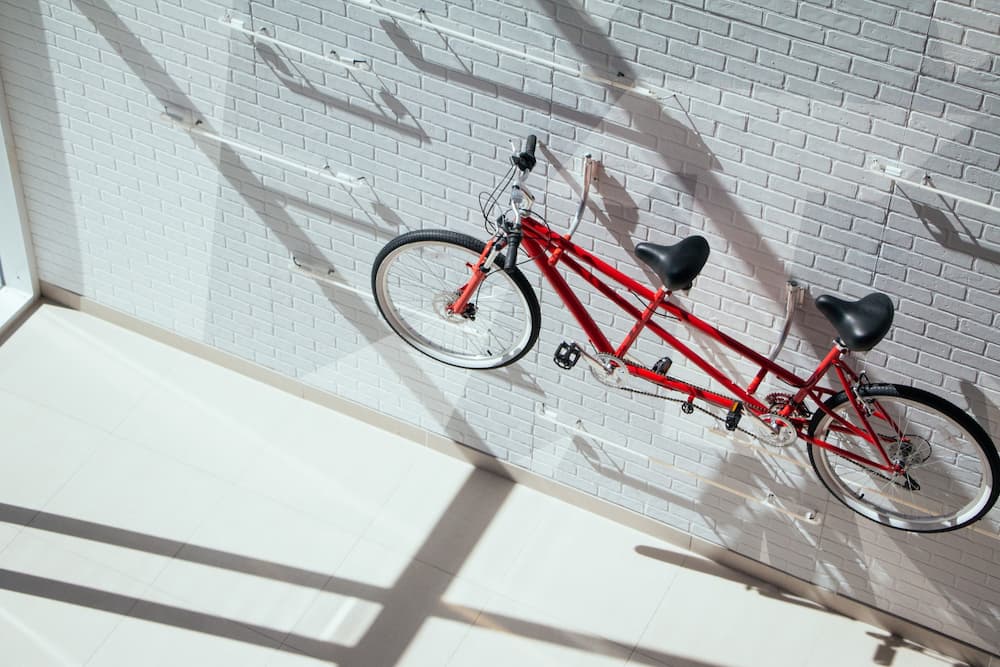 Tandem bikes are ones that are designed with two saddles and independent pedals, meaning they can be ridden by two people at the same time or by a single person.
With one derailleur and one freewheel, these bikes are sometimes attached to a pair for parallel riding as well.
Tricycle
As the name suggests, a tricycle is a bike that includes three wheels and can be powered by either human or motor power. Tricycles are commonly used for kids, but modified ones are also used for commercial uses.
Tricycles may or may not include broader seats but each has extraordinary lateral stability. That is why they are considered safe for use by kids on straight roads. One downside of using a tricycle is turning is tight corners can be more difficult.
Banana Seat Bike
Banana seat bikes have numerous names such as wheelie bike, high-ryser, or a dragster bike and were most commonly used by children for a casual ride out during the 60s.
Although they are mostly out of production, banana bikes can still be found in some places. The bike's characteristic features include spread-out hanger handlebars, petit wheels, and a sissy bar on the seat. These bikes were soon modified to be used on unpaved roads.
Read more: Best Banana Seat Bike Reviews & Buying Guide
Electric Bike
Electric bikes or e-bikes use a rechargeable electric motor attached to the pedals in order to assist you. The semi-automated system is available on both road or mountain bikes.
Electric bikes are especially helpful when you are riding on a bike that requires you to put extra effort to go uphill. With the speed boost from the motor, you would require to transfer less leg power.
Klunker Bike
A Klunker bike is a stylish looking bike that can be considered to be a crossover between a mountain bike, BMX, and a cruiser bike. These bikes are incredibly sturdy with handlebars and seat posts that last a lifetime. These bikes are used to ride on sandy beach sides and rough mountain roads. The versatile bike is made to endure impacts but can also be taken out for running regular errands.
Related reading: Road Bike vs Mountain Bike Comparison
Final Words
Each year, millions of bikes are produced commercially but all of them are not the same. How many categories of bikes could you count in your head before reading this article?
You might be amazed to know that the evolution of bikes led to the availability of all the types of bikes currently in the market.
Related Articles