How To Carry Flowers On A Bike?
If you cycle home from work, you might want to pick up a beautiful arrangement of flowers to take home to your spouse. You buy the flowers but then how do you take them home whilst you have your hands on the handlebar and your eyes on the road?
For cyclists,  how to carry flowers on a bike has been a scrambling thought and I understand why. Flowers are feeble and when they are arranged in a certain way, they cannot be compressed or tied down to your rack. The stems and petals might break, and you wouldn't want that.
Fortunately, transporting flowers on your bicycle is easy to work. Here are a few simple ways to do so without breaking your bicycle or your bank.
How to Carry Flowers on a Bike?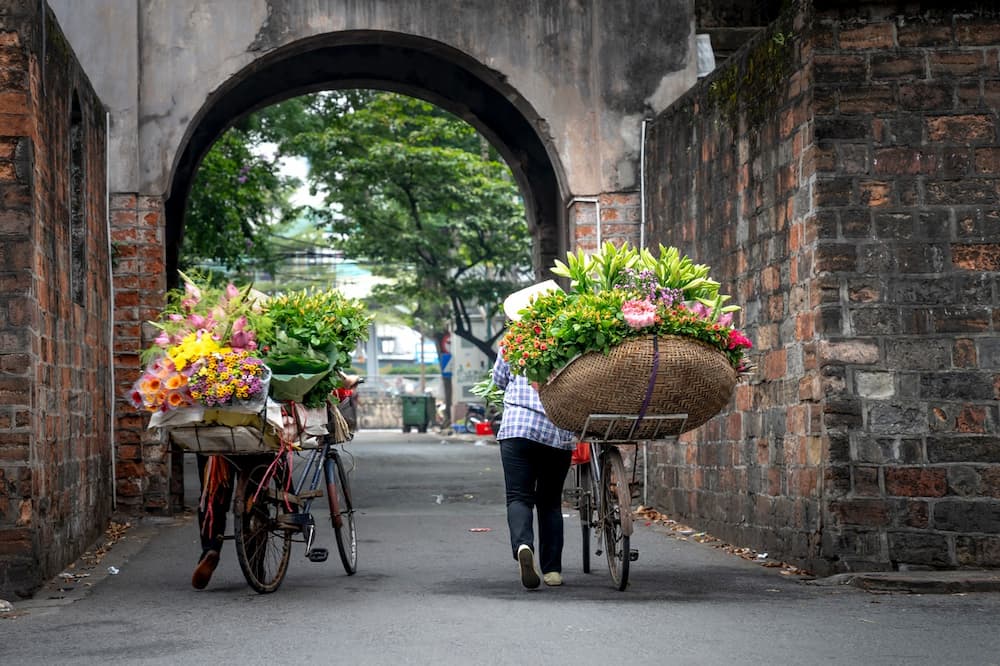 Whether you are carrying a fresh bouquet or a flower top plant, here are a few techniques you could use to carry flowers on a bicycle.
Front Bike Basket
Probably the most typical sight on the streets you've come across would be cyclists carrying just about anything in a basket fastened to their bicycle handlebars. Pets, groceries, and bundles of flowers.  Unless your bicycle comes with a drop handlebar, you would not have any issues, appending a basket to the bike.
Possibly the most economical way to carry your flower would be in a bike basket. However, the prices of these baskets could range from reasonable up to jaw-dropping depending on what kind they are.
If you want a carrier for flowers that attaches in a snap and is easy to install, a classic steel wire basket like the one below could do the job. These are designed to be lightweight so they don't make a dent on your handlebar while being sturdy enough to be carrying anything, from flowers to gallons of milk.
Wald 3133 Q-R Bolt-On Front Handlebar Bike BasketCHECK CURRENT PRICE
You can simply throw the flowers into the basket without using any tie-downs, thanks to the 9-inch depth and wide built.
Just for the looks of them, several cyclists, particularly ones who have to carry and deliver flowers regularly, prefer a traditional-looking, woven, and detachable basket to carry flowers in a bicycle. The heavily braided, D shape baskets from Nantucket Bicycle Basket Co are a favorite among many.
Nantucket Bicycle Basket Co. Children's D-Shape BasketCHECK CURRENT PRICE
Whether you want a honey stain style or prefer a white cruiser basket color, you would be guaranteed longevity and ease with the lacak rattan design. With a capacity of 8 pounds and adjustable leather fastenings, you can now carry flowers and a few more necessities without damaging your handlebar. We love how this basket fits an adult's bicycle as well as it fits children.
The only downside of using a front bike basket on your bicycle is that it might obstruct your view if you have a substantial low seat saddle and a big flower lot in front of you.
Rear Bike Basket
Front bike baskets are so common that we often forget about useful rear bike baskets. Rear bike baskets are ideal and convenient when it comes to transporting flowers in a bicycle as are the commonly used front baskets, except that you cannot have your eyes glued on the flowers all the while.
Although rear baskets are mostly meant to carry heavier loads, carrying flowers becomes simplified for those who wish to carry potted ones or a lot of bunches at once. With two options available, you can mount the rear basket in the seat post or rear rack, with a hook or handlebar clamp to attach on your bicycle in minors.
For adding aesthetics, woven baskets are a more popular choice, However, for that, you would need bungee and straps to tie up the basket on your rear rack.
Rear Bike Rack
When we think about transporting anything on our bicycles, the first idea that pops up in our heads has to be the bike rear rack. Bike cargo racks are a frame, fixed on the rear frame of any bicycle, where you can carry boxes, crates, or simply bungee your items to the rack. Front racks are also an option but for flowers, rear racks are a savior for the vast selection of carrier options you would have.
Boxes, crates, panniers, or tie-down, you name it. Attaching just about any of these carriers on your no spring rack like this allows you to carry your flowers securely. Plus, these racks with universal frame fir are usually suited to both sporty and causal bicycles, road or mountain bikes.
Topeak Explorer RackCHECK CURRENT PRICE
Nevertheless, similar to having your view obstructed when you have a basket or front rack in front of your bicycle, rear racks create a hindrance to the light on your bike.
If you have a flowering pot that you have to carry, here is what you can do. Have a pannier attach to your rack using a bungee cord and take away the sleeping bag from it.
As you remove the sleeping bag, this creates space in the pannier where you can simply place the pot deeper into the rack. You can use flat cord designed bungee cords with steel hooks that are durable and easy to tie down.
On your rack, you can also use boxes and crates to carry your flowers. One way includes installing a simple milk crate into the rack of your bicycle. Affix-sized rods to the bottom of the milk crate using cable ties and secure the assemble into the rear rack simply inserting it in place.
Whether it is flower bunches, bouquets, or pots, you can haul your flowering arrangement into the milk crate without any other attachments.
Attaching a Trailer
When you own a bike, trailers are an all-rounder accessory to have that allows you to carry anything from pets to groceries to flowers. Unlike crates, boxes, or baskets, trailers come with weatherproof covers that would shield your flowers from unexpected rain or mud splashes from speeding cars when you are on the way.
All you have to do is attach the trailer to your bicycle's seat post or rear axle dropout following the installation instructions and proper tools. Using trailers keeps that extra weight off your bicycle's handlebars as well as the rear rack while creating no obstruction in sight or safety posts.
Although trailers are a more expensive option compared to baskets or crates, these are particularly suitable for cyclists who need to deliver a lot of flowers over longer distances or ones who require more space in their carriers.
With trailers, the only complaint that cyclists carrying flowers have had is that they require prior planning and a proper place of storage. If you don't want a trailer that is too massive on your bike's trail, you can consider investing in a kid's trailer or pet trailer. Thule's Chariot Trailer is one such carrier that folds without hassle to eliminate the usual storage problem with the trailer.
Cycling Backpack
Your friendly commuter backpack is the jack of all trades when you have one too many items while riding out. You can simply put all your flower bunches into your backpack and zip up the bag halfway through from both ends for the flower to stay in place while you ride.
While that is a practicable option and cyclists have been able to carry flowers on their backpacks for eons, we prefer a more specified grocery bag to carry flowers. One such grocery backpack that has our attention and money is the food delivery backpack from Homevative.
Homevative Thermal Insulated Food Delivery BackpackCHECK CURRENT PRICE
There is enough room on all sides for you to zip up the bag without worrying about breaking the stems. If you have larger bouquets that need to reach home in one piece and a certain arrangement, put the flower bundle and open the covering flap on the top of the bag.
Final Thoughts
If you're looking for ways how to carry flowers on the bike, there are a few feasible, simple ways to do so.
Hanging a bamboo woven basket on your handlebar is aesthetically pleasing to the sight, as it is easy to haul flowers into them.
The rack and crate method is no different and only takes a bit of effort to install the crate. You can also use boxes and bags but trailers are accessories where you can carry anything from flowers to your pet dogs.