Best Rear Bike Basket 2023 Reviews & Buying Guide
Rear bike baskets aren't as popular as front bike baskets, but it's undeniable that they add a great deal of utilitarian value once installed on a bike. As you've already shown interest in reading this article, we believe that you know what benefits you can reap by installing one of these on your bike. And chances are high that you're unsure how to choose the best rear bike basket for yourself.
Lucky for you, I am going to be discussing exactly that. In this article, I'll not only discuss the top five best bike rear baskets I have selected for you, but I'll also discuss the factors that'll help you pick the right product for yourself.
Best Rear Bike Basket Reviews
Below I have covered everything you need to know about my favorite best rear bike baskets. Keep reading and see which of the best bike baskets catches your eye.
Hoobbii Rear Bike Basket
Hoobbii Rear Bike BasketCHECK CURRENT PRICE
Starting off, we have a metal rear bike basket from Hoobbii. Most rear bike baskets come with a waterproof covering, while some come with a bungee rope net. What makes this rear basket from Hoobbii special is that it offers both. So, you'll be getting the best from both worlds and not sacrificing a thing.
The features don't stop there. It's also the largest bike rear basket that you can purchase right now, and it offers the highest carrying capacity as well. The capacity and size of this basket can only be rivaled by the one from ANZOME that you'll find in the next section, but that falls behind considerably.
With the rope bungee net, you'll be able to keep your belongings from falling out of the basket. This proves quite helpful while traversing bumpy roads. The net can be attached or detached as per necessity, so you won't have to worry about that either.
It must be noted that the space between the grates is considerably wide. So, you better not carry any small items that may fall out of it easily. However, you can solve this by wrapping the basket with the provided rain cover, as it'll keep an object from falling thru the cracks. This product is available only in black finish.
Product Features:
Dimensions: 15.75 x 12.6 x 10.24 inches
Load Capacity: 45 pounds
Included rain cover and bungee net covering
Offers the highest carrying capacity as well as size
The quality metal build looks durable
Convenient shape
Related reading: Best Rear Bike Rack Reviews & Buying Guide
ANZOME Rear Bike Basket
ANZOME Rear Bike BasketCHECK CURRENT PRICE
The ANZOME rear bike basket is a bit smaller than the previous product we discussed, but the carrying capacity is the same, and at first glance, even the size won't seem much different to you. Even though the Hoobbii basket comes with some useful accessories, the ANZOME basket doesn't fail to set itself apart from the rest of the products on the market.
This basket comes with a rain cover, which sure is handy. What makes it special is that it's made of mesh. So, if you're someone who carries tiny objects or even a small pet, this rear basket will serve you very well. It features an easy screw and cable-tie method that makes it easy to mount. This method makes it easier for you to detach the basket.
However, you can also strap the basket to the rear rack using zip ties. Although this isn't as convenient as the previous method, it sure is reliable. It's great that you can pick whatever method you prefer.
This black rear bike basket is made of strong iron, and the quality is top-notch. This is one purchase we're sure that you won't regret making.
Product Features:
Dimensions: 15 x 12 x 8 inches
Load Capacity: 45 pounds
Offers two mounting solutions
Wire-mesh is appropriate for carrying small objects
Includes a rain cover
Made from strong and sturdy iron
RAYMACE Rear Bike Basket with a Taillight
RAYMACE Rear Bike BasketCHECK CURRENT PRICE
There are a ton of rear bike baskets on the market, but there surely isn't a lot that comes with a taillight. If your bike's missing some reflective straps on the rear or a taillight, then this is the basket you must opt for, at least to ensure your safety!
The RAYMACE rear bike basket offers a similar shape as the one from Hoobbii, where the front of the basket is a bit slanted. This basket is made of wire mesh, and it's very sturdy as well. It's not the biggest basket the market has to offer, but still, the size and capacity are decent.
You'll get a waterproof cover with this black basket, and that'll surely help you protect your belongings from water. The special proposition of this basket is the taillight. If your bike doesn't have one of these, installing one will surely improve your safety. Given the price of this basket, we deem this to be a solid deal.
Product Features:
Dimensions: 13 x 11.75 x 7.5 inches
Load Capacity: 45 pounds
Offers an included taillight and rain cover
Two installation methods
Improves safety
Made of enhanced thicken metal net with antirust technology
Wald 585 Rear Bicycle Basket
Wald 585 Rear Bicycle BasketCHECK CURRENT PRICE
People who need a sturdy basket on a budget should take a look at this offering from Wald. The 585 is one of the most beloved classic rear bike baskets that you can find on the market. This doesn't offer much, and that's perhaps why a lot of people buy them!
If you aren't using any provided accessories, such as a bungee rope net or rain cover, then you can always skip on them to save some bucks. Well, we do recommend getting them anyways, as you never know when you may need them. Still, if you're bent on saving some cash or if you're on a budget, then we highly recommend getting this beautiful silver basket.
You will get only the basket and the mounting accessories at a very reasonable price. If that's what it takes to satisfy your needs, you should go for it. I am sure that you'll love this.
Product Features:
Dimensions: 14.5 x 9.5 x 9 inches
Load Capacity: 30 pounds
The basket is made of high-quality steel
The package includes the required mounting hardware
Tapered for a universal fit
Top budget pick
BiKase Dairyman Rear Basket
BiKase Dairyman Rear BasketCHECK CURRENT PRICE
Last but not the least, we have the Dairyman rear basket from BiKase. This basket follows the quintessential design dairymen use, hence its name. If you'll be carrying food, groceries, dairy items, or anything that requires ventilation, then this is a great choice for you.
These baskets come with a spring-loaded mounting system, and they also have a removable mesh net system. The mesh net will allow you to keep your things organized and pressed against the basket. What it fails to provide is a rain cover, and that definitely is a drawback. Still, if this design fancies you, we'd recommend going for it anyway, as you can always get an aftermarket rain cover.
Another unique property of this basket is the spring-loaded mounting system. This system will offer far better stability than any other bike basket out there, as the vibration and shock will be minimized by the springs. So, if that's something that may benefit you, we'd highly recommend going for this.
Product Features:
Dimensions: 14 x 13 x 8 inches
Load Capacity: 20 pounds
A spring-loaded mounting system will reduce vibration
Included mesh net that's removable
Unique design that adds a ton of ventilation
Lightweight yet sturdy plastic build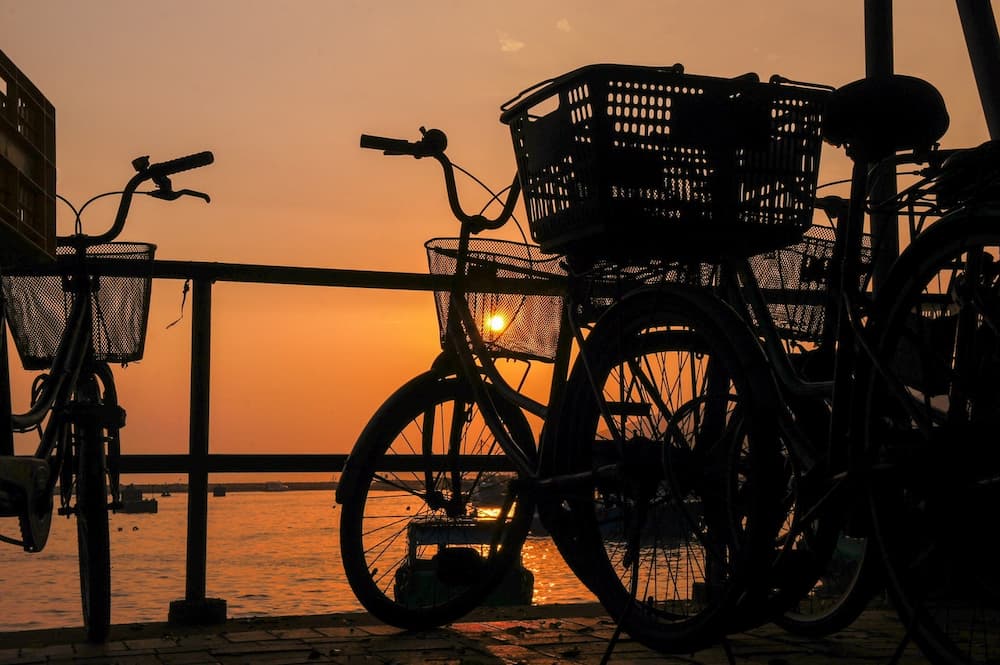 Rear Bicycle Basket Buying Guide
Now that we've taken a look at the best bike rear baskets available on the market, it's time to choose what will work for you.
We understand that choosing one out of so many amazing options may be overwhelming for many. So, we decided to share our two cents on how you can pick what's right for you.
Related reading: Front Bike Basket vs Rear Bike Basket – The Feature Comparison
Material
Most of the rear bike baskets that you'll find on the market are made of durable metal. You'll get alloy steel baskets, baskets that are made of enhanced rust-proof iron, and there are aluminum products as well. In fact, there are some plastic baskets as well.
In the list above, every basket other than the BiKase one offers a metal build, and that doesn't necessarily make them superior or better.
While considering the material, we'd recommend you focus on your priorities. Would you be well enough with a plastic basket if it means it's lighter and, thus, easier to carry? If yes, then you won't go wrong with a plastic basket.
Then again, if you'd like something a bit more sturdy and premium, and the additional weight wouldn't bother you, then you won't go wrong with a steel basket.
Size
The size of rear baskets for bikes has a wide range. Among the aforementioned products, the largest rear basket is the one from Hoobbii, while the smallest one is the RAYMACE carrier.
It boils down to your preferences when it comes to size as well. There's no universal right size for rear bike baskets. Rather, you should get a size that you'll be comfortable with in the long run.
Weight Capacity
Weight capacity is a major factor, as it determines how much you can carry without damaging the basket. Even though the capacity of each basket may vary greatly, each of the baskets mentioned above offers a decent capacity.
The lowest capacity, which is only 20 pounds, is found in the BiKase plastic basket, and the ones from Hoobbii and ANZOME are highest, standing at 45 pounds.
Even though the differences are huge, we guarantee you'll be fine with the BiKase one if you aren't anticipating any heavy load.
Mounting
You'll mainly come across two types of mounting systems. Let's talk a bit about these.
Zip Ties
Zip ties are kind of like hassle-free solutions to the problem. Most zip ties can't be unzipped and need to be cut off after use. So, you can get a ton of zip ties at a low cost, use them when necessary, and cut them off after you're done using the basket and need to remove it from the bike.
However, zip ties may not be enough for holding the basket steadily. It's found that even if a lot of zip ties are used, baskets tend to vibrate. So, even though this is the easy solution, it's not the best.
Screws
On the other hand, we have the screws. Screwing in the basket on your bike is the more reliable solution. It'll increase the shock absorption, thus reducing the overall vibration of your bike. However, it'll be tougher for you to detach the basket once you screw it in, so it may not be a suitable process for everyone.
Color
Bike rear baskets come in various colors, and we'd recommend you pick whichever color suits your bike the best.
Related reading: Best Bike Front Basket Reviews & Buying Guide
Frequently Asked Questions
Do You Need A Rear Bike Rack To Install A Rear Bike Basket?
Yes, you need a rear rack to install a rear bike basket, and that may be a disadvantage for many cyclists. Rear bike baskets require a platform on which they can be mounted. Without any platform, it's not even possible to mount rear rack baskets.
Conclusion
Now that we've taken a look at all the alternatives at hand, it's time to decide on a product of your liking. It's okay if the process feels daunting at first.
We guarantee you'll have a clearer view once you go through our buying guide, so make sure you visit that at least once!