How To Carry Fishing Rod And Other Fishing Gear On A Bike?
Carrying a fishing rod on a bike can be a bit challenging. Most people don't try this in the first place, thinking they will break the rod's tip. However, there are absolutely zero risks if you know how to carry a fishing pole on a bicycle properly.
In fact, you can carry your entire set of fishing gear on a bike safely.
In this article, I'll discuss several methods you can use to transport your fishing rod and gear on your bicycle.
So, let's get started!
How To Carry Your Fishing Pole On A Bicycle?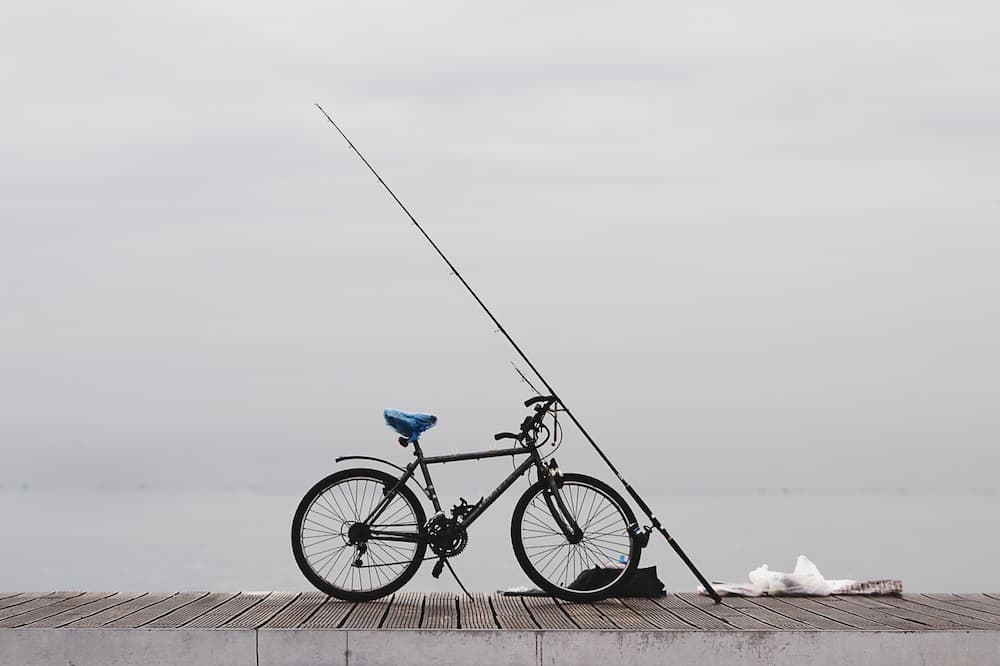 There are several methods that you can go for here to transport your fishing stick and gear on your bicycle:
in fishing rod holder for bicycle
in a backpack with a rod holder
in a fishing rod carrier case
secured to the rear bike rack
tied to the bicycle
on a bike fishing trailer
Let's look at the best methods that will make your biking with fishing rods easy and safe and ensure that you can carry the pole and accessories comfortably on your bicycle.
Fishing Rod Holder for Bikes – The Bike Fisherman From InMotion Inc.
The Bike Fisherman from InMotion Inc – Fishing Rod Holder for BicyclesCHECK CURRENT PRICE
If you like to go fishing while riding your bicycle, a fishing rod holder from InMotion Inc. is for you. Transporting your fishing sticks while cycling is a challenge for many cyclists. On the other hand, using the Bike Fisherman will ensure that your bicycle does not become unbalanced.
The origins of this accessory can be traced back to its inventors. These two fishermen formerly battled for the exact cause. They ultimately decided to come up with a solution after having enough problems riding their Centennial Trail. And now we have this incredible product.
The creative design and sturdy capabilities of the holder are two of the main reasons for its popularity among fishermen. As a result, this tool can carry two spinning rods, allowing you to comfortably hold more than one rod.
Polymer substance ensures that it does not add extra weight to your bicycle due to good material selection. Aside from these advantages, it's also ideal for making it smaller and lighter without affecting its durability, which is fantastic.
The slotted entrance points on this device are another fantastic feature. The poles will not twist or turn as a result of this feature. It's useful since it keeps the poles from twisting and colliding with the bike wheel. Remember that this rod holder can only hold rods with a maximum diameter of 1-1/4" before buying it.
This device requires two screws to securely attach to your bicycle frame to further its practicality. Don't worry. The bike is coated with cushioned clams, so it won't leave any stains or scratches. As a result, you can do whatever you want without any difficulty.
This device is also highly effective in terms of security. The holes are designed with enough space for the poles to sit firmly and properly within them. Its interior is lined with Neoprene Strap, which holds the poles in place and protects the reel from damage while riding.
The Bike Fisherman holder is an excellent option if you're a fisherman or want to give something to a fishing-obsessed friend.
Pros:
Budget-friendly
Durable and solid build quality
Ensures the safety of the rods
Easy to install
Cons:
Lacks sufficient slots
Only supports a specific range of rods
Backpack with Rod Holder – Ghosthorn Fishing Backpack Tackle Sling Bag
Ghosthorn Fishing Backpack Tackle Sling BagCHECK CURRENT PRICE
We understand that to get to the lake or river for fishing, we must travel down uneven roads, which means we're more likely to slip and fall. Tripping could result in breaking or damaging your precious fishing equipment, including the fishing pole itself. The Ghosthorn is designed to be the ideal fishing partner.
Because of its large storage capacity, this Ghosthorn backpack with a rod holder can accommodate all of your gear. The extra compartment to carry water bottles and rod holders is one of the characteristics that you might notice in any other product with a similar purpose. As a result, the next time you go fishing, you'll be able to pack everything in one bag rather than hauling multiple bags, which might be cumbersome.
This Ghosthorn bag is made for more than just fishing. This bag's best characteristic is that it may be used for various reasons. The bag can be worn as a backpack, crossbody sling bag, chest bag, handbag, or travel bag. This bag will ensure that it complements your objective in whatever way you want it to.
Even though it's a tackle backpack, its practicality and comfort will persuade you differently. Adding to the list of advantages, its size is such that it can contain all of your fishing equipment, including lures, pliers, 3600 tackle boxes, wallets, and phones, all in one place, which is incredible.
When it comes to durability, when compared to other items on the market, this bag has the longest lifespan. Overall, the Ghosthorn Backpack can be your fishing partner wherever you choose to go fishing.
Pros:
Ample storage
Includes shoulder straps
Multi-purpose bag
Cons:
Minimal functionality
Difficulty in adjusting the strap
Fishing Spar Carrier Case – Lixada Fishing Rod Case
Lixada Fishing Rod CaseCHECK CURRENT PRICE
The Lixada 3 Layers Fishing Pole Bag isn't just any backpack – it's a solution for traveling with your gear and poles more conveniently. To begin, it has three main compartments and a front pocket dedicated to storing all of your gear in one bag. Furthermore, it ensures that you can preserve your valuable and expensive equipment in good working order so that it is not harmed along the road.
We must remark that while creating this terrible, the manufacturer had some ideas regarding fishing enthusiasts. It has a wide opening and two zippers in its compartment. This allows you to easily access your critical fishing equipment, making your fishing experience more enjoyable than ever.
This product is made of Oxford fabric, reinforced with piping and metal zippers to make the bag more durable, tear-resistant, and long-lasting. As a result, if you're buying it for a fishing trip, you won't have to worry about replacing it very soon. The inclusion of ventilated mesh pockets is an excellent feature for keeping fishing gloves because it ensures that odor does not build up within the bag.
The portability of the Lixada Fishing Rod Case is also excellent. Thanks to the handle and adjustable shoulder strap, you may adjust the back according to your convenience. Furthermore, it can be carried in any backpack because it is collapsible. As a result, any angler, including you, can pull it out at any moment and get it ready to go fishing.
Pros:
Offers numerous tackle boxes
Robust oxford-material construction
Foldable and compact
Cons:
Can cause micro-tears
Loose straps
Secure To Rear Bike Rack
Transporting your fishing equipment on your bicycle will become very easy if you have a bicycle with a rear bike rack. If your bicycle doesn't have a rear rack mount, you can try installing one. However, not every modern bike allows you to install a rear bike rack mount, so you should check whether your bike is compatible or not.
If your bicycle is compatible, then install the rear bike rack first. Then, you need to buy a crate that can be mounted on the rack. The trick is to find a crate that'll let you carry all the necessary gear without hampering your experience.
You don't need expensive crates for this. A used container from any local shop or vendor will do you just fine. You can use zip ties to tie the container tightly to the rear mount. You won't need more than 10 zip ties of XL size to secure the crate tightly.
You need to bring out your rod holder and tie it to the back of the crate. You need to link the holder tightly, so it doesn't tilt when storing the rod. This will allow you to carry the fishing pole safely on the bicycle. Plus, you'll have the entire crate for keeping essential gear.
Read more: Best Rear Bike Rack Reviews & Buying Guide
Tie It to the bicycle
This is very self-explanatory. You just have to tie the fishing rod tightly to the top tube of the hardtail. This will allow you to transport your rod, but safety and convenience are questionable.
First of all, if the tape isn't strong enough, the rod may fall during the ride. Tapping or tieing the rod to the tube twice every fishing trip will be tiresome and inconvenient.
Then again, if you want to go with a cheap solution, this is the best you will get.
Get a Multi-Piece Rod
There are dozens of one-piece rods on the market, which are relatively cheaper. However, we recommend you stay away from such rods. The one-piece fishing stickcan't be retracted like the rest, so they are tougher to carry. No matter how careful you are during the ride, the risk of breaking the rod is never zero.
This is why we recommend going for multi-piece rods. There are even 5-piece rods that allow you to break the rod into five smaller parts themselves. We highly recommend going for these, as you'll be able to make them much smaller, making them easier to carry.
Buy a Travel Rod
There are fishing poles that are designed to be easily carriable. If you're planning on transporting your gear on your bicycle for a considerable time, you can try a travel fishing pole. These are incredibly portable and compact, so you won't have any problem traveling with them.
However, certain travel rods may be too small for you or may not suit you properly. In that case, you are recommended to go for multi-piece rods.
Bike Fishing Trailer
Bike fishing trailers are one of the best ways of increasing the overall carrying capacity of your cycle. However, it might not be the most convenient method for all.
Bike trailers are small carts that can be attached to cycles. Once attached, these won't fall apart, so there's no safety issue. If you get a quality trailer for yourself, you can also be sure it won't tumble too much.
However, adding the trailer will increase the effective length of your ride, and you'll have to keep that in mind when you're riding. This will have a greater impact, especially when you're taking turns. Plus, your bicycle will be harder to pedal when climbing a steep hill.
We suggest getting one of these trailers if you want a lot of extra space that the previously discussed methods can't provide. Plus, once you get used to these, you'll have a comfortable experience riding around with your gear and additional comfort items like folding chairs.
Conclusion
The challenge of figuring out how to carry a fishing pole on a bike is one that can be tackled with a bit of creativity and the right gear. Throughout this article, I've explored several methods, each with its own benefits and considerations. From fishing rod holders for bicycles, backpacks with rod holders, and rod carrier cases, to securing gear to the rear bike rack, tying it to the bicycle, using a multi-piece rod, buying a travel rod, or even using a bike fishing trailer, the options are diverse and adaptable to your specific needs.
All avid cyclists and fishing enthusiasts understand the importance of ensuring the safety and integrity of your fishing gear during transit. It's not just about getting the gear from point A to point B – it's about ensuring your fishing pole and other equipment arrive in perfect condition, ready for a day of fishing.
While all the methods discussed have their place, I find myself particularly drawn to the use of a fishing rod holder for bicycles. It's a simple, effective solution that keeps the fishing pole secure and balanced. However, the choice ultimately depends on your personal preferences, the resources at your disposal, and the specific circumstances of your ride.
Remember, the journey of figuring out how to carry a fishing pole on a bike is as much a part of the adventure as the ride itself. So, whether you're heading to a local fishing spot or embarking on a longer fishing expedition, these methods offer practical solutions to a unique challenge.
In the end, it's not just about the gear or the bike. It's about the unique intersection of these two passions. So, strap on your helmet, secure your fishing equipment, and enjoy the ride. After all, few things in life are as satisfying as a bike ride followed by a day of fishing. By the way, have you figured out how to carry fish on your bicycle?