Best RV Bike Rack 2023 Reviews & Buying Guide
Almost every recreational vehicle (RV), be it a motorhome or caravan, comes equipped with built-in hitches for racks. This is no coincidence, as many RV owners are also avid adventurers and cycling enthusiasts. They often need a reliable way to transport multiple bicycles over long distances. While the interior of an RV might seem spacious enough to accommodate a bike or two, using that limited storage space for bicycle storage can be inconvenient. That's where the importance of a bike rack comes in.
Choosing the right bike rack for your RV can make a significant difference. The rack should be compatible with your RV model and the sizes of your bikes. With a plethora of options available in the market, finding the perfect fit can be challenging.
To simplify this task, we've handpicked the six best RV bike racks, considering their functionality, price, and durability. So, whether you're a motorhome owner or a caravan enthusiast, this guide will help you find the best motorhome bicycle rack for your needs."
Best RV Bike Rack Reviews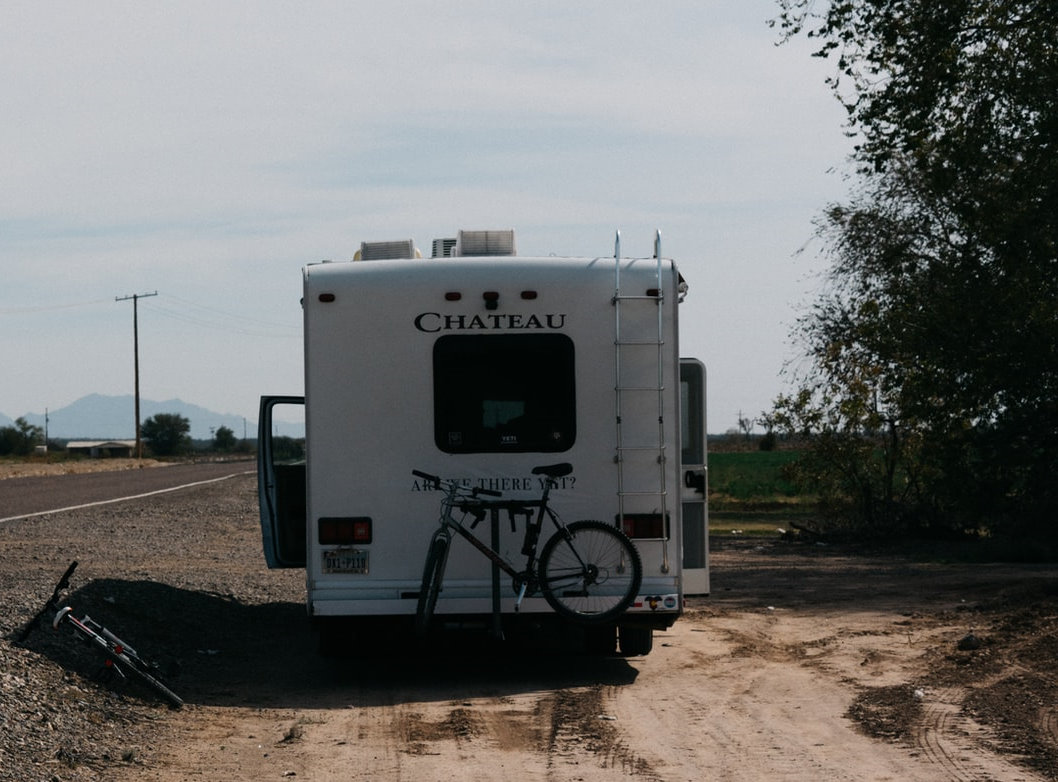 Before you make a final decision, we recommend you scheme through the buying guide I have provided for a better understanding of what factors to consider and what type of bicycle rack is best for your RV.
Swagman Traveler XC2 Bike Rack (Hitch Bike Rack for RV)
If you asked us to pick one hitch mount rack among all the ones in the market, I would choose Swagman Traveler XC2 RV Bike Rack. There are too many features in this that make it our top pick out of the 6.
Swagman is so sure about this traveler rack that they offer a full lifetime warranty. And we think that reads sheer reliance and confidence in their product. Additionally, this assembly is very easy to install and constructed with our preferred, powder-coated finish. That's what gives it the corrosion-free, durable effects.
In my opinion, the best feature of this Traveler XC2 bike rack for RV is how it can be used as both a hitch receiver mount and bumper mount. On a particular day when you want more visibility on the road, you can place it on the bumper rack of your color.
The versatile Traveler XC2 rack comes with a ratcheting arm for more protection, along with a changeable hoop on the wheel hoops. This means you can use it for different-sized wheels by just sliding the hoop.
Features:
Can be used as a hitch receiver mount or bumper-mounted rack
The capacity of 2 bicycles, each of 35 lbs.
Ratcheting arm with push button
Corrosion resistant
Adjustable wheel hoop
Pros:
Easy installation
Versatile use
Durable and corrosion resistant
Dual mount use
Lifetime warranty
Cons:
The hitch receiver pin has to be bought separately
Camco RV Ladder Mount Bike Rack (RV Ladder Mount Bike Rack)
Camco's new modification on the bike rack for RV delivers some stellar features and for the affordable price that it's available, it surely is a steal. This is our top pick for the ladder mount rack.
In my experience, the Camco RV Ladder Mount rack is simple to install and comes with installation add-ons in case you have trouble putting up the piece together. The extra straps will ensure security, as the tight cradles keep your rack in place.
We must remind you to install your rack above the bumper-mounted height to avoid damage during close turns. Although the total capacity of this rack might be too low for some, the easy folding and unfolding system of the rack makes it quite a pleasant use.
Features:
The capacity of holding two bicycles, a total of 60 lbs.
Extra Straps for security
Tight cradle system
Installation add-on available
Convenient folding system
Pros:
Affordable
Long-lasting
Installation aid added
Easy folding for more space
Security guaranteed
Cons:
Capacity is low for 2 bikes
Swagman 2 Bike Bumper Mounted Bike Rack (RV Bumper Rack)
When it comes to bike racks, we can trust Swagman's products with our eyes closed. With their Swagman 2 bumper rack, we can say the same.
The simplistic design is a solid, well-made rack constructed with heavy-duty steel made to last for years. The painting and powder finish adds more durability, and make this rack free of wear and tear.
One of our favorite features of this bumper-mounted rack is the steel-made U bolts that add extra stability to the rack. The one downside of this efficient rack might be its capacity, as it is capable of holding only two bikes of 30 lbs. each. Apart from that, we should appreciate its handy ability to fit any frame size.
If your RV has a well-built, sturdy bumper that can endure the weight of the rack, you may want to go for this affordable RV-approved bumper rack.
Features:
The capacity of 2 bicycles, 30 lbs. each
Steel construction
Paint and powder-coated finish
U bolt security
Considerable distance between rack and bumper
Pros:
Easy to Install
Can fit various wheel sizes
Durable
Anti-corrosion finish
Cons:
Capacity is not enough for larger bicycles
Swagman RV Deluxe Bike Rack (RV Tire Mount Rack)
By now you must already know that we love Swagman racks. So do their users and we have got a reasonable explanation for it. Among Swagman's other feature-rich racks, the Swagman RV Deluxe rack is RV-approved around the spare rack, which has a capacity of 60 lbs. It can carry up to two bikes and easily fits on 4.5-inch bumpers. As the name suggests, the spare tire is not a hindrance in this case, meaning the back of your RV is free to access.
This deluxe product is our favorite when it comes to tire mount racks. With additional straps to support both bikes, the anti-swaying features make sure both the bicycle and the rack are stable in place while you drive.
With this rack, Swagman has also included adjustable rubber cradles which you can vary according to the space you want between your bicycles. Although this comes with a limited warranty, unlike Swagman's Hitch Mount rack, the Tire mount rack requires no additional hitch or bumper. This is one of the most stable and durable options for an RV rack.
Users of this rack love its easy installation process and durability. We must also mention that this tire mount rack can carry all kinds of bikes with ease.
Features:
2 bikes capacity
Rubber straps for security
Adjustable cradles to create space
Bonus Straps available
Anti-sway features
U-bolts included
Pros:
Durable Product
Easy to install
Increased stability and security
Rear access easy
Cons:
CURT 18065 Bike Rack Mount (RV Hitch Rack for Large Family)
If I had a large family and everyone owned a bike that needed to be carried to our outing spot, then the Curt 18065 large-capacity rack would be my best choice. With this RV hitch rack, Curt offers an incredible capacity of 225 lbs., making this rack suitable for carrying 5 bicycles.
The star feature of this RV bike rack and one of the reasons why we love it, would be its tapered arm feature. Its tapered arms allow different-sized bikes to fit in, making it ideal for use if you have kids' bicycles to carry. The changeable rubber cradles ensure no damage is done to the bike frame.
The construction is sturdy and durable, and it is designed to resist rust or corrosion. The stability and security of this bicycle rack for RV is commendable, as it includes additional reflectors and anti-swaying shanks.
Features:
Can hold up to five bikes
Total capacity of 225 lbs.
Powder finish construction
Integrated reflectors
Variable Rubber cradles
Tapered arms for a versatile fit of different-sized bikes
Pros:
Incredible Capacity
Hassle-free folding
Durable
Rust free construction
Can fit bicycles of different sizes
Cons:
Accessories are expensive
Lippert Let's Go Aero bike Carrier System (For A-Frame Travel Trailer Hitch)
Lippert's Let's Go Aero rack has a unique design, which allows the rack to be installed in the A-frame of your recreational vehicle. With most of the racks, the racks are mounted on the body of the vehicle.
This A-frame travel trailer hitch or bumper is attached by the wheel, which prevents contact between the bikes. The damage or scratch-free design is accompanied by a PowerTower frame that shields the tongue jack from any kind of damage.
One of the stellar features that set this A-frame trailer apart from other carriers is its ability to carry more weight.
A dual anti-sway cradle along with dual lock systems makes this a winner when it comes to adding protection and security to your bikes. The A-frame rack fits several different-sized wheels and gives easy access to the rear of your RV. We may add that this rack is pricey in comparison to its counterparts, and it is most suitable for motorhomes.
Features:
Large capacity of 80 lbs. for 2 bikes
PowerTower frame for protection
Free access to the rear of the vehicle
Foam bumper for protection
Anti-sway Cradles
Pros:
Innovative construction
Extra security
Anti-wobble features
No contact between bicycles
Can fit different size wheels
Cons:
RV Bike Rack Buying Guide
Before you move on to buy a bike rack for your RV, you need to know everything about it to make an informed decision. Let's take you through this discussion in detail.
Types of Mount
A bike rack that fits my RV might not be suitable for my friend's RV. This is because all the racks are not built the same. They come in various sizes and shapes. Here is a look at the 5 prime kinds of racks and how each of them works. Knowing the different mounts can create a significant difference in making the right choice.
Hitch Mount
Hitch Mount racks work for all kinds of vehicles, including RV. If you are an RV owner, you must be aware of the fact that almost all RVs have integrated hitch with them. Thus, a hitch-mount RV bike rack can be installed without additional hassle. These are ideas for family outings as they can hold up to 5 bikes. This might also be the reason this kind of rack is the most used when it comes to RV drivers.
The built-in locks, anti-sway features, and ease of loading and unloading make it a good choice for a bike rack for an RV. Hitch-mounted racks come in two styles: platform-style mount and hanging-style mount. Keep in mind that you will need to purchase a hitch if your RV does not already have one.
Ladder Mount
The ladder at the back of your RV is used for many purposes. One of them is coupling a bike vertically on a rack installed to the ladder. Compared to hitch mount and bumper mount racks, ladder mounts are not as widely used as they create bother every time you will need to use that ladder. Additionally, the capacity, in comparison to other types of bike racks is compromised. A ladder-mounted rack can take up to 2 bikes only.
Bumper Mount
Attached to the bumper of the vehicle, these racks are perfect for you if you are an extra cautious driver. Bumper-mounted racks ensure you have full visibility of the road ahead while you are driving and can hold more than two bicycles easily.
These are easy to install and leave all the space in the rear of the vehicle for hindrance-free access. However, the downside of bumper mounted RV bike rack is that your vehicle and rack would all undergo serious damage if your RV bumper is not sturdy enough. Only steel-constructed bumpers are capable of holding enough loads and the rattle is a suitable choice as a bike rack for an RV.
Tire Mount
These kinds of racks are installed at the back of vehicles that comprise a spare tire. Tire-mounted racks work great to keep your vehicle and bicycles damage free. You need to keep in mind that a tire mount rack is not the one you would want to choose if your RV does not have a spare tire facility.
A-Frame Mount
A-frame mounts, also known as Tongue mount racks are welded securely into the propane tanks of an RV. Although the position of the rack is fitting if you want to keep an eye on your bike while you are driving, the high position of the rack can be of some disruption and could mean it would be difficult to load or unload the bike.
Factors to Remember While Choosing the Best RV Compatible Bike Rack
In this section, we will discuss how you will be able to choose the best bike racks for your RV based on your needs. Just assess the bike rack against these essential factors, the type of the motorhome, and get the one that suits you the most!
Bike Capacity
The most important question you should be asking yourself when looking for bike racks for an RV is this- How many bikes do I have to carry? If you own one, and plan to go out for friends or family camps with a couple more, you need a rack that has the capacity of carrying up to 4 or 5 bikes depending on your bike sizes.
Quality Materials
The material of your RV bike rack will primarily determine how long your rack lasts, whether it is prone to scraping or cracking easily. We recommend high-quality materials like stainless steel with powder coating for construction. This highly durable combination is corrosion and dent resistant.
Ease of Use
If you have another friend helping you every time you load or unload your bicycles on the bike rack for RV, a ladder mount rack may be one of the kinds of rack you would want to consider. If you plan to travel often with your bike-hitched RV, you should choose something that is easy to reach, unlike a ladder mount which is installed at a significant height.
Hitch mount, bumper mount, or tire mounts are considerably better options if you need easy access options. Also, make sure that the type of rack can carry all the bikes without compromising the storage space.
Affordability
It's easy to get carried away with all the options available in the market, but we don't recommend you spend too big or too little for all the similar features. Once you properly figure out which rack is perfect for you, you can choose from the pool of options we have presented, some more affordable than others. A high quality rack from a reputable company will last you years and give you the necessary security without costing you too much.
Installation Process
The installation of racks into your RV isn't something you need to sweat over. The steps of the installation will mainly depend on two factors: what kind of rack you have bought and what is your RV like. Usually, a ladder mount rack is easier to install than its counterparts. Each model of rack comes with a user manual that guides you in the installation process. For extra help, you may use tutorial videos and the installation should be a breeze.
Frequently Asked Questions
What is the best brand for RV Bike Rack?
As you might have guessed from our reviews of the 6 best bike racks for RV, one of the most trusted brands when it comes to designing top-notch bike racks is Swagman Traveler. They make high-quality racks for several bicycles, with strong and distinctive features. With Swagman bike racks for RV, you will get what you pay for.
Making similarly durable and secured racks are Lippert and CURT. These brands deliver unique features, along with well-built finishes, meant to last for years to come. Camco on the other hand, constructs the best kinds of ladder mount racks with its affordable price range and incredible security features.
Does a bike rack obstruct access to other parts of the RV?
Whether a certain part of your RV is obstructed will depend on bike sizes and the type of rack you have chosen. If you own a bumper-mounted rack, the rear part of your vehicle is free, unlike a ladder mount bike rack. With ladder mounts, the ladder is blocked. This means getting to the ladder whenever you want could be frustrating.
While hitch mount racks usually block the rear of your car, the easy folding systems make sure you have access to the back without any hindrance. The spare tire mount, on the other hand, mounts the bicycles by the wheel. This means none of the RV parts are obstructed.
Conclusion
When it comes to owning and using an RV, we know that the time on the road is equally important for the rider than the destination itself. Sometimes you might spend days, even weeks inside your RV, all the while carrying your bikes along. In that case, a quality RV bike rack becomes indispensable.
We've said it before, we'll remind you again. Choosing the right bike rack for the RV will make all the difference. It keeps your RV and your bike damage free. So, make sure it's a compatible one, and you're set to go off with your bicycles.
Related Articles