Best Bike Rack For SUV 2023 Reviews & Buying Guide
While space is usually sufficient in the cabin of your SUV, cramming the bikes inside is not a great move. You must know this already, so here you are, looking for a proper SUV bike carrier.
Looking into sport utility vehicle bike racks can be exhausting. So many different types and designs, so many brands to choose from, and several benefits and drawbacks as well! Which do you prioritize and how do you choose a rack for your odd-roader? Too many questions and even more web results will emerge when you begin your research for the best bike rack.
To narrow it all down in one place, I have analyzed and listed down the 5 best SUV bike rack options, so you don't have to look around wasting your time and energy.
5 Best Bike Rack For SUV Reviews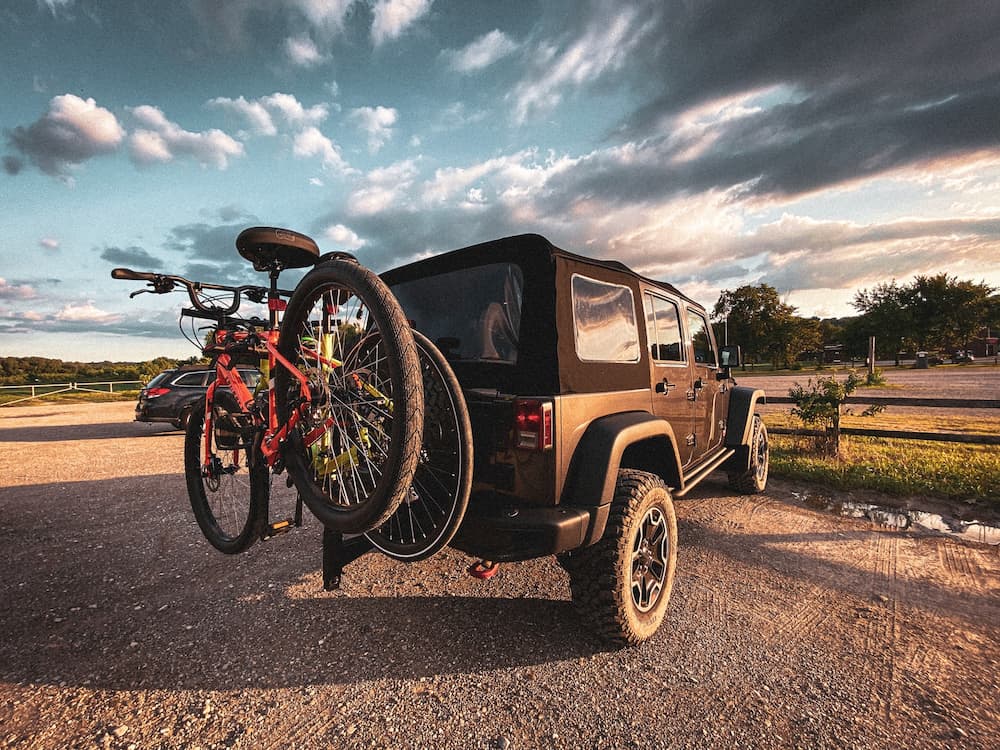 Kuat NV 2.0 Bike Rack (Best Platform Hitch Bike Rack for SUV)
With the NV2.0 bike rack, Kuat has shown its competence in improving an already flawless product. The Kuat NV 2.0 bike rack for SUVs might just be the top bike rack for its increased durability and staunch security.
Kuat re-designed its original NV bike rack and upgraded each feature, including a Trail Doc work stand and foot-supported pivot technique. With cradles that vary without a hiccup, this versatile carrier is capable of securing all kinds of tire sizes.
Whether it's a large 4.8-inch tire, a child's, or a woman's bicycle, you can trust this refined platform hitch bike rack to carry your bikes safely and scratch-free.
Two noteworthy upgrades are the improved cable locks, better hinges, and ratcheting arms that add more stability to towing. Bike rack release is also made easier with such improvements. The cable locks are long and strapping, which means you may travel up mountains without worrying about your rack slacking at the back. Kuat 2.0 also includes a Phat Bike Kit.
The superior quality platform hitch bike racks have a heftier price tag compared to their equivalents, but we must say, the sleek and modern finish of this assembly makes up for the charge. With no contactless bike rack system, this easy-to-release rack is our favorite for its top-notch security and beautiful modern finish.
Features
Has a capacity of holding two bikes, up to 60 lbs each
Built-in superior quality cable locks
Integrated Trail Doc work stand
Hand-tight hitch cam system
Adaptable front cradles
Upgraded pivot with foot actuation
Pros
Incredible security
Easy to release
Versatile for several tire sizes
More stability
Suitable for everyday use
Cons
The cost is higher compared to other racks
YAKIMA Full Swing Bike Rack (Best Hanging Hitch SUV Bike Carrier)
Yakima's Full Swing bike rack has an outstanding ability to carry up to 4 bikes. This means, with a 2-inch hitch receiver, this SUV bike carrier can handle up to 160 lbs at once. That is commendable in my opinion!
I am one of those cyclists who travel with a group of other cyclist friends. This means I often need to carry two, three, and sometimes up to 4 bikes to distant, maybe even rock-strewn destinations. In these situations, this particular option of the best hanging hitch bike rack fits well.
One of the reasons I have picked Yakima's full swing bike rack is for its easy installation features. I have discovered that the SpeedKnob and AutoPin lock is in place without hindrance, meaning you will need no other tool to assemble this product. Plus, they provide you with a wrench.
As the name suggests, this bike rack fully swings to make way for rear access and storage space available at the trunk of the vehicle. We must mention the integrated locking cables that ensure increased security.
Although the current customers love the ZipStrip feature along with the padded arm protection, few complain that the rack needs a supplementary adapter to fit any non-traditional frame. Some people complain about the cost too.
One of the star features, the ZipStrip allows for easy loading and unloading of the bicycle, while the padded arms folds ups whenever the bike is not loaded. The SKS (single key system) locks are further assuring tight security.
Features
Has a capacity of carrying up to four bikes, of 40 lbs. each
Padded arm for extra gear protection
ZipStrips for hassle freeloading
Incorporated lock cables for added security
Tool-free, SpeedKnob and hitch pin installation
Pros
Tremendous capacity
Easy and quick installation
Anti-wobble features
Added security with locks
No hassle access to the rear
Limited Lifetime warranty
Cons
Pricey compared to other hanging hitch racks
Adapter required for certain framed bikes
Saris Bones Trunk Bike Carrier (Best Trunk Sport Utility Vehicle Bike Rack)
Saris Bones Bike Rack is our top pick when it comes to getting value for what you spend. One of the handiest SUV bike racks in the market, this assemble can fit on any vehicle. If you don't want to use it for your off-road machine in the future, you can always mount it in the trunk of your saloon, minivan, or wagon.
In my opinion, the Saris Bones trunk bike carrier has a unique and stylish design, allowing the rack to carry two bicycles, one over the other. The solid plastic construction is shaped more like a crossbow and comes with specialized straps that prevent swaying or vibrating on rougher lanes.
For added safeguarding and durability, the rubber feet are accompanied by injection-molded arm and leg support. Although the rubber feet protection works well to keep from damage, the rack is still prone to light scratching over time.
Saris Bones Trunk bike rack is one of the most popular carriers you can find, and certainly, it deserves to be so. Easy installation is a bonus, with the trouble-free loading and unloading system.
Features
Has a capacity of carrying two bikes, 70 lbs in total.
Compatible for different vehicles
Anti-wobble straps included
Adjustable arms for ease of loading and unloading
Injection-molded arms and legs
Additional straps with vinyl covered hooks
Pros
Versatile use for other vehicles
Anti-swaying features
Easy installation process
Incredible stability
Environment-friendly and rust-free materials used
No hassle loading and unloading of bicycles
Lightweight but solid construction
Cons
Separate adapter required for certain vehicles
Allen Sports SpareTire Rack (Best Spare Tire SUV Bike Rack)
Allen Sports is known to make high-performing, simple, and affordable bike racks. With their spare tire bike rack for adventure vehicles, they deliver with consistency. The S303 model is specially devised to carry up to 3 bikes. The sturdy construction is known to be durable for its powder finish and metal framing.
One feature that surely stands out is the 'Sure Straps'. The straps are made of long-lasting and weather-resistant rubber, which also facilitates a tie-down system. A cradle beam, along with the lower straps makes sure quivers from bumpy turns don't affect the bike and rack too much.
The SUV bike carrier comes all assembled which means you'll not have to work extra hard for the installation either. The rack folds up and down without any difficulty. On top of that, we especially love the genius open-frame design with a wide bottom profile. Not only does this design give the bike rack a stylish outlook, but it also makes the product varied in the range of bicycles it can carry.
Few customers however have complained of swaying when the 4×4 drives too fast. We think any spare tire bike rack would be compromised in such an instance. Most spare tire bike racks, including this one, obstructs the rear side of the vehicle. Other than that, Allen Sports offers the most at an affordable price, making this assemble one of our favorite picks for the best bike racks for SUV.
You can read more about this type of bike carrier in my review of best spare tire bike racks.
Features
The capacity of carrying 2 bikes, 35 lbs. each
Rubber cradle straps
Black powder finish
Tie-down system cradles
Sure Strap security
Pros
Easy to assemble
Affordable price
Substantial security with the straps
Smart design
Stable wide base
Durable and rust-resistant design
Cons
Tire covers need to be removed
The rear part is obstructed
Yakima FrontLoader Bike Carrier (Best SUV Roof Bike Rack)
If you have no pressing complaints about loading your bike to greater heights, we recommend you to consider Yakima's FrontLoader Wheel-On bike rack. Assuming you already have roof bars installed on your rugged rover, the variable clips will help you secure your bicycle firmly in place. To put it simply, you'll need roof bars for this bike rack.
Unlike fork mount racks, the FrontLoader is a roof bike rack. This means you would not have to detach the front wheel every time. Sounds relieving? Add to that, the installation process takes a little time as well. No tools are required, for its efficient clamping is enough for the job.
This roof rack is particularly resourceful when it comes to what kind of bicycle it can carry. Whether it is rear or snub, the axle type would not be a headache. However, one of the greatest drawbacks of Yakima's FrontLoader bike carrier is its inability to hold fatter tire sizes. Few people also claim that an all-terrain vehicle may be too high for hassle-free use of any roof bike rack, including this one.
With this design, Yakima ensures that bike frames are contactless and secured. So, if you have a carbon fiber bicycle or a painted one, the zero contact frames would prevent any scratching or damage. Moreover, the folding and unfolding are simple, adding to the benefit of easy access to the trunk of the vehicle. Although it does not include locks with the purchase, you can add SKS locks for better security.
Features
Versatile construction to fit any bicycle
Flexible clamp system
No contact with the frame
No wheel removal system
Pros
Easy to install
No scrape or scratch from frames
Simple folding and unfolding
No hassle rear vehicle access
Can carry any bicycle
Cons
Cannot hold bigger tires
Does not come with a lock
SUV Bike Rack Buying Guide
Before diving in headfirst to make a final selection in buying a bike rack for your 4×4 vehicle, it would be wise to revise a little checklist. The following factors are what you need to keep in mind for choosing the best SUV bike carrier.
Rack Accessibility
This is a critical factor to consider and may determine what kind of adventure vehicle bike rack you choose. Roof racks are situated at the roof of the vehicle, and access is not as easy, compared to its counterparts.
The more accessible bike racks would be hitch mount racks, both platform style and hanging style.
Here you might also think about the weight of the bike rack. Lightweight and well-designed racks are easy to install and access.
Ease of Use
When assessing other factors, you must also think about how easy it is to use and how easy it is to store. For that, make sure you choose a SUV bike carrier that does not require special tools to install, and ones that can be removed easily.
You may also want to consider the space it takes up when not in use. You should be able to keep it in your garage without occupying a lot of space. Along the same lines, it could also help to choose a rack that fits most bicycle types and a variety of tire sizes.
One of the hallmarks that add to ease of use is how effortlessly it can fold up. Always go for the SUV bike rack that mentions easy folding and unfolding. That way, you would be able to store it anywhere, even inside your vehicle.
Number of Bikes
Before mapping out other factors, consider how many bikes you need to carry. This could be a good point, to begin with, if you are still confused. If you only travel alone with one bicycle, it is unnecessary to invest in a large bike rack for SUV that holds 4 or 5 bikes.
However, we do have a tip for you. Remember to invest in a rack that can carry a larger number of bicycles. Keep room in case you ever plan an adventure with your friends and family. Greater capacity bike racks don't vary in cost significantly.
Trunk Access
One of the most common questions customers ask when purchasing an SUV bike rack is whether they would be able to access the trunk for their cars. Likewise, SUV owners find it important that they have trouble-free entrance to the rear storage space of their cars when the rack is installed.
In any case, a trunk-mounted bike rack would not be advisable. Instead, you could consider other options for mounts that do not obstruct the trunk. These would include spare tire bike racks, rooftop racks, or adjustable hitch mounted racks for your 4×4.
Usage Frequency
It is essential to ask yourself how often you would need to mount bicycles on your SUV bike carrier. This is because the ease of installation would be the principal factor in such a situation.
If you plan to use your bike rack often, if not every day, consider buying a carrier that is convenient and quick to install. Few racks come assembled, and all you have to do is mount and strap it in. Other bike racks, take more time and effort to assemble. Such carriers should be ideal for you if you use your carrier once on a vacation or weekend.
Storage
The storage space will depend on how easily the bike rack folds up. If you plan to keep your rack inside your SUV, you may want to consider buying a bike carrier that can be easily folded for more storage space.
Versatility
Whether a bike rack is an all-rounder will depend on what you want it to do. A versatile bike rack for SUVs may be one that carries several bicycles. A carrier that can fit different-sized tires is also considered versatile.
If you have a family with little children, you may want to consider bike carriers for SUVs that can carry women's bikes and smaller children's bicycles.
Moreover, a bike rack is also considered versatile if it can carry other outdoor gear such as boats, boxes, or surfing boards.
Budget
Although several budget-friendly bike racks are available, it is advisable to spend a little more on a high-quality SUV bike rack. A premium, well-constructed rack, like our top pick Kuat NV 2.0, works for the stability and protection of your bicycle as well as your SUV. Thus, it is important to invest in a durable product that provides value for money, even if it means paying a little more.
If you are budget constricted and wish to invest in something more affordable, the Allen Sports SpareTire rack is a fine choice.
Brand
In our recommendations, we have included bike racks from reputable companies only. Good brands produce great products. They are "brands" because they have consistently delivered incredible products for years, and thus have a reputation amongst buyers and reviewers.
Hence, we always support investing in a brand that is well appreciated in the market, so you can read user reviews on the internet and know the authentic story.
Final Thoughts
Our list of the 5 best bike racks for SUVs includes SUV bike carriers that are feature-rich, handy, and long-lasting. Moreover, in narrowing down the options for you, we have focused on functionality and construction.
We have included SUV bike racks of different mounts and styles as well. Some are more affordable than others while few are easier to assemble and use. We hope our buying guide and recommendations will help you choose a great bike rack for your SUV.
In our journey to find the best bike rack for SUVs, I've explored a variety of options. I've shown how these bike racks can transform the way we transport our bikes in our 4x4s, making our cycling adventures more accessible and enjoyable.
The Kuat NV 2.0 Bike Rack stands out with its robust construction and versatile design. It's a platform hitch bike rack that offers increased durability and security, capable of accommodating various tire sizes. Its improved cable locks and ratcheting arms provide stability, making it a reliable choice for any cycling enthusiast.
On the other hand, the YAKIMA Full Swing Bike Rack, a hanging hitch SUV bike carrier, can carry up to four bikes, making it an excellent choice for group outings. Its easy installation and integrated locking cables ensure your bikes are secure and ready to go whenever you are.
For those looking for a more budget-friendly option, the Allen Sports SpareTire Rack offers high performance at an affordable price. It's simple, durable, and comes with 'Sure Straps' for added security. Its smart design and stable wide base make it a reliable choice for any SUV owner.
Finding the best bike rack for your offroader depends on your vehicle model, budget, and it's capacity. Investing more money in a higher-quality bike rack not only ensures the safety of your bikes but also enhances your overall cycling experience.
Related Articles