Best Bike Rack for Subaru Outback 2023 Reviews & Buying Guide
Sure, your bicycle is good enough to carry you long distances. You could travel from your place to your friends, or even go to that race completion near your house. What do you do if you have to carry your bike to a distant picnic area everyone else has decided to meet? How do you drive your Subaru wagon with your bike along with your friends in the trunk of the vehicle? All that rattling and collision is sure to damage both the bikes and even the rear side of your car. Here's where a good bike rack could do more than just carry your bikes safely.
Whether you go for hitch-mounted racks or roof-style bike racks, it is important to invest in a well-designed rack that offers maximum stability and durability. Do keep in mind that the bike racks will not only secure your bikes, it will also prevent damage to your vehicle.
5 Best Bike Rack for Subaru Outback Reviews
I have reviewed and analyzed all types of bike racks, so you don't have to go through hours of research to know how to choose a bike rack for your Subaru Outback.
I have selected the 5 best Subaru Outback bike racks that in my opinion are worth considering right now.
Thule T2 Bike Rack (Hitch Platform)
Considered one of the most popular items among the available ones in the market, the Thule T2 bike rack is ideal for people who own more than one bikes of different size. This bike rack can easily carry two bikes with different wheel sizes, ranging from 20 to 30 inches. With the add-on, up to 4 bikes can fit in safely.
If you and your friends plan outdoor adventures often and have the need to carry multiple bikes, the Thule T2 bike rack will be your star choice for its well-built and stable construction. The frameless ratcheting arm in this bike rack ensures firm security when the vehicle is on the road. You can mount your bike and ride freely without worrying about damaging or displacing the racks for bike's weights.
With enough space between two bikes, the rack is designed to tilt down effortlessly, whenever the trunk of the car needs to be opened. The HitchSwitch lever feature allows this comfortable folding, meaning there is access to more storage space when needed.
The hitch-mounted bike rack is easy to assemble as the attachment is automatic and requires no additional tools. We highly recommend the rocking bike rack, even though we think the locks could be more firm. Designed with rust free steel, this is one of the most durable, heavy duty products you will spend on.
Features:
Capable for carrying two 60 lbs bikes
No tool is needed for attachment
Thule T2 add-ons can be attached for two more bikes
Hitch switch lever which tilts smoothly
Operational flexible arm for quick security
24 inch guard locks and knob
Can fit wheels of 20 to 30 inches
Comes with warranty
Pros:
Can be easily folded for more storage space
Tilts up and down without hassle for easy access to the back side of the vehicle
Fair distance between two racked bikes
Well designed
Easy to use
Simple installation and assembly
If add-ons are attached, capacity increases to 4 bikes.
Cons:
Costly compared to other racks with similar capacity
The lock is not the best
Yakima Highroad Roof Mounted Bike Rack (Roof Rack)
Yakima has come up with this new design of bike rack in its premium Highroad Mount Bike. As expected from Yakima, they have managed to deliver high quality features with long lasting roof back construction. With easy installation steps that anyone can understand, this bike rack for Subaru Outback can be assembled without the need to additional tools.
This inexpensive product takes one of the top spots in our list of Subaru Outback bike rack because of its flexible and secured features. There will be absolutely no contact of the rack to the car frame, while the ratcheting hitch firmly attaches the rack to the wheels. For further security, this rack comes with double same key system (SKS) locks.
Yakima's Highroad roof rack might be what you need if you own either a painted bike or one which custom fiber. While you can easily get access to the rear of the vehicle because of the faraway lever, it can also be easily folded when not in use. This frees up storage space and makes it perfect for those longer adventures out.
Features:
No contact frames
Little to no hatch interferences
Secured TorqueRight knobs
Dual Same Key System (SKS) locks available
Tool free installation
2 bikes capacity
Pros:
Easy to install
Can be folded in idle state
Great Security
Budget friendly price
Thick cable lock
Cons
Not suitable for smaller bikes or kids bikes
Kuat Bike Rack (High Quality)
Kuat has upgraded its already high performing rack to produce its new NV 2.0 bike rack, and we were impressed enough to include it in our toppers. This super durable hitch mount rack is rich in security, stability, and amazing features, similar to its original version.
The design is pleasing to the eyes and includes a built in work stand, making it feasible to use it almost every day if needed. If you are one to race up and down, this work stand works fine. The highly adjustable straps and ratcheting arms makes loading and unloading an easy task. There is even no need for you to bend, as the rack can be moved using a foot pressing lever.
This versatile, platform style bike rack is a winner when it comes to holding firm a wide range of tires. It also comes with an impressive wheel tray that can be adjusted to your need. The locking system is one to mention as it has dual cable locks with great diameter, ensuring a risk free and damage free hook.
This high quality bike rack has great functionality, along with good looks. If you are looking for something that adds beauty to value, something to use often and is security efficient, this is the one for you.
Features:
Capable of carrying 2 bikes of 60 lbs each
Hand tight cam system
Built in work stand
No extra tools needed for installation
Adaptable cradle system
Integrated repair tool stand
Efficient locking system
Long and durable straps
Pros:
Great Value for price
Solid construction
Easy to assemble install
Trouble free loading and unloading
Cons
Thule Helium Pro Bike Rack (Hanging Hitch)
The only triple bike carrier in this list of the finest bike racks for Subaru Outback, Thule Helium Pro Hitch Bike Rack is a lightweight, easy to install hanging hitch system.  For this one, wheel size will not be of importance as it is a suspension carrier. This is secured and can even work for children's small bikes, given you use a 982XT Thule Frame adapter.
Thule has constructed very steady bike racks with aluminum, at the same time included anti-wobbling features that make this hitch rack greatly sturdy. Thule creates some of the most unique bike racks available in the market, and with this one, they have incorporated a HideAway feature. This feature gives extra steadiness by creating an anti-oscillating effect.
This bike rack allows a 7 inch of space between bikes will mean that the frames don't come in contact at all. To add to the list of impressive features, there is easy folding and unfolding system with the HitchSwitch allowing comfortable access to the back of the vehicle. In case you leave your bike behind, there is enough security for the job including an integrated cable lock.
Features:
Capacity of 3 bikes
Hanging hitch carrier
No wobble hitch pin
HitchSwitch lever for easy fold
7 inch space between bikes
Ratcheting strap security
Built in cable lock
Tilt down rack system
Pros:
Very lightweight for capacity
Easy attachment system
Trouble free folding system
Incredible stability
Cons:
Unsuitable for carbon fiber bikes
Swagman Hitch Mount Bike Rack (Affordable)
Considered one of the most versatile Subaru Outback bike rack in the market right now, this hitch mount bike rack from Swagman is designed to fit any hitch easily. For the stability of the rack, a flexible ratcheting system sits in place. Taking up a place in my selection of best bike racks for Subaru Outback is this steel constructed rack, for its outstanding locking features and budget friendliness.
The platform rack ensures a worry-free ride for you, as the integrated anti-swaying system holds the rack in place without noticeable wobble. Additional rubber straps for the wheels deliver further protection as it can carry up to two bikes of 35lbs. each. Folding and unfolding for access to the rear area is no issue for this hitch mount bike rack.
The bike rack comes with a warranty and can be installed within minutes without any hassle. If you are looking to keep your budget within limits for a well-engineered, least wobbling bike rack, this should fit your needs just fine.
Features:
Capacity of two bikes 35 lbs. each
Steel Construction
Ratcheting hooks
Powder coated rack
Changeable wheel hoops
Anti-wobble system
Comes with warranty
Pros:
Easy assembly
Considerable steadiness
Great security
Different frames suitable
Convenient rack folding
Affordable
Cons:
Hitch pin needs to be bought separately
Slight risk of damage from clamp contact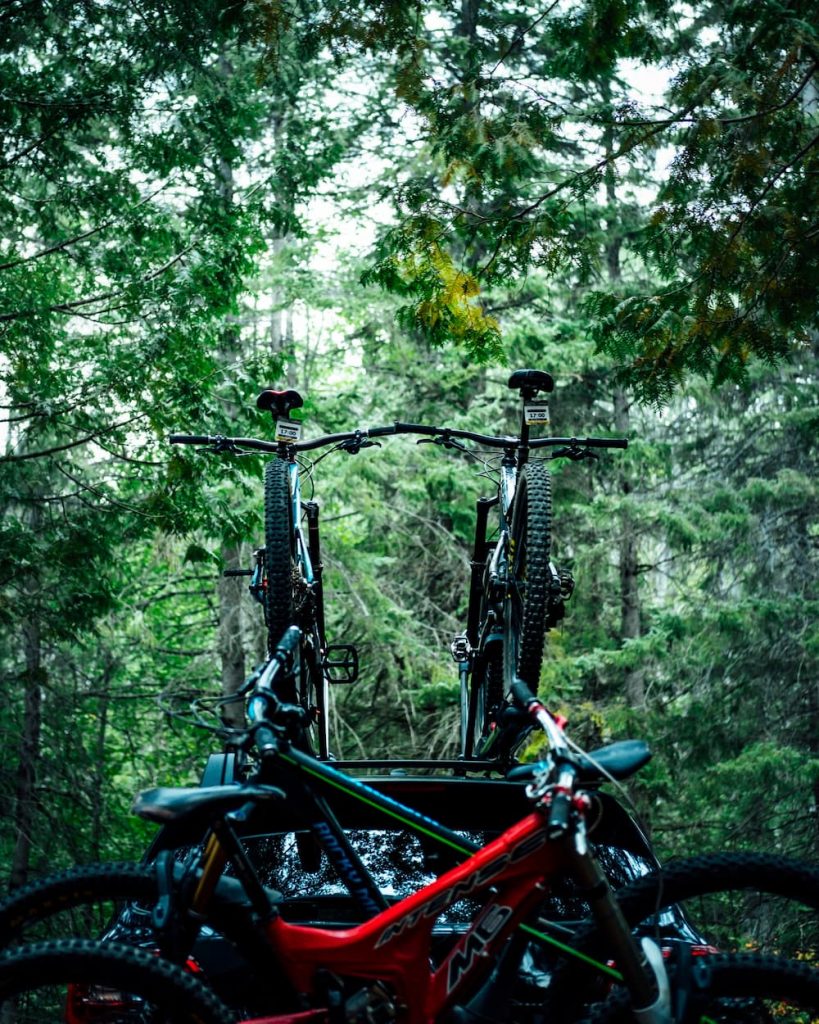 Subaru Outback Bike Rack Buying Guide
You've gone through my hand-picked list of the 5 bike carriers for your Subaru Outback. Now, I suggest you enlighten yourself with the right information. This will help you make the right choice if you still have doubts.
Types of Bike Racks
There are several types of bike racks available in the market. You need to know the correct types to find the one you need.
Trunk Mount Rack
As the name suggests, these bike racks are bonded to the rear of the car with the help of adjustable straps, ratcheting arms and cradles. Among the 3 main types of bike racks, trunk style racks are often the most affordable and can fit most types of bike easily. This type is ideal for someone who rides smoother roads along with their cycles, and has one cycle to carry.
Hitch Mount Rack
These come in two different styles: hanging style and platform style. The higher price range of hitch mount rack is fair for is ability to carry up to 4 bikes, that too on rougher terrain.
While hanging style is better for lightweight use comparatively, the platform style makes loading and offloading easy with outstanding security. Platform style hitch mount like the Thule T2 bike rack is our favorite pick among the best bike racks for Subaru Outback for its stability, easy installation, and abrasion-free features.
Roof Mount Rack
Usually, with a price range between the other two types of bike racks, the roof mount style is a space-saving option. Access to storage rear spaces will be of no problem, as the bike stays secured on top of the wagon. This usually does not sway or damage and has versatile use.
Spare Tire Mount Racks
Subaru Outback comes with the spare tire stored under the floor in the cargo area, so this rack type can not be used with this vehicle.
Considerations To Keep in Mind
How often will you be using the Subaru Outback bike rack? Are you a recreational cyclist or take cycling as a sport. Consider your usage while choosing a bike rack.
What is your budget? Are you looking to make a bigger splash for a feature-rich bike rack or you are just opting for something affordable?
Are you planning to carry more than 1 bike? If yes, how many? Make sure you have an idea of the weight of your bikes before choosing from the best bike rack for your Subaru Outback.
Lastly, find out which kind of bike rack is best suited for your Subaru Outback among the 3 basic types.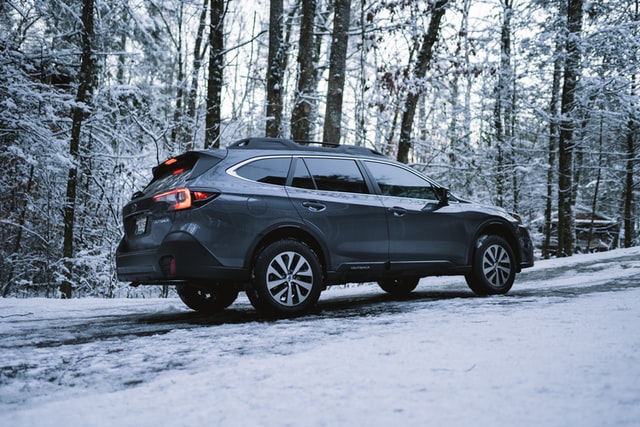 Frequently Asked Questions
Which type of bike rack for Subaru Outback is better – a roof rack or a hitch rack?
Hitch Mount system used in best bike racks are often more expensive but incredibly stable. The hanging cradle style for instance is an option for light cyclists, with lightweight construction and enough space from the ground, although the security isn't as strong when it comes to damages due to contact to the vehicle.
One type is the platform style which is pricey but sturdy enough for rough rides. You may want to consider this seriously, as platform style hitch mounts is easy to install and remove, and lock protection ensures more security.
Roof rack, on the other hand, is great for long-distance rides and one we recommend if you cycle often and don't mind lifting the bike at the top of your car. This one is more versatile as it can also hold other bags and belongings, it case you are looking for a multipurpose bike rack.
While the locking system is commendable, the anti-wobble construction of the roof rack style prevents additional rattle. We should warn you that removing the rack is not an easy task for this one.
Our choice for an overall, convenient, and steady type would be the Hitch Rack platform style.
How many bikes can I carry?
Thule 2 Bike rack can carry 2 bikes without add-ons. With add-ons, it is capable of carrying up to 4 bikes. Thule Helium hanging hitch can carry up to 3 bikes without add ones, while Yakima's roof rack has the capacity of carrying two bikes. Look for bike racks depending on how many bikes you need your car to carry.
Which type of bike rack is better for rocky or rough roads?
A hitch rack with platform style or a roof mount rack, either will be good choices for your rocky adventures.
What is bike rack for Subaru Outback usually made of?
Most bike racks are made of steel and plastic that is UV treated. Other metals like aluminum and titanium are also used. Aluminum is lightweight but steel constructs more durable bike racks. The best racks are often painted with powder coating which prevents any kind of rusting.
Conclusion
In the quest for the best bike rack for Subaru Outback, we've journeyed through the features, pros, and cons of five top contenders.
The Thule T2 Bike Rack stands out for its capacity to carry multiple bikes of different sizes, making it ideal for group adventures. Its sturdy construction and frameless ratcheting arm ensure your bikes are secure and your vehicle is protected.
On the other hand, the Yakima Highroad Roof Mounted Bike Rack offers a budget-friendly option with high-quality features. Its no-contact frame and secure TorqueRight knobs make it a reliable choice for those with custom fiber or painted bikes.
For those who value aesthetics as much as functionality, the Kuat Bike Rack is a top pick. Its pleasing design, built-in work stand, and adjustable straps make it a versatile choice for daily use.
Choosing the bike rack for your Subaru Outback depends on your specific needs and budget. Investing in a well-designed bike rack will enhance your cycling experience, protect your Subaru, and provide the convenience you need for your outdoor adventures. As my grandpa used to say – the best bike rack for you is one that fits your lifestyle and keeps your doctor away and stands the test of time. Happy rides!
Related Articles