Best Bike Racks For Car With Spoilers 2023 Reviews & Buying Guide
In the hustle and bustle of city life, sometimes all you need is a gateway to nature. And there is no better way to have a piece of nature than a bike trek. But, you will need a bike rack for car with spoilers if you're going on such trekking.
In this article, we tried picking out our 5 picks of best bike racks for cars with spoilers. We have here a comprehensive report about their features, pros, and cons and what makes them the best bike racks for cars with spoiler.
Best Bike Racks for Cars with Spoilers
If you are looking for a bike rack for your car that has a spoiler installed, you need to take specific features and requirements into consideration. It is not as easy as it sounds, so I have compiled a list of the best bike racks that fit cars with spoilers.
Here is an important takeaway if you are looking for a bike rack for your electric bike that fits the car with a spoiler. None of these models work with bikes above the 35-pound weight limit. That means you have to consider other options, for example, a hitch bike rack, roof rack, or carrying your bike inside your car.
Hollywood Racks Over-the-top Mounted Bike Rack (Fits SUVs and Hatchbacks)
The latest design of Hollywood Racks is an over the top trunk mounted bike rack with a high-rise design. The design and features of Hollywood Racks are patented to protect the rear spoiler of your car.
To increase fuel efficiency, many SUVs are equipped with a rear spoiler. The patented design prevents the rack from having any contact with the spoiler and straps. It also fits vehicles without the spoiler. They attach easily to the roof rail, anchors, or seam of the trunk.
The rack comes fully assembled, so you don't need to bring out your toolbox to assemble the pieces. It also has a quick-release mechanism. The anti-sway rubber cradles keep your bike safe even in the roughest terrains. It has a tie-down strap for better-integrated security with your rear spoiler. The package from Hollywood Racks comes with extra standard rubber hooks, roof rail attachment, and hoof anchors. With added attachments, it can hold kids' bikes, ladies' bikes, mountain bikes.
The Hollywood Racks unit is also foldable for you to store it away when not used. It folds flat for it to be conveniently be stored away in the garage.
Being made of aluminum and steel, it will resist rust and stay well. Rust can destroy a fully functional bike rack as it will eat away the strength of the structure itself.
So, it is safe to say the Hollywood Racks over-the-top mount bike rack will serve you for an extended period. This package is worth the extra bucks it registers for. If you want to invest in a top trunk bike rack, this might be a good investment.
They have a protected yet limited lifetime warranty policy. Although the rear Hollywood Racks over-the-top mounted bike rack has wide compatibility, we suggest you address the vehicle compatible guide to check its adaptability to your vehicle.
Features
High rise adjustable frame
Designed for all types of cars with a rear spoiler
Top trunk mount for a vehicle with spoilers
Three differently designed straps
Anti-sway EDM soft rubber bike cradle
Comes fully assembled
Foldable
35 pounds limit per bike (so ebike will not work with this one)
This rack has a 3 bike capacity (2-bike model also available)
Dimensions are about 9.8 x 19.69 x 19.8 inches
Item weighs 19 pounds
Constructed of aluminum and steel
Pros
Fits over rear spoilers and roof bar
Attachable to multiple models of cars, trucks, or utility vehicles
Carry 3 bike slots
Anti-sway soft rubber cradle
Heavy-duty frame
Cons
Bulkier and heavier than its contemporary
Poor security owing to external attachment only
Specific bikes require a top tube adapter. (For example, kids' bike, ladies' bike, mountain bikes)
Saris Bones Trunk 2 Bike Rack (For Sedans With Trunk Spoiler)
The Saris Bones Trunk 2 Bikes Rack Carrier is functional and got good looks. Designed by the famed Fabio Pedrini, the Saris Bones trunk-mounted bike rack with 2 bike carrier is a beautiful, useful piece that you can add to your trekking gear. This trunk mounted bike rack was designed to be more than a rear mounted rack. It is a design that features style, convenience, design, and durability.
This bike rack was designed in an arc-based design. This enables the frame to fit over most of the spoiler and vehicle out there. The frame can carry 2 bikes, with each weighing about 35 pounds. Due to its arc base design, the inject molded arms and the legs were made the strongest of all its competing models' arms and legs.
This Saris design was made to be protective of your car and bike, earning it a spot among the best bike racks for car trunk mount. The rubber feet protect the car. At the same time, the coated straps protect your bike from any scratch or whatsoever.
As a modern trekker, it should be your concern that you are also paying attention to nature's sustainability while you are enjoying your trek.
That is precisely what Saris Bones Trunk 2 Bike Rack Carrier does for you. The entire piece is made of recyclable materials. This material also happens to be rustproof. So, I think it is one of the best bike racks for cars with spoilers.
Features
Injection-molded arms
Strong legs
Built with recyclable materials
Rust-resistant material
Suitable for vehicles with spoilers
Easy adjustment
2 bike limit (3 bike model also available)
35 pounds limit on each bike
Item dimensions are about 30 x 8 x 30 inches
The product weighs 9 pounds
Arc based design
Rubber feet
Coated straps
Ratchet straps
Pros
Basic and simple to use
Fair pricing
Lightweight
It fits vehicle with spoilers
Easy assembly
No scratches to the car
Cons
The racks aren't able to be locked in place
It can't be stowed away
Rattles irrespective of the mounting condition
Inflexible straps
Expensive
No anti-sway technology
Allen Sports Deluxe 2-bike Trunk Mount Rack 102DN-R (Universal & Affordable 2 Bike Carrier)
The Allen Sports 102DN Deluxe 2 Bike Carrier is one tool for all job attachments. It is manufactured following a patent that highlights the design of a single configuration. This makes sure that this bike rack is compatible with a wide array of vehicles.
The setup of the Allen Sports bike trunk rack is super easy and fast. It is secure enough to hold onto your bike even in the most challenging terrains. The side straps are capable of providing extraordinary lateral stability. So, your bikes don't keep swindling while driving.
And most importantly, the patented tie-down technology helps hold on to each bike separately but strongly. The carry arms are made intentionally narrow enough to fit in a wide array of bicycles. Also, the superior quality of rugged components guarantees years of use without any noticeable wear.
The shipping package is made extraordinarily secure for you to not miss out on anything. The box comes fully assembled. You only need to set it up to the car. The Allen Sports rack itself is not heavy. But despite being lightweight, it is surprisingly durable.
However, it is advised that you check for specifications for your vehicle and the rack. There are several car models, for example, all Volvo XC model, that are not compatible with this bike carrier because of the rear door construction.
The racks come with a lifetime warranty commitment by Allen, which is also protected. All these make this one of the best affordable bike racks for cars with spoilers in the market.
Features
It fits all vehicle types
Side straps increase stability
Individual tie-downs to protect bikes
Padded lower frames
Designed for vehicles with spoilers
Pre-assembled
Longer carrier arms
Wider carrier arms for compatibility
Item dimensions are about 23.03 x 13.58 x 3.94 inches
Weighs about 8.8 pounds
Set up in seconds
Heavy duty rack frame
Allens's lifetime warranty
Pros
Extremely secure owing to the additional straps
Simple and easy to install
It is a perfect fit for every hatchback car mount
Excellent padding
bike trunk mount fit
Fairly cheap
Sturdy
Compact
Fits vehicles with spoilers
Cons
Small spacing, cramps bikes
Pedals tend to scratch your car
Hollows store water increasing rust sensitivity
No anti-sway technology
Allen Sports Deluxe 3-bike Trunk Mount Rack 103DN-R (Universal & Affordable 3 Bike Carrier)
The Allen Sports Deluxe 3-bikes Trunk Mount Rack 102DN-R is surprisingly a perfect rack to have.
Like every other Allen Sports trunk mounted bike rack, it comes with a wide range of compatibility. It has the same patented design, highlighting the creation of a single configuration. This ensures the compatibility array of the bike rack to be more significant. The setup is super easy and fast.
It comes with the same side straps and patented tie-down technology. The carry arms are of a similar design to the carrier arms of the rack mentioned previously. It is narrow enough to fit in a wide array of bikes. Also, the superior quality of rugged components is used. This guarantees years of use without any noticeable wear.
The package is fully assembled. The rack is lightweight but durable. However, it is always advised that you check for specifications fit to your vehicle and the frame. The frames come with a protected lifetime warranty by Allen.
Features
It fits multiple vehicle types
Item dimensions is about 28.35 x 14.17 x 4.33 inches
Weighs about 10 pounds
Compatible with vehicles with spoilers
Side straps increase stability
A narrow set arms and carry frame
Individual tie-downs to protect bikes
Padded lower frames
Easy setup
Rugged component for longevity
Pre-assembled
Allen's lifetime warranty
Pros
Firm and safe carry of bikes
Easy setup
It is a perfect fit for a lot of vehicles
Cheap
Great trunk mount fit
Fits vehicles with spoilers
Cons
Metal hooks come without any sort of coating
Hard to fit more than two bikes
Installation instruction brochure could be better written
YAKIMA Fullback 3 Trunk Mount Bike Rack
The YAKIMA Fullback 3 trunk-mounted bike rack is a new take on our traditional 3 bike trunk rack. It is a trunk-mounted bike rack with a newly conceived design. It is chic and stylish.
It comes at two specifications, one as a two bike holder, the other as a 3 bike trunk rack holding capacity. The YAKIMA fullback 3 bike trunk rack used its very own zip strips to attach the bike to the rack. The zip strips are strong and give durable cradles. So, it can easily hold onto your bikes.
The entire frame of the stand is a bomber. So, it makes the rack hold onto the vehicle pretty firmly. However, you need not worry about that paint job as there is an ample amount of cushion padding cradles to avoid scratching your vehicle.
The extraordinary feature of this 3 bike trunk rack is its anti-theft technology. The SKS locking package securely holds onto the bikes to your car, even in your absence. And there is not a lot with such feature in the market.
With the enhanced vehicle grasp achieved with the external frame construction, this is one of the safest choices for a bike rack in the market. The four straps, along with the zip strip, is an additional thing to look out for. These straps make it a perfect fit for those seeking a bike rack for their car. All these features make it one of the top trunk racks in the market I know.
However, this bike trunk rack works well with sedans. So, vehicle compatibility is a concern here.
Features
Design complements modern vehicles
Supercrush zip trip cradles
Four strap design
Easy to install
Enhanced frame construction and arms
Enhanced padding system
Locking package preventing theft
Rugged materials
Built-in bottle opener
Holds 2 bike
The bike weight limit is 30 pounds
Premium high gloss finish
Item dimensions are about 3.94 x 0.79 x 3.94 inches
Weighs about 21 pounds
Pros
Anti-theft technology makes it the safest in the market
Rugged materials used for construction
Better padding to avoid scratches
Eye-catching look
Fits cars with spoilers
Cons
It might not be compatible with old vehicles
Heavyweight
No soft rubber cradles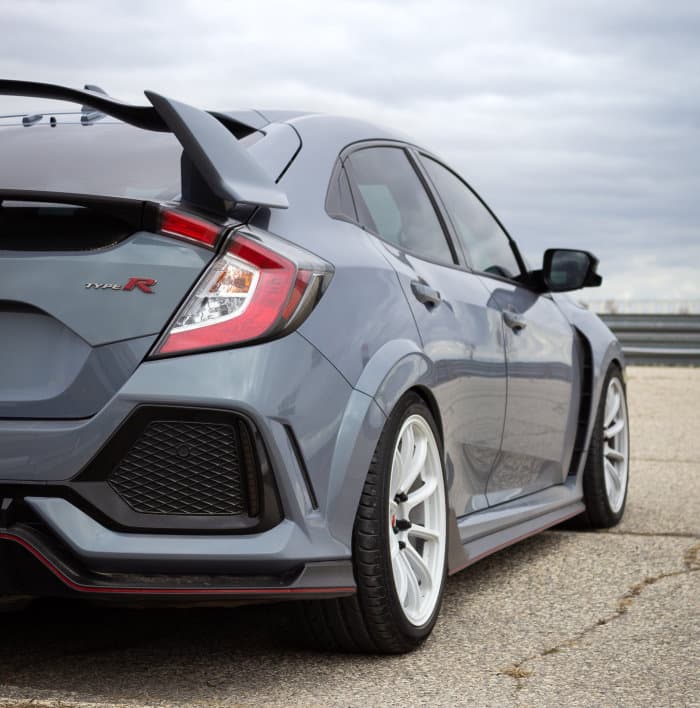 Buyer's Guide
Let's discuss how to choose the best bike rack for cars with spoilers. These are the features against which your preferred product should be assessed.
Number of Bikes
You can only attach one single bike rack to your car. Be it on your roof or the back. So, it is necessary how many bikes can your bike rack accommodate.
Typically, a bike rack can hold 2 bikes, but it holds three in many cases. So, if you are a family of three or more and plan to go on trips altogether, you will need to consider the number of bikes hold in your rack.
Also, the more bikes your rack will hold, the heavier your frame will be. So, it would be best if you had into consideration the weight of your frames.
Security
Security is a big concern when you go hiking. So, it becomes essential that your racks provide an ample amount of protection to your bikes in your absence or negligence. Some of these racks come with anti-theft technology. Others might require you to buy your straps and hooks. So, keep in mind the security aspect before making the final purchase.
Attachment Points
Understand that the attachment point doesn't have to be more than one in a bike rack as both shall serve the same purpose. But having multiple attachment points to your bike rack means it is compatible with various models of cars. You get to use it as you please as per your convenience. So, although not necessary, look into the attachment point being compatible with your chosen vehicle.
Straps
Straps are what is used to secure the bikes to the racks. The straps must hold bikes onto the rack tightly. The straps are often time made of different materials. The best of them is those made with flexible yet rigid materials. These straps are capable of attaching to the bikes as required by their shapes. Also, hold on tightly to it. So, see the belts and their material when buying a bike rack.
Frequently Asked Questions
Can you put a bike rack on a car with spoilers?
The answer to this question is yes. You can find a bike rack that can be attached to the car with spoiler. However, these bike racks should have specific construction to work with spoilers. A high-rise construction will serve the purpose very well.
Do trunk bike racks damage your car?
No, the carefully chosen compatible trunk rack will not damage your car. The bike racks are designed explicitly with padding to avoid this mishap. Most bike racks these days have their very own advanced padding so that it neither scratches your car or bike. Some even provide soft rubber cradles to protect bikes further on.
Are straps on bike racks safe?
Yes. The straps that come with a bike rack are manufactured to the requirement of the particular frame. So, it is safe to claim they cover all necessary security reasons. And usually, no extra bondage or straps need to be used when using the straps provided by the bike rack itself.
How fast can you drive with a trunk bike rack?
This depends on the bike rack you are using. A bike rack will come with a user manual that will suggest the maximum speed limit you can drive with your bike rack mount.
Which bike rack can carry an electric bike and can be installed on a car with a rear spoiler?
None of the bike racks that we reviewed here can carry electric bikes as they can support only around 35 lbs of weight per bike. Racks that can carry electric bikes have to be able to support at least 60 lbs. So, you have to consider hitch racks and roof racks if you need a rack that can carry an electric bike.
Conclusion
We tried listing our top pick of bike racks for cars that have spoilers. In this article, we mentioned all the key features and pros and cons of each product. With the buying guide, we enlightened you on what you need to consider when buying a bike rack for cars with spoiler.
So, now that you know our top pick of bike rack for spoiler and the requisite concern to make a purchase, we believe you can make an educated choice.
Regardless of what you choose per your budget and preference, a bike rack for your car with spoiler will make your trek much more peaceful and comfortable. And that is all that matters.
Related Articles