Best Spare Tire Bike Rack Reviews 2023 & Buying Guide
Cycling can be more than just a means of commuting. It can be a fun and rejuvenating recreational activity. While city dwellers primarily use bicycles for transportation, many people also enjoy cycling in picturesque settings like the seaside or rural areas, taking in the calm breeze and cool weather.
The challenge for recreational riders, however, is figuring out how to transport their bikes without actively riding them. That's where the spare tire bike rack comes in, specifically designed for SUVs and off-road vehicles with rear-mounted spare tires. This unique hinge system attaches securely to your vehicle's spare tire, providing an easy way to mount and transport your bicycles.
With a high-quality spare tire bike rack like the Thule 963PRO Spare Me, you can confidently carry your bike without worrying about safety or stability. These carriers are easy to attach, and some can hold up to three bicycles, catering to your family's cycling needs.
How do you choose the best bike rack for your SUV with a rear-mounted spare tire? What factors should you consider when selecting the best spare tire bike rack?
In this article, I will guide you through the process and help you find the perfect bike rack for your vehicle and cycling adventures.
8 Best Spare Tire Bike Rack Reviews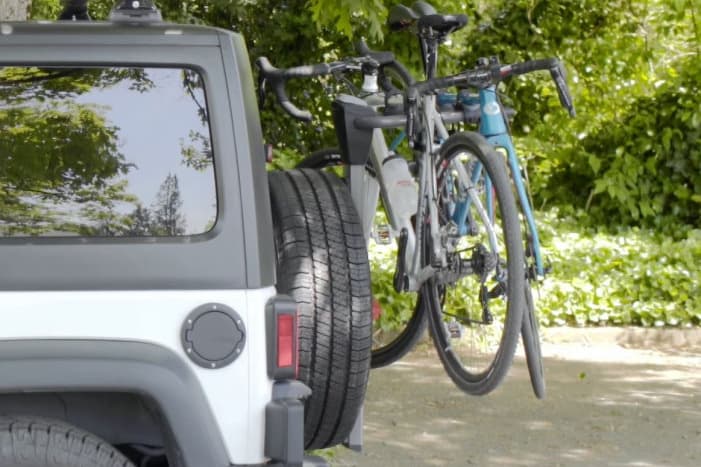 I have made a list of the 8 best spare tire bike racks that you can consider. I have taken adequate measures to identify the best ones that are suited to your needs.
Thule 963PRO Spare Me 2 Bike Spare Tire Bike Carrier (Editor's Choice)
The first one on my list is my rack of choice, the Thule 963PRO Spare Me 2 Bike Spare Tire Bike Carrier. This is an excellent and certainly one of the ​best rear tire bike racks out there in the market. The unique feature of the Thule spare tire rack is that it can fit both regular and oversized tires. The two-arm cradles are designed in such a unique way that they do not sway or wobble. Meaning your bike will remain sturdy and secured no matter how bumpy your car ride gets. Unlike most others, the Thule 963PRO has a bike to rack and rack to spare lock mechanism that provides for all-round protection unseen before.
The rack is designed to hold up to 2 bikes taking the total weight capacity to 75 lbs. Even though the rack has two cradles or arm design, it looks very minimal thanks to its U shape weight distribution mechanism. The result is a sleek and elegant style rack that feels very much part of the car and doesn't stand out much. This can be the right choice for anyone looking for a handy rack at an affordable price.
Features:
Easy mount and dismount.
Has a secure anti-theft mechanism
Made of steel.
Sturdy build.
Portable and lightweight.
Even weight distribution mechanism.
Pros:
Soft treads for a firm grip on the bike.
Secured with knob mechanism.
The locks are anti-theft.
Limited lifetime warranty if purchased from the official seller.
Cons:
The weight gets distributed mostly on the lug and the rim, which is not good.
Hollywood Racks SR1 Spare Tire Rack
Here we have a rack Hollywood Racks. Hollywood Racks SR1 has some unique features that compelled us to include this one in our list. When we talk about the best rear tire bike rack, we want some distinct features like easy installation, easy mount and dismount, and minimal looks. The SR1 Spare Tire Rack from Hollywood Racks has exactly that and some more.
The spare bike rack is designed to look minimalistic. On top of that, you won't have to remove the wheel to mount the rack. The rack itself also comes pre-assembled. That means gone are the days of hassle and tussle to set up the mount itself. This one on our list of best spare tire bike rack models is an easy recommendation for the price.
Features
Supports up to 2 bikes 35lbs each.
Comes pre-assembled.
Lightweight and even weight distribution.
The secure lock feature of the bikes
Easy mounting on the spare.
Supports up to 35 lbs.
Pros:
Anti-theft protection
Easy to use.
Works with almost all types of tires.
Suitable for an off-road drive.
Cons:
Not suitable for e-bikes
No knob system for mounting on the spare.
Hollywood Racks SR-2 Bolt-On Spare Tire Rack
The Hollywood Racks SR2 spare tire bike rack is a bit sturdier in appearance. I say this because it has two distinct tubes teaches to the spare wheel as a support mechanism for the bike. The rack is designed to fit most tires up to 12 inches wide, which basically gives it a place in our best spare tire bike rack list. It can also be folded while not in use, and the secure grip mechanism ensures that your bike is safe while it is mounted and on the go.
Features
Unibody design
Fits any lug design and spares up to 12 inches wide.
Secure fit and anti-theft mechanism
Hand tightened knob to secure with the spare.
Easy mount and dismount
Soft cushioning for the bike.
Pros:
Supports up to 35 lbs.
Hand tightened knob means you can secure as per your strength.
Anti-wiggle and wobble mechanism that ensures your bikes are secure even on bumpy roads.
Looks minimal when not in use.
Sporty design
Cons:
Setting up the rack on the spare is a tiring process.
No anti-theft mechanism for the rack itself.
Allen Sports Deluxe Two Bikes Spare Tire Rack (Budget Option)
The Allen Sports Deluxe 2-Bike Spare Tire Rack is probably the most innovative one considering its price point. What it offers for its price is truly remarkable. The spare wheel rack is basically mounted on heavy cars with large exhausts. Mounting the bikes near the hot exhaust may damage them. In addition to that, taking support from the spare to hold the bikes may damage the spare's rim. Allen Sports also thought about this and introduced a support mechanism that distributes weight on the tire itself, not the rim.
The hands for holding the bike are also positioned at an upward angle keeping the bikes far above the hot exhaust system.
Features:
Innovative patented designs
Even weight distribution systems
Extra-wide bottom foot for better stability
Good enough to fit any bike under 35 lbs. weight limit
Comes with a lifetime warranty
Pros:
Competitively priced.
Good handling and balance in an off-road scenario.
Perfect for any car that has a standard spare.
Very lightweight.
Easy to mount.
Cons:
Does not support a spare wider than 12 inches.
Allen Sports Premier 3-Bike Spare Tire Rack
The next one on our list is also from Allen Sports. The unique aspect of Allen Sports Premier 3-Bike Spare Tire Rack is that it is a patent-pending design to fit all sorts of spare tire designs. Weighing at just 10 pounds, the rack is exceptionally lightweight and easy to carry around. We recommend this for anyone that has to regularly mount their rack on the spare.
In addition to that, the Allen Sports is a family pack given that it can hold up to 3 bikes at one go. For safety and even balancing, it is recommended that you put the heaviest bicycle first and then move in the others. The bike rack also comes with a set of anti-theft and secure fit option that does not let it slide around and bump into each other or the car. Considering the price, this can be a great choice of bike rack for the spare tire.
Features:
Easy to mount
Sturdy built
Has dual hands for balanced mount
Foldable hands provide for a minimal look when not in use.
Perfect for family and long haul trips.
Pros:
Portable and lightweight
Easy to attach with the spare.
Calibrated for balance.
Has an anti-theft feature.
Cons:
When fully open, it looks a bit bulky.
The rear wiper gets disturbed at times.
SportRack SR2813B Pathway Spare Tire Rack
Sports Rack has truly mastered the art of minimalism with this one. The SR2813B Pathway Spare Tire Rack does not look anything like you'd expect a spare back tire rack to look. The design is sleek, minimal, and pleasant to look at. But that doesn't take away from the fact that this is an absolute bargain of a rack.
Made from solid steel, this rack speaks of durability all around. This rack has one key feature absent on most rigs, yet a convenient and needed one – most of the units available in the market feature a secure anti-theft lock only for the bikes. SportRack SR2813B has an anti-theft lock system for the rack itself when fitted with the spare tire. In addition to that, the bikes are locked on a rotating platform, ensuring a comfortable fit and mount, making the process totally hassle-free.
Features
Great value for the price.
Easy to mount and dismount.
Minimal sleek design
Secure lock feature on the rack and spare mount.
Easy assembly with a detailed guide
Has support of up to 132 lbs.
Pros:
Soft tire treads for easy grip.
Solid steel build
Limited lifetime warranty
Perfect for long haul rides
Safe and secure.
Cons:
Balancing the single-arm over the rim can be a bit difficult for first-timers.
Surco BT300 Spare Tire Rack
Are you looking for something solid and rugged that feels heavy duty for your spare tire rack? If that is the case, you definitely should consider the Surco BT300 Spare Tire Rack. The rack itself is made from solid steel which speaks for its durability. Even though it is minimal in looks, the dimension is much thicker. The result is a single-arm rack that can hold up to 3 bikes easily.
The solid, rugged steel is coated with a durable black powder coat. This gives the rack its rugged look as well as a better grip. The rack is mounted on the spare with a single knob mechanism, which is sturdy enough to hold it in its place. The mounting plates feature a heavy-duty design that holds the rack and the bikes securely in their place. The plate even has an anti-theft mechanism that securely fixes it with the rack. The overall build quality of this one feels so strong that you can go on long-haul rides without worry. This makes it an easy recommendation for our list of bike racks over spare tires. You can hardly go wrong with the Surco BT300 Spare Tire Rack.
Features:
Heavy-duty armbar
Strong steel plates for mounting
Secure lock and anti-theft mechanism.
Ideal for off-road driving.
Minimal and sleek design.
Pros:
Has grip assistance for mounted bikes.
Durable yet lightweight.
Easy to mount
Cons:
YAKIMA SpareRide
When it comes to bike racks, you want your rig to be secure, sturdy, and anti-theft mount. And as you will see, the Yakima SpareRide has all that and some more. This unique spare tire bike rack is designed to be minimal in appearance but effective in usage. The rack can hold up to 2 bikes. The rack is also traded with tire treads for added grip and stability for the bikes.
Yakima has also managed to include their signature SuperCush ZipStrip cradles to allow the bikes' easy mount and dismount. Considering all these features, in my opinion, the Yakima SpareRide is undoubtedly one of the best spare tire bike racks out there right now.
Features:
Supports up to 2 bikes
Has SuperCush ZipStrip cradles for easy loading and unloading
Supports bike up to 35 lbs.
Unisex design
Universal spare tire mount plate that fits almost any lug design.
Ani theft mechanism.
Pros:
Slim and minimal
All-steel build ensures durability.
Secure and balanced holster for bikes.
Easy mount and dismount.
Cons:
Initial setup requires technicality.
The bike weight support is limited to 35 lbs.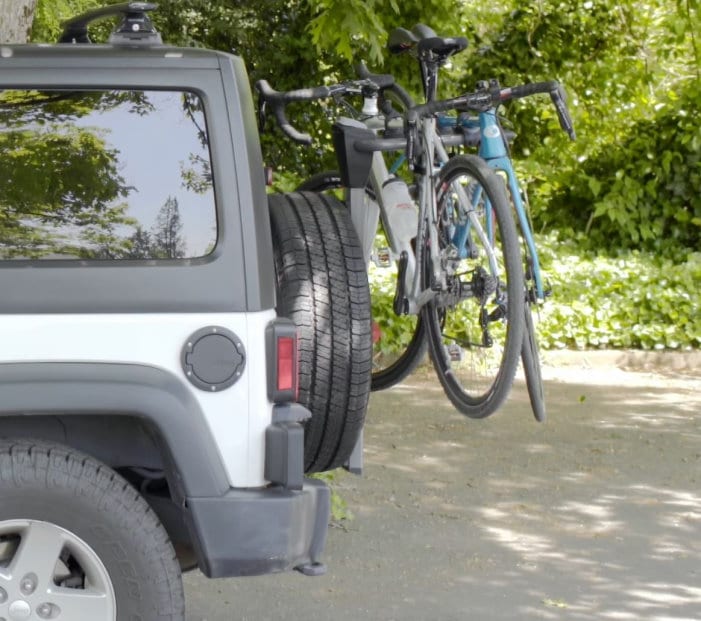 Over Spare Tire Bike Rack Buying Guide
Now you know which are the best spare tire mounted bike racks in my opinion. I would like to share some of my insight into what you should consider while buying a spare tire bike rack.
As you will see, it is not as simple as heading over to Amazon and ordering the one that pleases your eyes. There is more than meets the eyes when it comes to the are the ​best spare tire bike racks. However, all you need to do is understand the following.
Spare Tire Bike Rack Types
It is essential to understand what type of bike rack you want for your spare. This is a crucial determiner when it comes to making a purchasing choice. Two types of spare tire racks are used abundantly, and it all comes down to the size of the spare tire.
If the spare tire is small, it is suggested that you use the bolt-on rack with a single-arm design. This helps the rack to get extra support from the rear  door as well as the spare. But if your spare tire is a large one, you can definitely consider getting the frame with straps as it will help distribute the weight evenly and gain support from the tire and rim.
Capacity
Before buying a spare tire bike rack, you also need to understand how many bikes you are gonna use it for. This is an essential determiner because most bike racks come in with either a 2 or 3 bike capacity. Each rack can hold up to 35 pounds taking the total weight count to nearly 100 lbs.
You should understand what size and how many bikes you want to be mounted in your spare tire and choose the rack accordingly.
Bike Security
Bike security is another vital aspect that you should be considering while making a rack purchase. Imagine getting a rack that doesn't provide enough protection, and your bike gets stolen. Now you surely don't want that do you?
Thankfully, most bikes come with anti-theft and secure lock mechanisms for added security. Still, be sure to check the rack that you're buying has your desirable security measures on or not. You should be aware that built-in security will not fully prevent the theft of your bicycle. You may need to look into additional methods of locking your ride to the bike rack.
Budget
Budget is also another critical aspect that is on everyone's consideration. Depending on the number of bikes you need to carry, the budget will vary. However, try to find a balance between usability and money while choosing your desired rack.
Ease of Installation
For most people, a spare tire rack isn't something that you keep mounted for long. This is something that you mount and unmount as per your need. Considering the frequency of mounting and unmounting, you might opt for a rack that has an easy installation procedure.
While selecting a rack, you should see whether they are durable and lightweight and their assembly and mount process. They act as a key determinant factor in the long term comfort of using the product.
Advantages
While selecting the bike rack for the spare tire, you should seek whether the advantages are in your favor or need. You need something that will provide you with superb usability and provide you with value for money. So before selecting one, do consider their advantages.
Downsides
Just like the advantages, you also need to consider the downsides of your desired product. If it does not fit your requirement criteria or if it doesn't provide you with better value for money, then you should definitely skip it for another one.
Frequently Asked Questions
Which vehicles have a rear-mounted spare tire?
Rear-mounted and trunk-mounted spare tires are less common in modern vehicles, as many manufacturers have opted for underbody or hidden spare tire storage.
However, here's a list of SUVs, off-road vehicles, and pickup trucks that historically have featured rear-mounted or trunk-mounted spare tires, including some models that may still offer this feature:
Daihatsu Terios
Ford Bronco
Ford Bronco II
GAZ Tigr
Honda CR-V (older models)
Hummer H3
Isuzu Amigo
Jeep Wrangler
Jeep Wrangler Unlimited
Lada Niva / Lada 4×4
Land Rover Defender
Mahindra Thar
Mitsubishi Montero / Mitsubishi Pajero
Nissan Xterra
Opel Frontera / Isuzu Rodeo
SsangYong Rexton
Suzuki Grand Vitara
Suzuki Jimny
Tata Sumo
Toyota FJ Cruiser
Toyota Hilux (older models)
Toyota Land Cruiser Prado
Toyota RAV4 (older models)
UAZ Hunter / UAZ-469
Does Saris offer a spare tire bike rack?
No, there are no spare tire racks manufactured by Saris.
Conclusion
Choosing the best spare tire bike rack is a crucial decision for any cycling enthusiast who often travels with their bike. I've explored several top-notch options, each with its unique features and benefits.
The Thule 963PRO Spare Me 2 Bike Spare Tire Bike Carrier stands out for its ability to fit both regular and oversized tires, ensuring your bike remains sturdy and secure, no matter how bumpy your ride gets. It's designed to hold up to two bikes, making it a great choice for family outings or cycling adventures with a friend.
The Hollywood Racks SR1 Spare Tire Rack is another excellent option, offering easy installation and a minimalistic design. It comes pre-assembled, saving you the hassle of setting up the mount yourself.
For those on a budget, the Allen Sports Deluxe Two Bikes Spare Tire Rack offers an innovative design that ensures weight is distributed on the tire, not the rim, preventing potential damage to your spare tire.
The SportRack SR2813B Pathway Spare Tire Rack stands out for its sleek, minimal design and solid steel construction, ensuring durability and longevity.
Related Articles