There are many cases when you, as a cyclist, are faced with the problematic situation of transporting your bike in a car.
You may have a place where you need to bring your bike in one piece, but you've no way to mount a bike rack. If you have a bike that fits in a car, you've solved the problem.
You can fit almost any bike in your car if you learn how to, but some bicycles require more effort than others. Foldable bikes are always a solution, but most cyclists have a regular bike or even an e-bike. Can you fit these into a vehicle?
Please read on to find out!
How Can You Transport a Bike in a Car?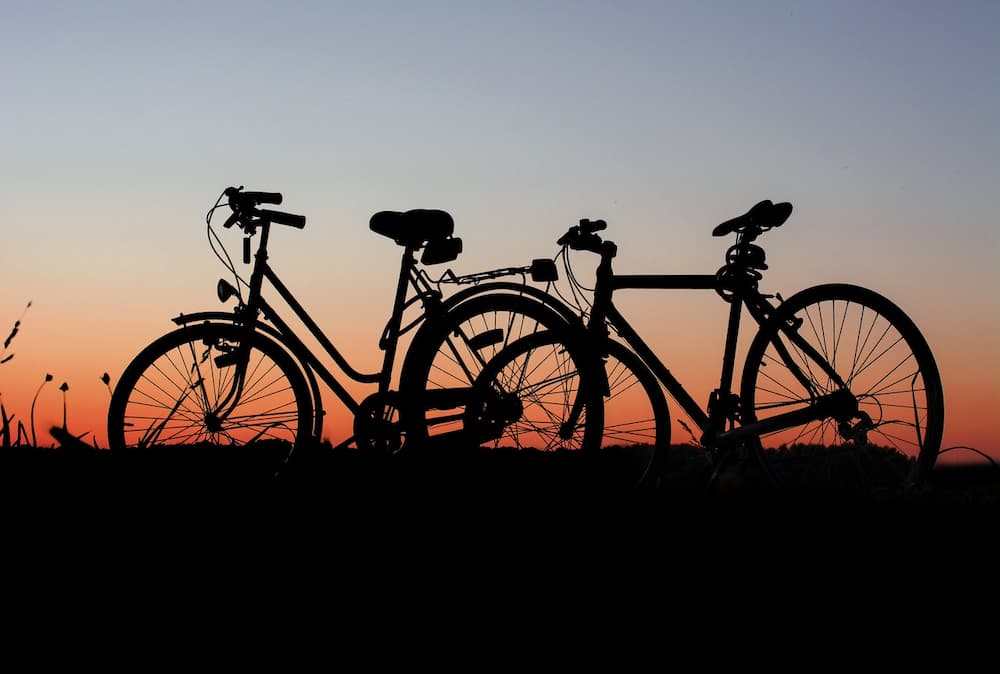 If you want to fit your bike in a car, there are basically three ways you can transport it in your car. Let's get right to it.
Transporting a bike on the back seat is possible in most vehicles, whether an SUV or a sedan. However, it's crucial to clean the bike's tires, cogs, and chain to prevent dirtying the seat. Using a replacement cover or an old towel can help protect the seat from dirt or damage. The footwell can be used to position one of the wheels or the wheel can be placed in the trunk.
Another method involves folding down the back seat to create extra space, particularly useful for larger and heavier bikes. It's recommended to have someone assist in safely getting the bike in and out of this space.
Lastly, the bike can be placed in the trunk. However, it's important to secure the bike properly with bungee cords or cable ties to prevent any damage to both the bike and the vehicle. An unsecured bike can move around and cause potential harm.
Read more: How to Fit a Bike in a Car?
Bikes that Fit in a Car
Not all bikes fit in a car. Whether you want to carry it in the trunk or in the back seat, the bike you want to transport should have an easily removable front wheel. Also, adjustable saddles and handlebars add to the convenience.
The following bikes fit well into the category of bikes that fit in a car, thanks to their construction and design.
Folding Bikes
When you think of space-saving bikes, the thought of folding bikes is already buzzing in your head, right?
As the name suggests, these bikes are designed to transform into a compact size for easy transportation and storage. Since this bike folds up to a small size, you can carry more than one folding bike in the trunk of your car or in the back seat. This is perhaps the most significant advantage that folding bikes have over other types of bikes.
If you don't have a folding bike yet, you can choose between a folding bike with one gear and one with multiple gears. The usual mechanism of a folding bike is that the rear wheel folds up to the middle frame while the front wheel overlaps the frame.
The saddle and handlebars are designed to fold down to a position where they can be used as carrying handles. You don't have to remove the wheels, which saves you a lot of hassle and time. Plus, the folded bike can be positioned to fit in your car in just a few easy steps.
ZiZZO Campo 20 inch Folding Bike
ZiZZO Campo 20 inch Folding Bike with 7-Speed, Adjustable Stem, Light Weight Aluminum Frame
The ZiZZO Campo 20 inch Folding Bike is a versatile and practical choice for those who need a compact, transportable solution for their cycling needs. The bike features a lightweight aluminum frame that folds in seconds, making it easy to carry and store. It comes with 7 speeds and a grip-style shifter, providing a range of options for different terrains.
The bike also includes an adjustable stem, resin folding pedals, and a wider, comfortable saddle. The magnet catcher is a thoughtful addition that holds the folded frame securely together. When folded, the bike measures 27″ in height, 31″ in length, and 12.5″ in width, and weighs 29.0 lbs, making it a lightweight option for a folding bike.
The ZiZZO Campo is recommended for riders aged 16-75 years, indicating its versatility and broad appeal. It has received positive reviews for its ease of use, quality of build, and the convenience it offers. However, some users have noted that the seat could be more comfortable, and the folding process might take some getting used to. Overall, the ZiZZO Campo Folding Bike offers a great balance of comfort, convenience, and functionality, making it a worthy investment for those in need of a portable cycling solution.
Related reading: How to Keep Bike Rack from Scratching Your Car?
Mountain Bikes
Fitting a mountain bike into a car isn't as easy as putting a folding bike in a car. While we must warn you that it could get messy, there are a few viable ways to fit a mountain bike in your car, sedan, or SUV.
If you decide to fit the mountain bike in the back seat of your car, you'll need to take a few precautions. First, clean your mountain bike with a damp cloth. Next, remove one or both wheels and turn the handlebars on their side.
Once you've done that, you can try putting the bike on the back seat. If you think there's not enough room on the back seat, you can remove the pedals and fold drop down the saddle to make the bike more compact.
However, mountain bikes ride through dirt and mud and often have greasy chains that can damage the padding of your car seat.
To avoid a potential mess just because you're transporting your bike in the car, you should bring an extra seat cover or large towel, as well as rags and paper towels. It's also good to cover the oily parts like the gears to keep your car seat clean.
Since many mountain bikes are equipped with disk brakes, we definitely recommend using brake plugs. This way, you can make sure that the brake clamps don't get crooked.
Fitting a mountain bike in the trunk, you can save yourself the extra work of cleaning it up, but you'll still need to remove the front wheel and position the handlebars. If the trunk is big enough, you can leave the pedals attached.
Although mountain bikes come with a quick-release system that allows you to remove the front wheels, this could be an extra hassle for many.
EUROBIKE Folding Mountain Bike
EUROBIKE Folding Bike,Folding Bike for Adults,21 Speed Bike,26/27.5 Inches, Dual Suspension Bike
The EUROBIKE Folding Bike is a versatile and affordable mountain bike designed for adults. It features a premium carbon steel frame and a dual suspension system, making it suitable for both paved areas and off-road trails. The bike is equipped with 21-speed gears, front and rear disc brakes, and alloy wheels, ensuring a smooth and safe ride.
One of the standout features of this bike is its foldability. It can be compactly folded and easily fit into the trunk of a car, making it perfect for those who need a bike on the go. The folded size is 980mm x 320mm x 870mm, which is quite compact for a mountain bike.
The bike comes 85% assembled, and the remaining assembly is straightforward, requiring the installation of the front fork, front wheel, seat, and pedal. The bike also comes with a riding bag, adding to its convenience.
However, it's important to note that while the bike has received favorable ratings from buyers, some users have pointed out a few issues. Some users have reported difficulty with the folding mechanism, stating that it's stiff and challenging to operate. Others have mentioned that the seat is uncomfortable, and the bike is quite heavy, which might be a concern for some users.
The EUROBIKE Folding Bike offers a good balance of performance, convenience, and affordability. It's a great option for those who need a portable and versatile bike for both commuting and leisure rides.
Electric Bikes
Another bike that can fit in a car after applying some effort is an electric bike. Transporting your precious e-bike not only protects it from theft, but you can bring your e-bike to your desired destination without worrying about water or dust damage. Trying to fit an e-bike into a car is different and requires a few other tricks to get it right.
If you have an e-bike, it will probably fit in a hatchback or a car with fold-down rear seats. If you fold the seat down, you'll have more room to fit your bike.
To avoid staining or scratching your car's interior, you should put a cover or plastic wrap on it before you put the bike inside. Whether you want to transport your e-bike on the back seat, the trunk, or on a fold-down seat, you must ensure that the seat belts and cargo nets don't interfere with the space.
The batteries in e-bikes make them heavy. If you remove the battery from the electric bike, it's much lighter and easier to maneuver. If there's a way to easily remove the front wheel, you should do it.
Since e-bikes are heavy, we recommend asking a friend to help you lift the bike into the car. It's best to lift the bike by the front first and then push it through from the back while someone adjusts the position of the cycle from the opposite side of your car.
Next, you should make some adjustments. First, you should adjust the handlebars so that they're turned sideways. Next, you could tilt and readjust the front wheel if you're having trouble getting your e-bike in. It's a good idea to put the bike down towards the footwell.
Jasion EB7 2.0 Foldable Electric Bike
Jasion EB7 2.0 Electric Bike for Adults, 500W Motor 20MPH Max Speed, 48V 10AH Removable Battery, 20″ Fat Tire Foldable Electric Bike with Dual Shock Absorber, and Shimano 7-Speed Electric Bicycles
The Jasion EB7 2.0 Electric Bike is a versatile and powerful foldable electric bike that is designed to fit comfortably in a car. It is equipped with a robust 500W brushless motor that can reach a maximum speed of 20 MPH, making it ideal for both city commuting and off-road adventures. The bike's 48V 10Ah lithium-ion battery is removable, allowing for convenient charging and a range of up to 20-40 miles per charge.
One of the standout features of this bike is its dual suspension system. The front suspension fork offers 80mm of travel, and there's also rear seat suspension, providing a smooth and comfortable ride even on rough terrains. The bike's 20″x3″ fat tires are puncture-resistant and offer excellent grip and superior shock absorption ability.
The Jasion EB7 2.0 is designed with convenience in mind. It's foldable, making it easy to store in the trunk of a car or bring into the subway. It weighs only 59 lbs, and when folded, it measures 36 x 21 x 29 inches. This makes it an excellent choice for those who need a bike that's easy to transport and store.
Safety is also a priority with this bike. It features front and rear mechanical disc brakes for reliable stopping power. There's also a bright headlight and adjustable rear light for visibility during night rides. The throttle is half-twist designed to prevent accidental activation and inadvertent injuries.
The bike also includes an intuitive LCD display that shows speed, battery charge, pedal assist level, travel distance, and more. There's even a USB charging port for charging your phone on the go. The Shimano 7-speed system allows you to choose the speed that suits your riding style.
Users have praised the bike for its comfortable ride, powerful motor, and the convenience of its foldable design. It's also appreciated for its dual suspension system that provides a smooth ride on various terrains. Overall, the Jasion EB7 2.0 Electric Bike offers a great combination of power, comfort, and convenience, making it an excellent choice for those looking for a foldable electric bike that fits in a car.
Are There Any Bikes that Fit in Small Cars?
Yes, bicycles do fit in small cars. Believe it or not, most bikes would fit in your vehicle, no matter how small it is. The most important trick is to position the bike and adjust the parts accordingly.
However, if your car is too small and you need a bike that fits inside, the folding bike will work best. The main feature of folding bikes is the ability to turn them into a compact size, so they're easier to transport and fit into tight spaces.
If you remove the wheels and pedals and lower the saddle, you can also pack a mountain bike into a small car.
Bikes that Fit in Car Trunk
Almost any bike that allows the front and rear wheels to be removed will fit in a trunk. Mountain bikes, foldable bikes, and electric bikes will all fit in the trunk if there's enough room.
You should tie the bikes down with bungee cords and straps and secure them well. Even though most bikes fit in the trunk, the risk of damaging the frame and handlebars is higher, especially if you have an aggressive driving style.
Conclusion
The concept of a bike that fits in a car is one that many cyclists will find incredibly useful. Whether you're heading out for a weekend adventure or need to transport your bike for maintenance, knowing how to fit your bike in a car can save you a lot of hassle. From folding bikes like the ZiZZO Campo 20 inch Folding Bike, mountain bikes like the EUROBIKE Folding Mountain Bike, to electric bikes like the Jasion EB7 2.0 Foldable Electric Bike, there are options to suit every cyclist's needs.
Remember, the key lies in understanding your bike's design and your car's space. Cleaning your bike, removing the wheels, and securing it properly are steps I cannot stress enough. They not only protect your bike and car but also make the process smoother and more manageable.
In my experience, the process of fitting a bike in a car becomes second nature with practice. So, don't be discouraged if it seems a bit tricky at first. Keep at it, and soon you'll be a pro at it. And remember, the convenience of having a bike that fits in a car is worth the initial effort. It opens up a world of possibilities for where you can take your cycling adventures. Safe travels!