Best Bike Rack For Car Reviews & Buying Guide 2023
Being a bike lover, I love to travel everywhere on my bike. Mountain biking, off-road cycling, and evening bike riding beside lakes are some of my favorites.
But, my home is not close to any of those great locations. So, quite often I have to choose between two options- opt-out of my plans or bike for a very long time.
Whenever I had chosen to bike for the whole day, I often found myself tired when I reached the location. That is the result of the whole day biking from my home to the location. As I asked people on the internet for suggestions, many people referred to carry bikes on the van. But that takes too much space and its not possible for all types of bikes. Thus, researching more in the internet, I found out about hitch bike racks.
They are mainly attachments for cars to hold your bike.
As I speak, there are many things that come to consideration. Like, how many bikes do you need to carry? Or, what is the model of your car? The structure of a sedan and an SUV is totally different. So, there model hitch mount bike racks are also different.
Like me, you'll also find several types of bike racks- hitch racks, trunk racks, roof racks, truck racks, spare tire racks, and cargo boxes.
Let's just have a quick understanding of hitch racks before we dig deeper.
This post includes affiliate links for which I may make a small commission at no extra cost to you should you make a purchase.
Hitch Mount Bike Racks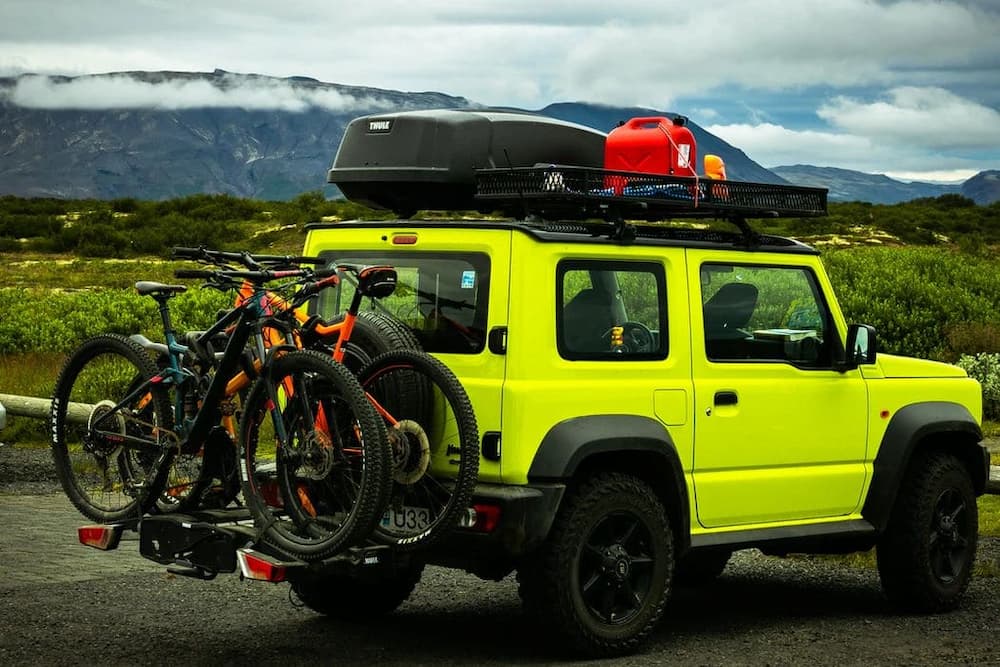 Hitch Racks are the most common bike racks. They are mainly rear mount bike racks.
You'll need a hitch for your vehicle to install Hitch Mount Bike Racks. If you don't have one, you can install a hitch in any type of four-wheeler.
Any standard bike will fit on hitch racks. Even you can accommodate snowboards, carry skis, cargo holders, and snowboards.
In fact, there are two types of hitch mount bike racks – platform style bike racks and hanging bike racks.
While the first one anchors the bike on trays the second one supports by grabbing the frame. Platform-style bike racks can hold up to 2 bikes.
On the other hand, some of the hanging bike racks can gold upto five bikes. Hanging bike racks don't support all types of bikes while the options are versatile in platform-style.
Anyhow, hitch racks are not suggested for e-bikes and mountain bikes. Because it can damage your frame. Instead, you might look forward to something that holds the bike by the wheels.
Finally, we would recommend you to buy hitch racks if you have a hitch receiver on your vehicle and your bike is a standard one.
Pros:
Easy to install if you have hitch receivers
Sturdy model for safe offroad driving
Several classes offer versatile bike accommodation with different sizes of receivers
Cons:
Hitch racks can damage the frame of non-standard bikes.
Not every vehicle comes with hitches and sometimes it makes the whole thing expensive
To better understand hitch mount rakes, we need to understand how they work, different types of them and their pros & cons.
There are many hitch mount racks online. All of them require a receiver.
But based on their structure we can divide them in two main types:
Hanging Hitch Mount Racks
Tray Hitch Mount Rack
Hanging Hitch Mount Racks
Hanging bike racks attach to the frame or wheels of the bike.
If you have regular frame bike, then its better to go for the hanging style hitch mount racks. Before you ask, there are sway control devices to avoid swaying on your bikes. All of the hanging hitch mount racks attach with your vehicle's receiver. You can hold one or more bikes depending on the model.
Additionally, there are some hanging hitch mount bike hitches that hold bikes on wheels. If you're ready to spend more, you can even select dual-arm bike racks. This type offers you extra support and ensures that your bike remains in a stable position.
On the bike attachment side, you'll find cradles. They allow you to secure your bike with velcro like straps or cradles. Some of the cradles rotate and give you the opportunity to adjust your bike. For hanging style mount racks, avoid using alternative-framed bikes. Even if you want to use, buy adapters that allow you to adjust. If you find all these a bit confusing, try the wheel-only-hitch mount racks. They can hold any size bike as they use the wheels to connect. They allow to keep your bike both horizontally and vertically. You can even fold them when they are not in use.
Depending on their bending format, they can be divided into two types:
Tilt Away Hitch Rack
Swing Away Hitch Rack
Tilt Away Hitch Racks
After unboxing any tilt away hitch rack, you'll see almost assembled ready hitch rack. The only thing you need to do is get it connected with your hitch receiver. Now there are two ways to connect the hitch racks that vary from model to model. On some models, you have an auto pin that automatically connects the rack with the bike while on the other you need to connect manually. Now, you just tighten the lock and extend the rack.
After you have taken the rack in a perpendicular position, you can load your bikes. Put your bike on the rack and lock them. You can lock multiple bikes at the same time.
While opening your trunk, you'll need to take off your bikes and pull the rack towards yourself while pressing the trigger.
The best part of tilt away hitch rack is that it is pretty simple to install and load your bikes. But for opening your van, you need to unload your bikes almost every time.
Allen Sports 4-Bike Hitch Racks for 2 in. HitchCheck Price
Swing Away Hitch Racks
Setting up swing away hitch rack is pretty similar to Tilt away hitch rack. But, it doesn't come ready assembled. You need to manually assemble it and tighten the screws. Then you need to extend the rack and take it in a perpendicular position.
After that, you can lock your bikes like tilt away hitch racks. It has a safety release which will make the rack swing away from your van. Thus, you can easily open your trunk. For avoiding collisions with your trunk, it also has a safety handle. Though the basic lock attaches to the frame, additional security locks are used for providing safety to your wheels.
You can easily swing away from your rack along with your bike. While installation is pretty hectic compared to tilt away, at least you won't need to unload bikes for opening your trunk.
Tray Hitch Mount Racks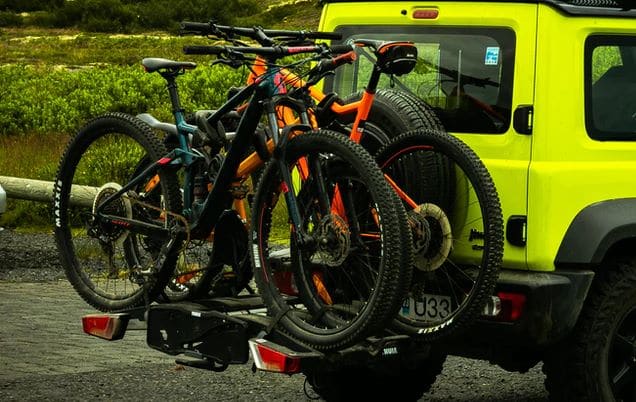 Tray hitch racks are pretty expensive compared to hanging style.
They mainly come in contact using the wheels and have minimal contact with the frame. They provide a balanced platform for your bike. So, you won't have any swaying problems.
Besides, loading and unloading is pretty easier. Platform style can also hold multiple bikes at the same time. It provides no extra pressure to your frame.
Thule T2 Pro XT 2 Bike RackCheck Price
Roof-Mounted Bike Racks
If your car has a roof, you can have a roof rack. While we were talking about hitch racks, some of you might have felt uncomfortable thinking about extending the length of your vehicle. But roof racks are better options when you understand that they increase your vehicle's height rather than length.
Additionally, they are not designed exclusively for bicycles. You can keep different types of things on them. Roof racks are created with high-quality materials for supporting heavy weight on the top of your vehicle with minimal contact with your vehicle. They also need to withstand higher speeds and fight against the wind. All these make them complex and quite complicated designs. Thus, they cost more than regular other types of racks.
Roof racks can handle a lot of stuff. They can securely carry skis, snowboards, cargo boxes, bikes, canoes, kayaks, surfboards, baskets, bags, and many more. But while buying roof racks for bikes, we specifically need to look forward to selecting roof-mounted bike racks. Usually, their crossbars can measure up to 50" to 60". You won't be needing larger roof racks unless you want to carry more than 6 bikes.
Your car needs to have a naked roof, factory-installed flat tracks, factory-installed roof rack with crossbars, or factory-installed raised side rails to install a roof rack. Besides, you also need to consider the maximum weight capacity of your vehicle's roof. These details can be found on the car's manual or website.
Pros
Roof racks can carry different types of stuff along with bikes.
They do not create hurdles on opening doors.
They save a lot of space.
They are quick to load and unload.
Cons
Roof racks are expensive.
Setting up is pretty complex.
How to Choose the Proper Type of Roof Rack for Your Bike
There are a few factors besides the car's weight capacity and length that you need to consider before buying a roof rack.
If your bike has a naked roof, you need a foot pack, fit kit, and crossbars. Fit kits vary from vehicle to vehicle. Foot packs are more constant and they are universal in size. Crossbars vary on your need.
Vehicles that come with factory-installed raised side rails do not need fit kits. You can attach crossbars and fit packs in your preinstalled rails. But if you've flush side rails or flat tracks on your vehicle, then you will also need fit kits. If your bike has pre-installed roof racks, you might not need to change them. Anyhow, you can modify them based on your need.
Setting Up Roof Rack
For a full setup, you'll need the following equipment:
Fit kit
Foot pack
Crossbars or load bars
If you order them as a package, there might be bolts and other parts along with the setup manual. Anyhow, the package varies based on the orientation of your car.
A fit kit is custom-designed for different types of vehicles. They have pads that steady on your vehicle's roof. They can be connected by drilling holes or clamping around the vehicle's door. I would recommend you to research the market and look for the strongest ones. Though they might be a bit costly, they will be more durable than the regular ones.
Foot packs are mainly the attachment points between crossbars and fit kits. They make sure that your vehicle and roof racks have a gap between them. Foot packs also have feet for further strengthening the structure.
Finally, crossbars are connected with foot packs from one end of the vehicle to another in a parallel manner. It's better to go for metal crossbars. They mainly bear the weight of the bikes or any other thing that you're putting over your rack.
You'll also find rubber covers and plastic covers with many of the racks. They prevent rusting and dust.
In the end, you'll find different type of Roof racks online. Thule AeroBlade Edge is one of the best options that have minimal noise. On the other hand, Vault Universal and CargoLoc Roof are budget-friendly options. Rhino-Rack is also renowned for being both budget-friendly and large weight capacity.
Fork Mount Roof Racks
Coming soon
Wheel-On Mounted Roof Racks
Coming soon
Crossbar Mounted
Coming soon
Suction Cup Mounted
Coming soon
To Be Continued
Frequently Asked Questions
I have a pickup truck. What type of bike rack should I be looking for?
While you can use a hitch rack, I suggest to look into the tailgate bike pads that many truck owners chose instead of rack.
Related Articles