What To Wear Under Bike Helmet?
Don't you just hate it when you are riding a bike, and a stray drop of sweat drips into your eye?
That is precisely why you should get into the habit of wearing something underneath your bike helmet. The benefits of it are numerous!
There are so many products in the market that you can wear to enhance your biking experience. And the best part is, you don't even have to worry about if it looks silly on you. I know, I know, it's the 21st century. Who cares what you're wearing? But, if you don't want to stick out like a sore thumb, you won't have to worry about that with cycling clothing.
They are the definition of style meets comfort, and you can easily find one that fits your style!
But, you might wonder what you should wear under a bike helmet or why you should wear them in the first place. So, let's explore what kinds of cycling clothing you can wear under your bike helmet and their benefits.
What Do I Wear Under The Bicycle Helmet?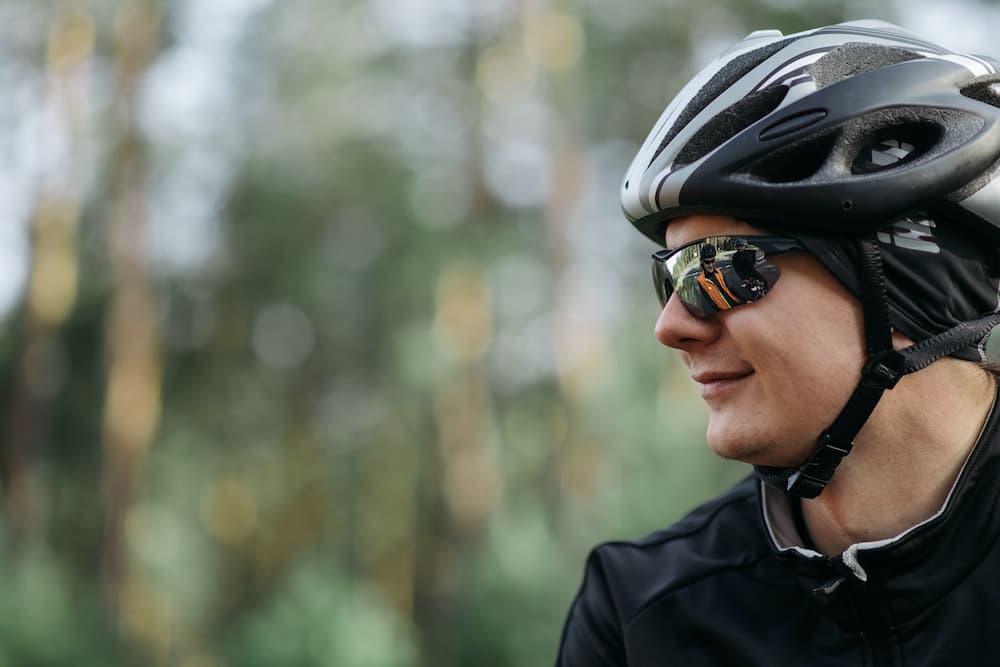 Wearing something underneath your helmet has quite a few benefits if you know what to wear. Even if it's a bandana or a scarf, wearing something is better than nothing. Why? Because it just makes the experience so much better!
Let me tell you about some of the best cycling accessories you can wear to elevate your biking experience.
What to Wear Under Bike Helmet in Summer?
Think about this: you find out the weather is too hot when you go on a ride. Beads of sweat form on your forehead and roll down into your eye. Now you don't see where you're going, and you can't use your hand to wipe it off because you will lose control. Sounds horrible, right?
Well, you could prevent this from happening by using cycling caps, cotton bandanas, and scarves. Here's how:
Cycling Cap
Cycling caps are great for keeping your sweat away from your eyes. During the summer, a cycling cap will ensure that sweat does not distract you when sweating profusely. Not only that, but cycling caps can also protect you when it is raining or windy. If you buy the waterproof one, they will keep the rain from getting into your eyes. And they will secure your hair so that they don't distract you whether it's windy or not.
Tough Headwear Cycling Cap – Cycling Hat – Helmet Liner – Helmet Brim – Bike Cap – Bike Hat – Brim for Bike HelmetCHECK CURRENT PRICE
If you are looking for good cycling caps, the Tough Headwear Cap might be an excellent option! This cap, made of nylon spandex, is lightweight and breathable. The mesh fabric enhances airflow and fits snuggly under your bike helmet. Moreover, it is UPF 50+ rated, thus blocking 98% of all the harmful UVA rays and keeping sweat at bay.
Pros of Cycling Cap:
Is water-resistant and breathable
Gives protection against the sun
Has elasticity and is moisture-wicking
Extremely helmet friendly
Cons of Cycling Cap:
It might not fit all head shapes and sizes
Cotton Bandana or Scarf
Cotton is an excellent material for absorbing sweat. They are made of thin materials, which makes them lightweight and allows you to fit your helmet snugly. Cotton bandanas and scarves are also a great alternative if you don't want messy and frizzy hat-hair.
Rothco Large Trainmen Bandanas 27 InchCHECK CURRENT PRICE
Rothco Large Trainmen Bandanas is an excellent example of the kind of bandanas you should be looking for. These unisex bandanas are incredibly versatile and can easily absorb your sweat to keep you from getting distracted. They are available in various colors and fit comfortably around any head shape.
Pros Cotton Bandana/Scarf:
Extremely absorbent
Versatile and easy to style
One size can easily fit all
Great way to protect hair against rain or wind
Cons Cotton Bandana/Scarf:
Most brands of bandanas require to be hand washed
What to Wear Under Bike Helmet in Winter?
Here is another hypothetical scenario for you. Imagine you are going cycling full speed on a cold day. It's winter, and your ears, nose, and entire face feel like they are about to freeze and fall off. What an unpleasant thing to think about!
But this could happen to you unless you take measures to prevent it. Try wearing a thermal cap or balaclava under your winter cycling helmet to not freeze your face off.
Thermal Cap
Thermal caps are an excellent way to keep your ears warm during winters. You might have problems hearing on-coming cars if the wind is too heavy. Thermal caps help reduce that problem by blocking the air and keeping you warm.
Helmet Liner Skull Cap Beanie – Ultimate Thermal Retention and Performance Moisture Wicking. Perfect for Running, Cycling, Skiing & Winter Sports. Fits Under Helmets (HL with Ear Covers) BlackCHECK CURRENT PRICE
Thermal caps like the Tough Headwear Helmet Liner Skull Cap Beanie are made from thin 4-way stretch poly-spandex to ensure that you can secure your helmet properly. They are brushed with thermal lining and have snug ear covers to provide the ultimate experience. They are also breathable and absorbent, protecting you from the distraction of sweat.
Pros of Thermal Cap:
It is stretchy and breathable
Most have a thermal liner and are moisture-wicking
Covers the ears from wind
Easy to wash and quick to dry
Cons of Thermal Cap:
One size might not fit all
Balaclava
Although thermal caps are a great option, your first choice should always be a cycling balaclava. Balaclavas are the best for winter as they cover most of your face. They can help retain body heat and circulate your blood better to stay warm for longer. Balaclavas are also lightweight and stretchy; if you have long hair, they will help you cover all of it.
Tough Headwear Balaclava Ski MaskCHECK CURRENT PRICE
The Tough Headwear Balaclava Ski Mask is the perfect product for you if you are searching for a Balaclava. Whether it is sleet, rain, wind, dust, or the cold that is bothering you, this product can help. It is moisture-wicking, breathable, and has a fleece lining to protect you even against sub-zero weather conditions. Moreover, it has a versatile design which makes it convertible; you can wear it as a helmet liner, neck warmer, ski mask, and face mask!
Pros of Balaclava:
Provides ultimate protection against weather
Covers all parts of the face; protects the face against UV rays, dust, cold, wind, rain, etc.
Comfortable and breathable
Most have mesh breathing panels to avoid condensation on glasses
Cons of Balaclava:
It might get stuffy if they do not have breathing panels
Read more: Best Cycling Balaclava Reviews
Benefits of Wearing Something Under Bike Helmet
Now that we have discussed what you can wear let's talk about why you should wear something under the bike helmet in the first place. Well, there are numerous benefits to wearing cycling hats and caps or bandanas under your helmet.
It Provides Ventilation
Cycling is a strenuous activity, and you can overheat quickly if you do not take appropriate measures. Proper ventilation is critical, and some cycling caps and bandanas can provide ventilation so that you can keep cool. Some caps are specifically designed for the summer, so make sure you buy the right one. If you use bandanas, you could try wetting them a bit for a cooling effect.
On the other hand, you could also buy cycling caps and thermal caps that provide less ventilation for cold days!
It Keeps Sweat Away
As I have previously mentioned, caps and bandanas can absorb your sweat so that they don't get into your eyes. With fewer obtrusions, you can focus on steering your bike and won't get into accidents.
It Muffles the Air
When less air bothers you, you will have a great time bicycling. Cycling caps, thermal caps, and balaclavas are excellent for winters as they keep the wind away. You will be able to hear your surroundings better, your face won't be freezing cold, and if you pair it with goggles, you'll also enjoy sceneries!
It Keeps the Rain Away
Similar to sweat, cycling caps can also keep the rainwater at a distance. You will be able to focus on the road better when the rain isn't hitting your face or getting into your eyes. Plus, if you buy a waterproof cap, your hair won't be soaking wet after a ride either!
It Manages Your Hair
With the wind and rain not messing up your hair, you can bike anywhere! Seriously, do you have a meeting you need to bike to? Wear a silk scarf or bandana under your helmet to keep your hair silky smooth.
Related reading: How To Clean A Bike Helmet?
How to Find the Right Size of Cycling Cap
Finding the right size of your cycling cap is an underrated skill. If you buy a cap that is too small for you, it will sit on top of your head and refuse to fit and cover your ears. Similarly, if you buy a too big cap, it might move around a lot and even over your eyes too much.
In the case of cycling caps, finding the right size is essential, and I would recommend going to the store and trying a few on to see what fits you best. However, if you want to buy them online, you could also measure the circumference of your head and compare it to a size chart if it's provided.
What Is The Best Way to Wear Cycling Cap Under The Bike Helmet?
There are mainly 2 ways people like to wear their cycling caps. The first is peak up, which means the cap's brim is facing upwards. This is a practical way to wear your cap as it blocks out the sunlight, other light sources, and rain. It doesn't block your vision and overall makes the experience convenient.
The next way is peak down when the brim is facing downwards. This makes the cap more aerodynamic and can block sunlight, rain, or debris. However, it might block your peripheral vision a little.
You can get the best use out of cycling caps if you use these methods alternatively. Since they both have benefits, wear them how they best fit you.
What Else Can You Wear?
Honestly speaking, you should stick to wearing clothing designed for cyclists. A lot of people tend to wear visors, ball caps, and even beanies under their helmets. This is fine if you don't own anything else, but not the safest. You could also wear them if they fit you well under your helmet, but it is not recommended.
If you're wondering why it's because your helmet is meant to fit you perfectly. The padding inside the helmet is supposed to sit snugly on your head, and wearing visors, ball caps, and beanies can affect that. Wearing such accessories can compromise the safety of your helmet as they are made from bulky materials.
If you don't have any appropriate accessories mentioned above, you could temporarily wear beanies to protect you from the cold. But make sure they are made of light fabrics. And, try buying a cycling cap or balaclava as soon as possible.
Related reading: Best Cycling Neck Gaiter Reviews & Buying Guide
Conclusion
There are several clothing items you can wear under your bike. Cycling caps, thermal caps, and balaclavas are the ones that I would recommend, but you could also wear a bandana.
These cycling accessories provide comfort and protect you from sunlight, rain, debris, etc. So, it is always best to keep one with you if you are heading out on a bike.