Best Winter Bike Helmets 2023 Review & Buying Guide
Cycling in cold weather is amazing as long as you have the proper clothing to keep you warm and free from the icy cold wind. Even though most cyclists wear proper gear when biking in winter, many forget to wear a proper helmet to keep the face warm.
Sure, any ear warmer can help you out in such sbiituations. However, not all of them will be equally comfortable for you. You can choose from various products on the market, and not all of them provide the same perks. This is why choosing the most suitable product for yourself can be challenging.
To help you with that, we're going to share our top picks for the best winter bike helmets that you can purchase in 2023. At the end of this article, you'll find a buying guide that'll help you choose the right one for yourself among the very best products.
Best Winter Bike Helmet Reviews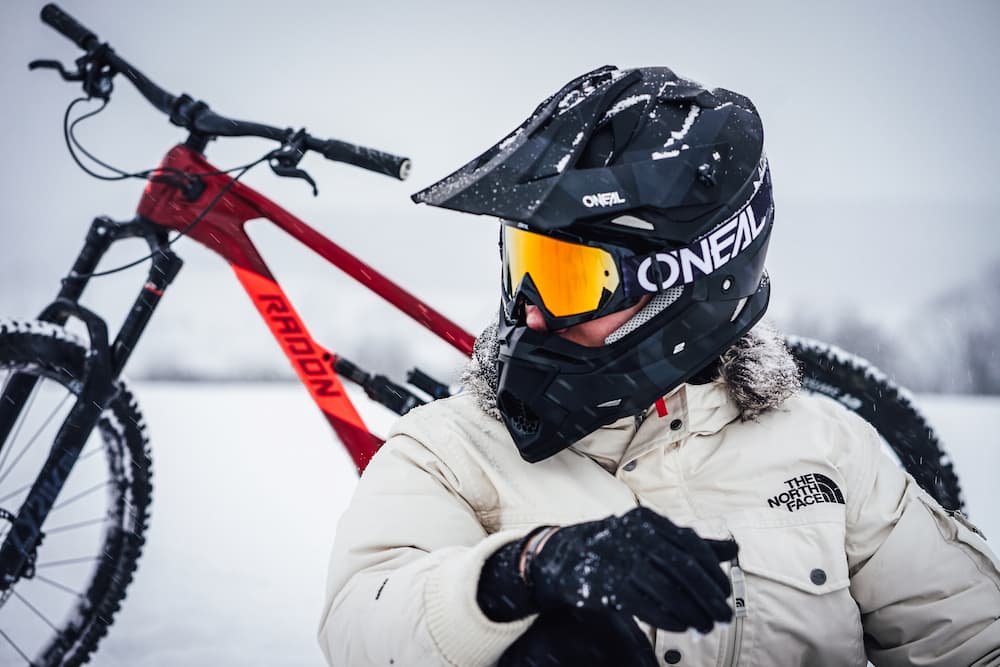 There are tons of helmets on the market, but not all of them are built to be perfect for bike rides in the winter cold. In this section, we're going to review the very best products that you can lay your hands on now. Let's get started!
Giro Timberwolf Adult Dirt Cycling Helmet
Giro Timberwolf Adult Dirt Cycling HelmetCHECK CURRENT PRICE
The Giro Timberwolf helmet is the perfect helmet for cold-weather cycling because it offers the perfect balance between warmth and breathability. This might not be the best choice for biking in summer, but it's amazing for winter. However, this isn't one of those bikes that will warm your ears by insulating airflow. It does offer a steady airflow, so your ears and head won't sweat due to long usage.
Instead, it comes to padding to warm up the ear and a liner to warm the head. The insulated ear flaps do a great job at warming, and they also come with perforated holes to allow sound to pass to your ears. The ventilation can also be adjusted. There's a toggle on the top of the helmet that can be slid to close or open the vents on top of the helmet.
Despite the amazing features and convenience, this one comes at an affordable price. So, if the feature set offered by this product entices you, you should go for it.
Product Features:
The top vent can be retracted using a toggle
A perforated earpad can keep your ears warm without insulating air
Front stack ventilation can prevent goggles and glasses from getting steamy
Lightweight yet tough
Lazer Sport Dissent Winter Helmet
Lazer Dissent Winter HelmetCHECK CURRENT PRICE
The Lazer Sport Dissent Winter Helmet is one of the most lightweight helmets that you can get right now. This helmet was built with a major focus on protection. You can be sure of your safety while wearing this. It comes with a design that lets the helmet surround your head. Plus, to ensure the perfect fit, it comes with the RollSys system.
The RollSys system is a mechanism that lets you turn a smooth wheel on the helmet for ensuring the right fit. It ensures that the helmet is tightened symmetrically and doesn't create any pressure points on your head. So, even if you tighten it completely, you won't feel uncomfortable.
To ensure proper airflow, there are 13 vents on this helmet. These vents can be adjusted to adapt to any situation as well. It also features an in-molded construction for maximizing the durability of this helmet. Overall, it's a great choice for those who are looking for helmets to keep their ears warm.
Product Features:
The Rollsys retention system helps you adjust the helmet without creating pressure points
Comes with 13 adaptable vents for proper airflow
In-molded construction provides superb durability
Designed for providing optimum protection
Specialized Centro Winter LED Helmet
If you're looking for a colorful, modern, and effective helmet against winter, then you can go for the Specialized Centro Winter LED Helmet. This one's more than just another average helmet. It comes with an integrated LED light that can increase your visibility. It's easy to use, features a molded shell for offering great protection while retaining the lightweight, and it's built to fit all sizes.
What makes this suitable for riding in winter is the temperature insulation it's equipped with. It does a great job at retaining the temperature, and it provides a decent airflow at the same time. To increase your comfort even further, it comes with a Tri-Fix web splitter that offers an improved weight distribution. You'll get the patented clip-on visor with the helmet.
The rear vent is lock compatible and supports U-lock as well as cables to prevent theft. You can leave the helmet on your bike without worry.
Product Features:
Integrated LED taillight for better visibility
Optimized to maintain optimum airflow
In-molded shell provides adequate protection
Lightweight
Patented clip-on visor
Garneau Ghost Helmet
The Garneau Ghost helmet is one of the most stylish helmets for winter that you can get yourself now. It comes equipped with Spiderlock Creo. To those who don't know about it, it's a dial that lets you adjust the fit of the helmet easily. The fitting hat is completely cushioned so you won't feel any pressure even if you tighten it completely.
There are evacuation channels on top of this helmet. These channels will get rid of the air coming straight at you from the front, and thus there won't be any fogging on your visor. You can also fasten your rubber goggles to the helmet.
This helmet comes with earpads attached to it. These perforated earpads will keep your ears warm without blocking sound. If you want to wear this in winter, you can simply remove the earpads!
Sadly, this helmet isn't available at the moment. Hopefully, it'll be restocked soon. We highly recommend getting it if you find it in stock, it's definitely among the best winter bicycle helmets.
Product Features:
In-mold construction for greater durability
Cushioned fitting for a comfortable experience
Spiderlock Creo for ensuring proper fit
Rubber goggle fastener for keeping your goggles firm
Evacuation channels for keeping visor free from fogging
Buying Guide
Getting the right helmet for winter is no mere task. It's very easy to end up with a helmet that doesn't provide enough heat retention or just doesn't fit you well enough. In this article, we'll discuss the factors that you need to consider for getting the best winter bike helmets for yourself.
Related reading: How To Keep Your Face Warm When Cycling In Cold Weather
MIPS
MIPS is the short form of a Multi-Directional Impact Protection System, and this is the leading technology in protection when it comes to helmets. This system can reduce the force from rotational forces, so it can reduce the damage from impact. The MIPS is designed as a moving slip-plane that moves inside the helmet. It's designed to mimic the protection system of the brain, so it enhances the natural protection system by many folds.
We highly recommend looking for this feature as it can save you from potential brain injury.
Insulation
Thermal insulation is the only factor that can help you while cycling in cold weather. Often helmets end up preventing airflow for allowing thermal isolation. However, this isn't how it should be done. We recommend looking for helmets that provide thermal insulation but offer an adequate venting system at the same time.
Then again, the earcups must allow sound to pass to your ears. With that, you'll be able to listen to your surroundings.
Vents
Vents are necessary for allowing the incoming air to pass easily. Proper venting not only allows better aerodynamics but also lets you use goggles and visors without getting them all foggy. We highly recommend getting helmets that come with adaptable vents. These vents can be opened or closed using the onboard trigger.
LED Lights
LED lights can increase your visibility, thus making cycling in the night safer. Reflective patches do a great job, but winter nights can be pretty foggy and the transparency usually remains low. Seeing the patch can be tough in such conditions. This is why we highly recommend getting a helmet with LED light as they can be seen from afar easily.
FAQs
How can I keep my head warm in my regular bike helmet?
It's possible to keep your head warm without purchasing a special winter helmet that can make things easier for you. There is a number of items you can wear under your cycling helmet. You can always use balaclava or ear warmers. Some people even prefer using neck gaiters. These work well as well.
However, they aren't comfortable and you'll need to readjust them multiple times on the go. If you want a comfortable experience with all the customizability, then you should definitely go for a helmet with thermal insulation.
Related reading: Cycling In Cold Weather – Tips On Keeping Warm In Freezing Cold
Conclusion
These are the best winter bike helmets that you can get yourself now, other than the Garneau Ghost helmet. Rest three are amazing too, but if that's what you're looking for specifically, we recommend waiting for it.