Best Neck Gaiter For Cycling 2023 Review & Buying Guide
Every cyclist understands the importance of gearing up appropriately for the rides. Among the essential pieces of gear that often get overlooked are neck gaiters. These tube-shaped scarves, designed to fit snugly around your neck, are more than just a fashion statement. They serve a crucial function in keeping your face, ears, and throat warm, especially during those chilly morning rides or in the biting cold of winter.
Neck gaiters start from your nose and extend up to the end of your throat, providing a shield against the cold and the wind. But not all neck gaiters are created equal. With thousands of options available, it can be overwhelming to sift through the multitude of choices. Some are cheaply made, losing elasticity and color over time, and getting damaged faster than their higher-quality counterparts.
But worry not, I'm here to help you navigate this sea of choices. In this article, I am going to delve into the world of the best neck gaiters for cycling. We've handpicked these products based on their quality, durability, and performance, to ensure you get the most value for your money. So, read on to discover the best cycling neck gaiters that you can add to your gear today.
Best Cycling Neck Gaiter Reviews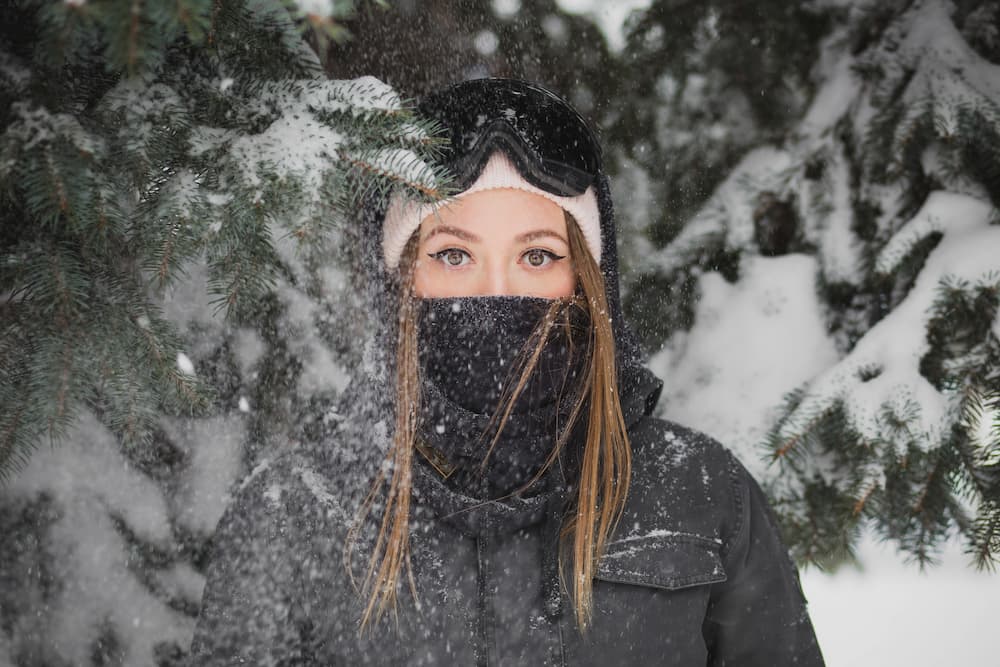 From multifunctional headwear to turtlenecks, here you'll find a versatile collection of the very best neck gaiters for cycling that I have chosen for you that will help to keep your ears warm.
BUFF Lightweight Merino Wool Gaiter – Multifunctional Headwear and Face Mask
BUFF unisex-adult Lightweight Merino Wool Multifunctional Headwear and Face MaskCHECK CURRENT PRICE
The Buff neck gaiter is one of the most multifunctional headwear that you can get for yourself now. This one's made of 100% Merino wool that feels soft and will keep your neck warm for a long period. Even if you wear this on the coldest of nights, you won't feel the chilly wind on your neck or face.
However, that's not what makes this special. The specialty of this headwear is the many ways you can use it. It can be used as a hairband, a half mask, DO rag, balaclava, a headband, a hood, and more! You can style this in every way you want, and this is why it's the coolest cycling neck gaiter for those who are looking for versatility.
Product Features:
One size that fits all
Can be styled in various ways
The Merino wool makes it soft and light
Wind-resistant so it'll keep ears warm
Original Turtle Fur Fleece – The Turtle's Neck, Heavyweight Neck Warmer
Original Turtle Fur Fleece – The Turtle's Neck, Heavyweight Neck WarmerCHECK CURRENT PRICE
Lots of people complain about their neck gaiters even if they're comfortable to wear. The main reason behind this lies in convenience. A lot of neck gaiters are comfortable to wear and they are very effective in keeping your face warm. However, they aren't machine washable, and you'll have to spend some time cleaning them properly.
This is where the Original Turtle Fur Fleece gaiters come in. These are machine washable neck gaiters, and they offer all the features that'll keep you warm in winter. Available in ten colors, these neck gaiters offer a fit for all sizes. If you're looking for a combination of warmth and convenience then nothing can beat these.
Product Features:
Comfortable, soft, and warm fleece
Can be matched with their OTF hat or headband
One size fits all
Protects your face and ears from wind
Can be machine washed
Turtle Fur Chelonia 150 Classic Fleece Double-Layer Neck Warmer
Turtle Fur Chelonia 150 Fleece Mens Neck WarmerCHECK CURRENT PRICE
The Turtle Fur Chelonia 150 Classic is yet another amazing pick from the same manufacturer, Turtle Fur Store. These are double-layered neck warmers that will protect you against the strongest winter breeze. These are easy to wear due to their shape and elasticity. No matter what your neck shape and size are, these will be very easy to adjust.
If you're expecting harsh weather, then you should consider this one. It comes with two layers of protection, so you can keep yourself safe from the strong winter wind while cycling. If you're intent on keeping yourself warm, then these will be a great choice for you.
You can get these in four colors, so you'll be able to choose a color that matches the rest of your outfit.
Product Features:
Can be machine washed
Comes in four color variations
One size to fit all
Soft and warm
Minus33 Merino Wool 730 Midweight Neck Gaiter
Minus33 Merino Wool 730 Midweight Neck GaiterCHECK CURRENT PRICE
Last, but not least, we have the Merino Wool neck gaiter from Minus33. If you're looking for midweight neck gaiters that are not too thick neither too thin, then you should consider this one. It offers the perfect balance between comfort and thickness.
As these are made of Merino wool, they are extremely comfortable. Then again, these are crafted to fit multiple sizes, so you won't have to worry about the fit either. This brand has been in the market since 2004, and they have been enhancing their products according to customer demands ever since. So, you can trust their products and quality control. We're sure you won't be disappointed with their neck gaiters.
Product Features:
Made of 100% 18.5 Micron Merino wool
Machine washable
Crafted to fit all sizes
Being enhanced for years
Cycling Neck Gaiter Buying Guide
Getting the best cycling neck gaiter for yourself can be a bit challenging at first. There are so many types of gaiters on the market that you can get confused easily. In this section, we'll discuss the factors that'll help you make the right choice.
Sizing
Sizing is one of the core factors that you must get right, otherwise, you won't feel comfortable with the neck gaiter. However, most of the cycling neck warmers come with a fit for all sizes now. If you find one such warmer for yourself, then you shouldn't worry too much about it.
Coverage
How much of your body do you want to cover with the neck gaiter? If you're wearing a helmet that's covering your head and ears, then you shouldn't need a neck gaiter that covers your ears, but you'll be okay with one that covers the neck only. Then again, if you aren't wearing a winter bike helmet designed for cold weather rides, then you better get a warmer that'll cover your ears.
Material
A neck gaiter for cycling can come in various materials. The products we've discussed today come with either Merino wool or patented fleece construction. Both of these are very soft and durable, and they perform adequately when it comes to warming as well. So, no matter which product you pick from here, you should be getting a comfortable experience.
Frequently Asked Questions
How to clean a neck gaiter?
Neck gaiters usually can be machine washed. However, if they aren't rated, you should rather wash them by hand. Otherwise, you may end up ruining your neck gaiter.
How many ways of wearing a neck gaiter are there?
It depends on the product. There are neck gaiters that can be worn in many ways, and there are those that can in worn in one or two styles. If you're looking for something versatile, then you should go for products that are designed to be such.
Is there a difference between neck gaiter and balaclava?
While neck gaiters and balaclavas look similar, there are certain differences between them. The balaclava is designed to be worn in winter only, while the neck gaiter can be worn in both winter and summer. The main reason behind this is the balaclava is much thicker than the neck gaiter, thus they are warmer.
Conclusion
I've journeyed through the world of the best neck gaiters for cycling, exploring their unique features, benefits, and how they can enhance your cycling experience. These accessories are not just about keeping you warm; they're about comfort, versatility, and style.
Among the products we've discussed, two stand out for their exceptional qualities.
The BUFF Lightweight Merino Wool Gaiter, made of 100% Merino wool, is not only soft and warm but also multifunctional. You can style it in various ways, making it a versatile accessory for any cyclist. Its wind-resistant feature ensures your neck and face are shielded from the chilly wind, enhancing your comfort during those cold rides.
On the other hand, the Original Turtle Fur Fleece offers a blend of warmth and convenience. It's machine washable, saving you the hassle of hand washing. Its soft, warm fleece material ensures your face and ears are protected from the wind, while its one-size-fits-all design makes it suitable for all cyclists.
In my experience, investing in a high-quality neck gaiter can significantly improve your cycling experience, especially in colder weather. It's not just about the warmth – it's about the comfort and the freedom to cycle without worrying about the cold wind biting at your neck.
A great neck gaiter you will use in your winter rides is one that fits well, offers adequate coverage, and is made of comfortable, durable material. It might just be the game-changer you need for those cold, windy rides.