How To Attach Audio Speaker To Bicycle?
Imagine a bike ride through the quiet (or noisy) roads where you can enjoy a handsfree and wireless sound of booming music. Surely wireless headphones and earphones can always give you that experience, but we understand that nothing can beat the enjoyment of listening to music on a speaker.
With surround sound and loud beats, your ride could transform into different zen. With that, it is only possible to have your loud music experience if you are somehow able to attach a sound system to your bike.
Lucky for you, there are several simple and quite feasible ways on how to attach a speaker to a bike.
How To Mount Bluetooth Speaker to A Bicycle?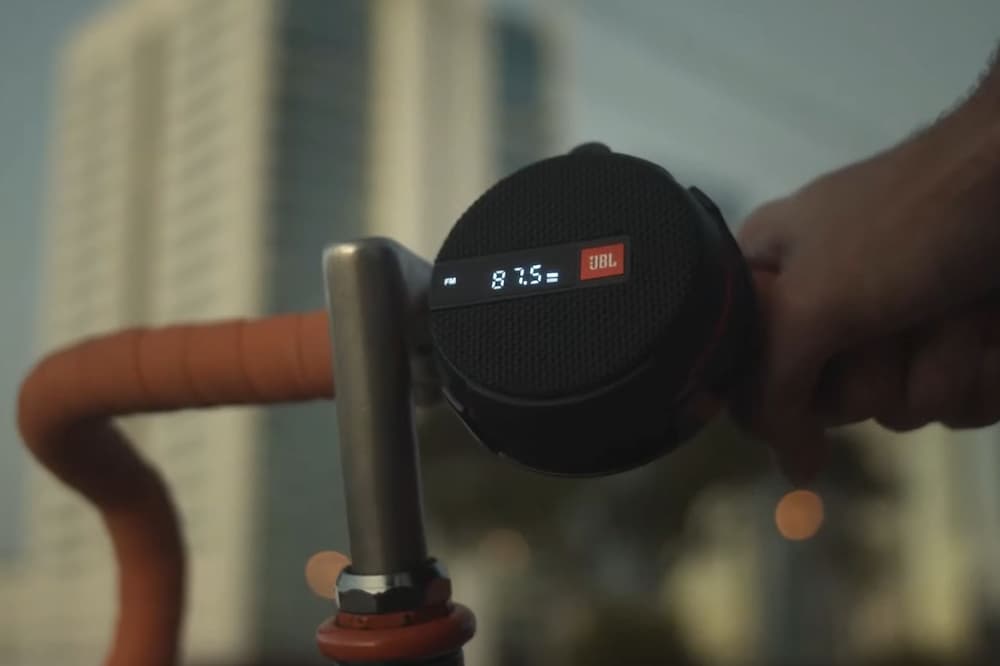 As mentioned before, we have a few easy ways which could allow you to attach your speak to the bike. Depending on what streets you travel on and how seriously you take your music, you may want to choose away.
One of the more specialized ways to do this is by mounting the Bluetooth speaker to your bike. Not only does this keep your shoulders and racks free, but this also makes sure that your speakers' sound is not intruded on in any way.
Using Bike Speaker Mount
The easiest way to mount any Bluetooth speaker to your bike is by using a speaker mount or holder. These holders are versatile in utility as well as style and can be used to hold speakers, with the best anti-skidding technology.
Speaker mounts like this comprise multiple non slipping straps with buckles that lock securely into your Bluetooth speaker. The adjustable straps fit into several speaker brands since their circumference varies up to 14.2 inches.
What's great about bike speaker mounts is that they adjust to most railings and standard speakers. If you need to charge your speaker, you would only take a minute to unbuckle the Velcro straps.
However, some users have complained that when they use speaker mount holders for smaller speakers, the Velcro does not fit most tightly. This also happens to be the case if the frame of the bike is not thick enough.
With speaker mounts, you can strap your Bluetooth speaker on the handlebar, or, as most prefer on your bike's downtube for a more bounded music approach.
Get a Portable Speaker that Comes with a Bike Mount
Mounting your speaker on your bike has become easier with the creative inventions from reputable companies that value your overall riding experience. On that note, you may also want to get a portable speaker that has an integrated mount holder, if you are someone who listens to music quite often when pedaling.
Portable Bluetooth speakers can mount on about anything, whether you want to attach it to your bike for a ride or to a chair during the picnic at the beach.
Portable speakers with integrated mounts comprise bike mounting kits and additional tools, and hence you can be certain it would fit about any frame your bike has.
A good quality speaker with a mount is neither compromised on sound quality nor the security of your bike. For a premium music experience, you may want to aim for a 6 to 8 W powered speaker that delivers 360-degree sound.
Since such speakers come with a mounting system suited to be carried on hikes and bike trips, the mounting material is most weather and dust resistant.
Moreover, the elastic nature of these holders can stand huge amounts of force without causing permanent damage to the holder's shape.
Put it in the Front Bike Basket
Front bike baskets are one of the most useful accessories that allow you to carry just about anything on your bike. Whether you have a bouquet or a pet to be transported, front baskets have got your gear!
Likewise, you can simply put your speaker in the front bike basket attached to the handlebar. If you don't wish the speaker to move too much, you may carry soft clothes and lightweight tools to make sure the space is slightly filled.
Put it in the Rear Bike Basket
Rear bike baskets are often seen on bikes where people carry their groceries and milk cartons. Among the few styles, you can get a pannier style basket, and rack mounted ones that attach to the rear side of your bike within minutes.
Most of these are also toolless attachment systems.
Like most gears, you can also carry your speaker in the rear basket although this method does not come without problems. T
the constant movement would distort the spreading sound while you would not receive the whole surround sound experience since the basket is placed at the back.
Strap It to the Front Bike Rack
Front bike racks are a man's best friend needing to carry tools and gears while touring or going long distances with stops. A lot of people prefer front racks to rear ones because of the ease of being able to keep an eye on the belongings.
Likewise, you can have your speaker turned to a decent volume with you have the jukebox strapped to the rear rack. It would be aided if you can use a base platform to solidify the setup. This would also decrease the quaking to some degree.
Strap It to the Rear Bike Rack
Another way to have your music go around town with your as you pedal your way through is by strapping it to the rear bike rack.
Sure its could have you enjoy your beats and jangles but you would need to note that speakers resonate the sound to the direction it is facing. In this case, most of the sound would be dispersed to the back.
Attach to Your Backpack
Another way to have your speaker travel along with your as-you vibe to the music is by having it attached to the outside of your backpack. Although this is not the most secure of ways, you can utilize your backpack without having to invest in holders, baskets, or even racks, if you don't have one already.
You can attach a mesh bag to a carabiner and affix the setup to your bag pack for better safety. In this way, your Bluetooth speaker is shielded and safer from theft, in comparison to strapping it openly to the bag top.
The problem with this method is that your music will be heard more loudly at the back and all you might hear could somewhat be faint in loudness.
When all ends fail, your bag pack is there for you when you are riding with your hands on the handlebar and need to have something carried. You can also put your Bluetooth speaker in your bag pack as it plays at its loudest volume.
It goes without saying that the sound quality would be poorer than usual, but depending on what kind of bag you have, you might be able to jam to indistinct music. You can put the speaker in the outermost chain or use a bag with meshed pockets for better sounds.
Using Straps or Zip Ties
With Velcro straps, bungee cords, and zip ties, you can attach a Bluetooth speaker to your handlebar, bike frame, top or bottom tube. While this can be done and the security improved by using better quality zip ties, you cannot be certain that the speaker will not move too much.
Hence, if you strap down your speaker to your bike, make sure you tie both sides and at the center so that the wobbling is minimum.
Conclusion
People are exploring ways you can learn how to attach audio speakers to a bicycle as they want to enhance their cycling experience. You can use a bike speaker mount, get a portable speaker with a bike mount, place it in the front or rear bike basket, strap it to the front or rear bike rack, and attach it to your backpack.
I recommend using your backpack because you can hear your music clearly while keeping your speaker secure. If you have an audio speaker that is very large, I do not recommend trying to carry it on your bike.
Now you can enjoy some tunes as you ride to your heart's content.