Hitch Bike Rack Accessories
Planning to get some hitch-mounted bike rack accessories but don't know where to look for them? We've all been there at some point, hitch racks work great, but some accessories would make life a whole lot easier.
They may stabilize your bike correctly or make the loading process more accessible. Moreover, some supplements are designed to keep your favorite bike safer than ever before.
If you're looking around the internet for the best hitch bike rack accessories, then you're in the right place. We're going to make your biking life a whole lot easier.
All About Bike Racks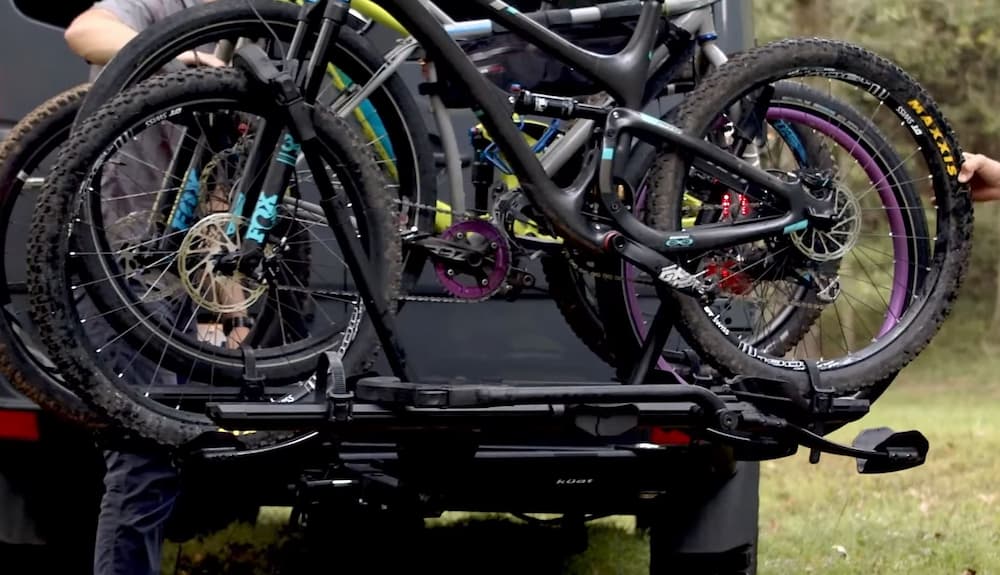 A bicycle rack, also known as a carrier, is a mounting device attached to one end of an automobile. The bike rack is built for carrying your cycle with your favorite car.
Bike racks are a great way to free up valuable space in your vehicle, which would be blocked by your bicycle. It also makes carrying your gear less of a hassle, so you can stop worrying about where the equipment needs to go and start having fun instead.
There are a variety of bike racks explicitly designed for different types of bicycles. They depend on their size, their bicycle model, and a lot of features. We're not going to waste our time discussing all the types. We're going to concentrate on hitch bike racks today specifically.
Why Hitch Bike Rack?
Hitch-mounted bike racks are designed so that the bike racks can slide into the trailer hitch receiver. Hitch racks are an extra accessory that you need to install on your vehicle. But once installed, it will give you a hassle-free bike mounting experience. When it comes to bike protection, Hitch bike racks provide you the best protection.
Related reading: Best Hitch Bike Rack Reviews & Buying Guide
Hitch bike rakes also give you the best aerodynamic capabilities, and they're the easiest to load the cycles into the rack. Here are some of the pros and cons of a hitch-mounted bike rack:
Pros:
Available in various sizes and styles
Loading and unloading of bikes is effortless
Provides more aerodynamic capabilities than roof topped bikes
Gets rid of the clearance problem faced by many garage doors
Available in greater capacities
Provides much more security than truck-mounted racks
Compatible with much more vehicle models
Offers better support on frequent usage
Cons:
It can be expensive to set up
Bikes have a possibility of swaying
Basic models can interfere with trunk or rear cargo space
Best Hitch Bike Rack Accessories
When it comes to buying various accessories for that bike rack of yours- especially the hitch-mounted ones, you got quite a few selections. Here is our list of some of the best hitch bike rack accessories. This list ranges from necessary to somewhat novel accessories. Let's get started on the list then:
Saris Protect-O-Pads for Bike Racks
This accessory is made from soft foam pads. This accessory's primary function is to create a soft, protective barrier between the bike rack and the bike to prevent damage during the transportation period. Pads can also be placed between your bike and the vehicle so that the vehicle's finish remains intact.
Tri-Doc Repair Stand for Bike Rack
This is a portable tripod that can pair with your hitch bike rack for creating a stable repair stand for the bike. All you have to do is remove the trail doc from the rack and re-install it on the stand. You can adjust the height, rotation as well as a clamp in position by the locking collars.
Aerpack Waterproof Cargo Bag
This is an excellent cargo bag for someone looking for durability. This cargo bag lets you carry two bikes simultaneously on a bike carrier. It provides insulation, waterproofing, and foam padding so that your bike stays safe from any kind of wear and tear.
Etrailer Hitch Pin Alignment Collar
Once you get a hitch pin alignment collar, you can kind of forget about getting on your knees for an installation of an accessory. This stop collar provides the functionality of automatic pin alignment and 2" accessories. After the first installation, it doesn't need to be adjusted again.
Bike Wheel with Straps for Handlebar Stabilizer
These stabilizer straps help stabilize the handlebar and wheel of your bicycle during the transport process. It also comes with various TPE straps, which are adjustable. Both trunk-mounted and hanging-style racks can fit into this strap. For additional support, the set comes with two straps.
Anti-Rattle Hitch Tightener/ Stabilizer
This accessory grants you the access to tighten up your hitch-mounted racks. It provides stability to the base and also the carrier. The rack stays tight and doesn't rattle even during intense traveling. It also keeps the structural integrity intact. Available for various sizes and styles of racks.
Wheel Stabilizing Strap for Bike Carriers
You can replace the original strap that came with the Yakima Stickup 2 hitch-mounted rack. The piece comes with two stabilizing straps for providing your bike with maximum protection and stability.
Replacement Wheel Strap Assembly for Bike Carriers
Are you having an issue with the original strap? No worries, then. You can easily replace the damaged or lost one with a replacement wheel strap for Hollywood racks destination bike carriers.
Installing this on the rack's wheel tray secures the bike to the carrier. It comes with a ratcheting wheel strap, buckle, rim protector, nut, and obviously with installation nut and bolt. It can be used for two bikes and four bike options and ensures excellent compatibility, just like the original one.
Soft Hook and Loop Tie-down for Bike Carriers
If you are looking for multi-purpose straps that can secure the teetering front tire to the bike tube and stop spinning on the bike rack, then soft ride soft hook and loop tie-down are the right thing to look for.
And that's not all; these four straps with a length of 16 inches can prevent pant legs from binding into chains. Because of this strap's endurance, it's also used to secure cargo and cables.
Replacement Sliding Wheel
Depending on the angle, two wheels for the bike rack, wheel tray A and a wheel tray B. It attaches to the bike rack using a knob, which needs to be tightened down for support. It can be used ideally for tires sized up to 2 and a half inches.
Replacement Wheel Loop
This grey-colored wheel loop can easily replace the damaged wheel hoop of the Sportrack-wheel mounted bike rack. Having a capacity of 45 pounds per bike, the rack it goes with, the hoop can easily hold up to 22 pounds. Depending on the rack it will hold, 80 pounds can be easily carried. Both left one and fitting is available in trailer.
Replacement Front Wheel Assembly
This appearance can flawlessly hold black Yakima holdup bike carriers. This easy install product can hold the entire front wheel assembly.
Replacement Left Outer or Right Inner Wheel Tray
Replacement of the left outer or suitable inner wheel tray for Swagman Chinook 2 bike platform rack, made of high-impact plastic, can easily replace the left outer or suitable inner wheel tray for bike platform rack. The tray that contacts the tire is made of steel, and the mountain bracket or the knob part is plastic.
Replacement Bottom Spar Hanger
Etrailer presents you with a replacement of a bottom spar hanger for the Thule T2 Classic bike platform rack. This one is straightforward to use and durable. This should provide safety and will last for a long time.
Replacement Anti-Sway Cage Assembly
This anti-sway cage assembly works with Malone runaway 3, Malone hanger 3, Malone Hanger Spare T3. Because this is from brand Malone, it will have harmony with any other brand.
With softly padded parts, it will keep the bike safe and protected from damage. Also, this one includes enough screws to make the installation perfect and tight. This cage will hold your bike tight and keep it from swaying from side to side.
Replacement Cradle for Tube and Strap
This nicely designed cradle and strap for the tube can replace the cradles available for bike platform racks. With a frame mount of 1-¼ and 2-inch hitches, this cradle can support a lot of bike types.
It is made with soft rubber and cushioned with strap grips by the down tube that adjusts independently along the upright mast to hold bikes in various shapes and sizes.
This well-cushioned rubber body won't let a single scratch on the bike. Also, built-in grooves can accommodate various types of brake lines as well as cables.
Stay-Put Cradles
This tiny accessory can easily replace Thule roadway, Parkway, Hitching Post Pro bike carriers. It makes sure the bike doesn't sway back and front during transportation with a perfectly balanced stay-put cradle.
And this one comes with a deep channel guide, cum cables underneath the bike's top tube frame. Which provides an area for cable to rest so that the bike stays stable while moving in the vehicle.
Replacement Standard Cradles
This replacement can easily replace two standard cradles for Hollywood racks bike carriers. This includes one rubber straps for each cradle, counts to two, overall to secure your cradles properly. Because the cradle has two arms, the cradle won't slide and will hold tight.
Hook and Loop Straps
These straps will replace any kind of damaged, broken, worn-out bike rack with hitch-mounting on it. This will secure your bike's wheels to the bicycle carrier wheel hoops. This one comes with a set of 4 straps, 17'' long and width ¾ '' wide.
Replacement Left Reflector
This can replace the left reflector of your electric bike rack. It can easily be attached with bike carriers to let other vehicles know where your bike carrier has some connection to them with double-sided tape.
The reflector has a thickness of ⅛ inches. It can help you to provide your location while being on the road. Overall the reflector is an accessory that will keep you safe.
Replacement for Side End Cap
To extend the bike racks' lifespan, you can replace the side end cap of the bike racks. You can finally stop worrying about missing screws or straps; easily replace those shortcomings with this accessory. This will even protect bike racks from rust and corrosion and keep them in good condition for a long time.
Ratchet Straps for Cradle
This product replacement is 22 inches long and 7/8 inches wide wheel cradle for the ratchet straps of the bike. This strap can quickly secure the bike rack. It has excellent compatibility with Saris Freedom, Freedom SuperClamp, Gan Fondo, Bike Porter, and Thelma bike racks. It includes two straps.
WarriorWheels Cart Kit
This kit can convert your cargo into a cart. Then you can quickly move between various areas. The kit also comes with tires that can cover all types of terrain, also includes a large handle.
Replacement Wrench
If you ever lost your hitch rake's wrench, this replacement will retain all your functionality yet again.
Lock Housing
This housing lets you install new lock housings on your existing hitch rakes. If you're planning to add an extra layer of security to your bike, this comes in very handy.
Two Bike Add on for 2" Hitches
It is an excellent expansion of an accessory if someone is looking to expand their bike housing. Transform your two bike housing hitch rakes into a four-bike hitch effortlessly. The additional slides are housed inside the shank of the hitch and add a third and 4th location for your bikes.
Replacement Inserts for Bike Rakes
This can replace the insert portion of the hitch-mounted bike rakes. If the receiver breaks down or doesn't insert bikes anymore, this replacement should come in handy. Available for all types of rake types.
Light Bar
The lightbar is an excellent way to display the running, brake, and signal lights for your vehicle. If the hitch rake somehow blocks your tail lights, this might come in handy. The package includes cable clips, a flat connector, and some hardware modifiers.
Cross Rail
This set lets you replace the cross rail of your bike rake. After extended use, the cross rail might get broken or bent. Instead of changing the whole rake, this replacement makes a lot of sense.
Tilting Base for Superclamp 2" Hitch Racks
This replacement base lets you tilt down your bike rack for rear cargo access. It also enables you to fold up your racks for extra piece of storage. You can convert your 4-bike super clamp to a 2-bike rake with these accessories.
Bike Rack Storage
This handy cart enables you for easy transportation of your bike rack. You can move the rack to and from the vehicle. The included locking wheel with pedals helps you store the rack off the guard when not in use. Works for a variety of hitch rack types.
Shanks and Frame Adapters
This accessory can help you replace the spine of a 2" hitch rake. If somehow the spine gets broken or bent, you can easily replace it. You can install a stinger or shank with only one flathead screw.
Hi-Lo Hitch Extender
The hitch extender allows 7" or 10" of clearance when installing the bike rack in the hitch. It also allows for a 2" drop for tailgate or rise so that you get a ground clearance while moving to a garage. The accessory comes with a rattle-proof hitch pin.
Anti-sway Attachment
Attach one anti-sway cage on the bike rack and keep all of your bikes safe. This attachment ensures that your bike stays safe while moving the vehicle. This also restricts the movement of the cycle for providing sway-proofing.
Fat Bike Trays
A fat bike tray kit can let you carry one electric bike along with its fat tires. The fat tray can replace existing wheel holders with more oversized tire holders. They can hold up to 5" large tires. The kit is included with an extra-long strap for wheels.
Loading Ramps
Access ramps are a great addition to hitch-mounted bike racks. This enables easy loading and unloading of your bikes. The loading ramps contain clips that let you quickly attach your bike racks. Slide the ramp-up to desired strengths, then easily collapse the whole contraption.
Ski and Snowboard Add-ons
Ski and snowboard add-ons are great for traveling in winter. With these add ons, you can clip a pair of snowboards or skis with your cycles. The accessory also includes a soft cushion of pegs that doesn't let it scratch off the gear.
Locks and Key Systems
Make your bikes safe with a simple lock and key system. It makes them safe from thieves and makes your life a whole lot simpler. These locks are sold in pairs. The best thing about them is that they are all keyed alike so that you can open all the locks with a single key.
Trike Adapter
If you're planning to add a trike with your bike rack, this is an excellent adapter for you. Adding this adapter with your rack lets you attach one trick along with the vehicle. The adapter is straightforward and easy to install, fits various rack models.
Bike Chain Keeper
The chain keeper is a great way to keep the retention of your chain. Even after you remove the rear wheel, this keeper will make sure the chain stays in place. It is an excellent accessory for ensuring the maintenance of your bike.
Cable Lock Assembly
This is a replacement cable lock for your existing assembly. It lets you replace your integrated cable lock for your rack. A cable lock can secure the hold into a central mast. And it ensures the bikes stay at the same place on the rack.
Handlebar Holder
This accessory helps you hold the handlebar, front fork as well as the front wheel. The handlebar holder is great during the maintenance and washing of a bike. The handlebar holder applies for a variety of bike styles and sizes for maximum use case scenario.
Locking Knob with Bolt
You can boost your rack's security with this accessory. Simply replace the standard-sized knob with this one. It is a locking knob, which comes with two keys. Moreover, it lets you lock the knob and prevents the sliding of the bikes from the tray. It also adds an extra layer of security.
License Plate Display
A hitch-style bike rack may cover your license plate on the back of your vehicle. So the PlateMate license plate display ensures that your license plate remains secure even when it is loaded with bicycles. Attach the plate mate with the hook and loop strap included.
Hitch Rack Swing Adapter
This backswing adapter lets you access the tailgate even when your rack is filled up with cycles. The swing adapter makes your rack easily foldable and accessible even when you're on the road. It is compatible with most of the available 2" bike racks.
Handcuff
This accessory is useful for locking all the bikes to the rack properly. It comes with an additional lock core for extra protection. The Handcuff provides a very well-built locking mechanism for your bikes.
Related reading: Hitch Bike Rack Safety
Conclusion
Here are all the best types of hitch bike rack accessories we can find on the internet. Some of them give you novel features like the ability to carry skis and snowboards.
In the meantime, some of them are an absolute must for ensuring the proper usage of racks, like a fat wheel adapter, or rack extender, or even locks for the bicycles. We hope this list helps you to some extent in finding the best accessory you need.
So here are all the best hitch bike rack accessories and their usage- explained. Don't forget to keep yourself healthy, eat healthy meals. Happy cycling!