Indoor Cycling Clothes – What To Wear For The Indoor Cycling Session
Indoor cycling has gained momentum over the last few decades and is becoming increasingly popular. With advancements in technology, indoor cycling has allowed people to explore cycling sports in safety and privacy. Digital home trainers such as Zwift and Strava enable users to have a real-life experience and take up challenges while being stationary in a suitable environment.
However, gearing up is also a vital issue to competing or practicing in indoor cycling sessions. People are gradually paying attention to the type of clothes worn during indoor cycling sessions to perform better and get the most out of indoor cycling. Another reason to do so is to incorporate an outdoor feel into indoor cycling by wearing these clothes.
Indoor Cycling Clothes – What To Wear For Indoor Cycling Class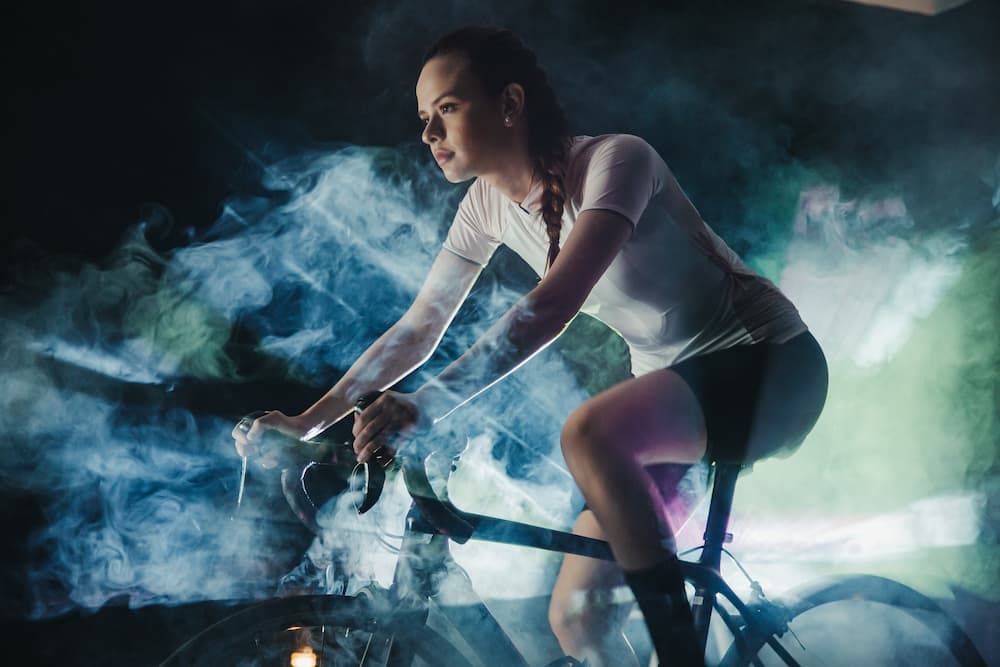 The most important issue is that these clothes help adjust body temperature by allowing airflow to your body and dispersing sweat away. They are produced bearing in mind the problem of heat management and moisture management. That is why indoor cycling clothes provide comfort, help enhance performance, and provide a fantastic indoor cycling experience for cyclists.
For an optimal indoor cycling experience, people must look out for four types of clothing.
Related reading: What Is A Spin Bike?
Indoor Training Shorts
Shorts are essential clothing for a comfortable cycling experience. For outdoor cycling, shorts are great for aerodynamics. However, it is not just limited to aerodynamics.
Shorts allow cyclists to make a transition between standing and sitting easily. The padded cycling shorts are more comfortable and prevent the skin from chafing. Furthermore, the full bib shorts that come with shoulder straps prevent the padding from shifting during cycling.
The padding of the shorts is made of synthetic materials that help keep moisture away. Also, the short acts as a smooth and soft surface for your skin during cycling. However, when selecting your pair of shorts, note that the shorts of men and women are different because of the differences in their anatomy. A women's shorts pad placement will be other than the men's and should allow a little more room in the hips.
The shorts are meant to be worn without undergarments so that they always remain in contact with the skin. Otherwise, the feature of providing a smooth surface and lessening friction does not function properly.
Furthermore, undergarments act as absorbents and do not allow moisture to move away from the body. Many undergarments for cycling are available in the market if you are comfortable wearing one. Overall, shorts allow cyclists to reduce friction, drain moisture, and make the cycling session more comfortable.
Base Layer Tops
Some indoor cyclists prefer riding without upper clothing. However, it is best to use a lightweight base-layer top. It helps cyclists to drain away body sweat, does not create friction, and does not get heavy from the moisture.
They are made of quick-dry and moisture-wicking fabric to help you cool down. They move the moisture away from the skin allowing the air from your movement to cool you down.
They are body-fit and help to reduce air resistance during cycling. They also have a longer backside, so you can have enough coverage as you bend forward. The pockets are located at the back. It allows cyclists to carry essential items without disturbing their movement.
Most cycling jerseys can also be used indoors. You might not need the close-fitting feature of a cycling jersey since air resistance is not a concern. But you will benefit from the quick-dry fabric of the cycling jersey to keep you cool. However, ensure that the jersey is designed for summer wear so that there is no overheating during sessions. You can also use any short-sleeved or sleeveless top as long as it is made of breathable, quick-dry fabric.
Related Reading: Why do cyclists wear lycra?
Indoor Cycling Socks
Socks are another needed piece of clothing for indoor or outdoor cycling. They are super light and play an important role in heat dissipation. A good pair of cycling socks make the feet cooler, disperses air, and drains moisture. During cycling, certain painful spots can appear on the undersides of the foot. With a good pair of socks, these spots can be easily prevented.
Most non-sports socks become bulky if used in cycling as they do not have heat dissipation features. Cycling socks refrain from getting bulky when the feat becomes sweaty by removing moisture and heat.
Cycling socks are available in various sizes. Some reach exactly below the ankle, whereas some reach one to six inches above the ankle. They are also several exotic designs from which cyclists can choose.
Indoor Cycling Shoes
Be it indoors or outdoors, cycling shoes are a critical piece of clothing for cyclists in any environment. Choosing a good pair of them will enhance your cycling efficiency to a great extent. Always choose a pair of shoes with your socks on. Doing so will give the shoe a better grip on your feet.
You can also install cleats to clip your shoe into the pedal of your indoor cycling bike. Some cyclists prefer to clip their shoes to increase efficiency. In addition, it prevents the feet from slipping in the most intense training moments. There are a variety of shoes that you can select from. Remember to choose the shoes, cleats, and pedals that are all compatible with each other.
Also, the type of pedal is a factor here. If your bike has flat pedals, you can discard the cleats. However, there are chances of slipping during intense moments. Clipping to the pedals provides the cyclist with many benefits.
Also, make sure that the soles of the shoes are stiff and do not bend on the pedal. Most indoor cycling classes' spin bikes are equipped with SPD (Shimano Pedalling Dynamics) pedals. These pedals are compatible with mountain bike shoes. This type of shoe has a recessed sole and two-hole design wherein you can attach the SPD-type cleats.
Unlike mountain bike shoes, road bike shoes do not have recessed soles. Thus, the cleats that are attached to them protrude from the shoe, and it can be pretty challenging to walk around in them. Above all, whatever type of shoe you choose, always remember to wear socks to prevent your ankles from chafing.
Optional Items
Now, let's look at some of the optional items that are helpful for an indoor cycling session.
Sweat Headbands
All sorts of clothing deal with sweat problems on the body. However, some cyclists might feel the sweat on their faces irritating.
If you want to keep the sweat out of your eyes, you can wear a sweat headband. It will also help to keep your hair out of your face.
Towels
You can always keep a towel if you sweat excessively. In an intense session, sweating can get heavy. You can always bring a towel to your online cycling session. Towels can also be used to drape the handlebars for extra grip in case the hands get sweaty.
How To Choose the Best Indoor Cycling Clothing?
Many indoor cyclists claim that clothes made specifically for indoor cycling are gimmicky. The truth couldn't be any further from this. Indoor cycling clothes have a unique property, which is moisture-wicking.
So, when choosing indoor cycling clothes, you must focus on the primary factor of breathability. If the fabric is breathable enough, you don't have to worry about its performance.
Another essential factor would be to consider whether the top has pockets in the back. Extra pockets at the back of your jersey will help you store your water bottle, food if you prefer, and your phone. Also, it's super accessible, so you can use it without dismounting from the cycle.
Then, there's the price factor. Just like any other product category, the more you spend, the better stuff you'll get. However, there will always be diminishing returns with more expenditure.
If you're considering top-quality stuff, you should go for ASSOS, LeCol, Rapha, or similar brands. BlackSheep, Edura, and Attacus are also popular brands and these offer products that are a bit cheaper. Finally, if you want bang-for-buck attire, check out Blackbibs, Groundeffect, or Hincapie.
Things To Consider About What to Wear Cycling Indoors
Before you choose what to wear for your indoor cycling session, there are a few things you will need to consider. Here is a checklist for you to make it easier:
Temperature- Since you will be indoors, the temperature is a huge factor. It can be too hot, or they might have the air conditioner on, and it can be too cold- at least until you have warmed up. So, you will need to prepare for both. Pick the clothes you will wear to class, but grab a jacket for good measure. In case you feel cold at the beginning, why suffer? Just wear the jacket until you feel hot.
Comfort- If you are not comfortable in your clothes, you will not be able to work out efficiently. The feeling of sweat dripping down or chafing can easily distract you and quickly become annoying. Hence, wearing clothes that are breathable, sweat-wicking, and prevent chafing is necessary.
Functionality- If your clothes are too tight and reduce mobility, that might be a problem. Hence, the clothes you wear need to be functional. You will need to wear clothes that allow you to move freely, whether they are compression gears or loose fit.
Easy to wash- You will be washing your workout clothes after every workout. So, why not make it easier on you by buying clothes that do not require unique washing methods? It would also be better if you purchase fast-drying workout clothes. Otherwise, you will be left buying multiple garments.
What NOT To Wear to Spin Class
So far, we've discussed what you should wear during spin classes or indoor cycling. Now, it's time to consider the things you shouldn't wear to a spin class.
Let's start with the fabric type. Don't wear anything that'll prevent moisture from wicking. Simply put, avoid whatever prevents proper airflow. Avoid wearing jeans or anything made of cotton, as these don't help the water evaporate.
Also, don't wear loose or too tight-fitting shoes. If they are loose, you won't be able to pedal properly. On the other hand, too tight cycling shoes will start hurting after a specific time.
Related reading: How to Know if Your Cycling Shoes Are Too Small or Too Big?
Other than these, it doesn't matter what you're wearing. You can wear shorts, leggings, or whatever feels more appropriate in the spin class. If you're conscious about fitting in with the rest, just ditto whatever the others are wearing, and that'll help you blend in.
But honestly, others are usually more concerned about how much their legs hurt. So, it doesn't matter whether you have extra padding on your shorts.
Frequently Asked Questions
What is the difference between outdoor and indoor cycling clothing?
There are only a handful of differences between indoor and outdoor cycling clothing, but these affect the experience immensely.
Indoor cycling apparel is geared toward breathability. Most indoor jerseys and bib shorts come perforated to allow more airflow. This helps moisture wick and prevents the user from getting drenched in sweat.
The breathability also helps in the regulation of body heat. Unless you have a fan around you while cycling indoors, you're bound to get very warm. This doesn't happen outdoors, as the natural air keeps your body temperature down.
In the case of indoor cycling, there's usually no airflow to keep you cool. So, breathable mesh clothing helps mitigate that.
Can I wash my cycling kits with other clothes?
The best advice is to wash your cycling kits separately instead of washing them with other clothes. There is a chance that other pieces of clothing might damage your cycling clothes.
Turn them inside out before you put the cycling clothes inside your washing machine. Also, washing your clothes directly after completing your indoor training sessions is better than washing them later.
Can I put my cycling shorts in the dryer?
It is best to avoid using the dryer for your cycling shorts. The best thing to do is to dryline them. At best, they may tolerate a low-tumble dry setting. Before washing your bike shorts or drying them, it is always best to check the care instructions of your clothing.
Related reading: Bike Trainer Noise Reduction Tips
Conclusion
In the realm of indoor cycling, attire plays a crucial role, not just in comfort but in enhancing performance.
The evolution of indoor cycling, driven by technology, underscores the need for specialized clothing designed for heat and moisture management. Key items like shorts, base layer tops, socks, and shoes, each contribute significantly to a cyclist's experience, offering solutions to common challenges encountered during a workout.
I've learned the importance of choosing attire that not only fits well but also complements the unique demands of indoor cycling, ensuring every ride is as comfortable as it is efficient.