How To Carry A Violin On A Bike?
If you are a musician who needs to transport your violin while riding a bicycle, it can be a challenging task but it is not impossible to get it done. In this article, I will discuss the best methods on how to carry a violin on a bike, including the carriers.
The primary goal is to keep your violin safe and secure while also being comfortable for you to carry around. I will also advise against carrying a violin case in your hand or using a low-quality case that is uncomfortable and risky. I would recommend using a violin case with backpack straps as the good cushioning makes the violin comfortable to carry.
Regardless, by following my tips, you can safely transport your instrument while traveling by bicycle.
How to Carry a Violin on a Bike?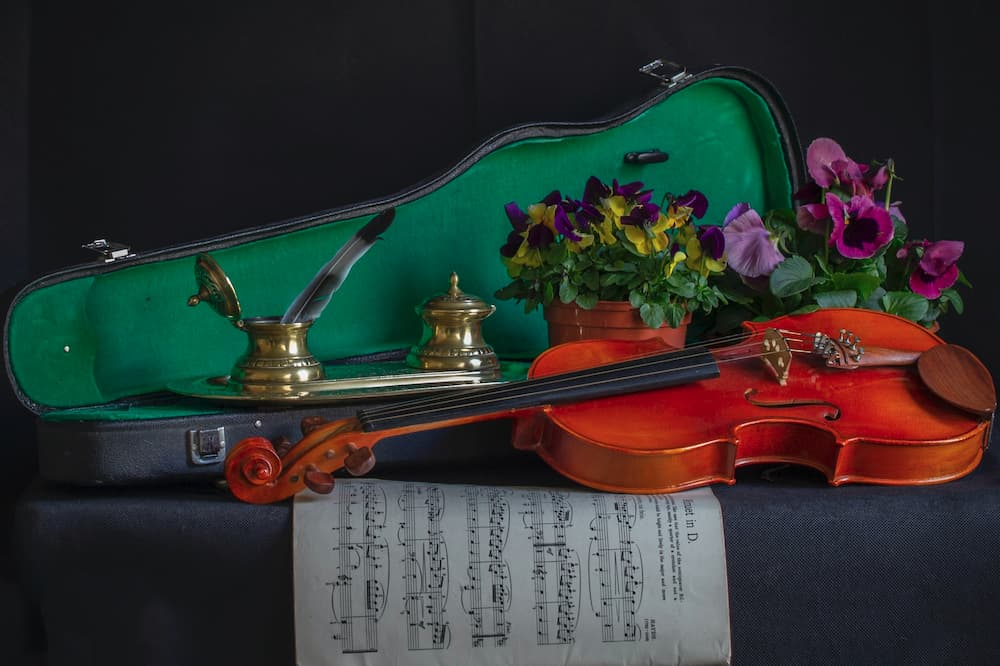 Here are the best methods that you can apply to carrying your violin on a bicycle.
Violin Case With Backpack Straps
This is the most optimal and highly used method (similar to one way of carrying a guitar) used by a violinist who carries their violins on their bicycles. You need to get a violin backpack that comes with good cushioning and strong shoulder straps and you are good to go. That said, ensure the height adjusts with your violin's overall height.
Many violinists who carry their instruments on their bikes prefer the Cushy Delux Carry Bag for Violins. I also recommended this product but it may be difficult to find it these days.
Bam Peak Performance Violin Case is another cycling musicians' favorite with similar features.
Bam Peak Performance Violin Case PEAK2002B (w/Free Bam Water Bottle)CHECK CURRENT PRICE
As you will have to carry the violin backpack on your back, make sure that the shoulder straps are strong and comfortable.
If your violin comes with a case with shoulder straps then you can use that to carry your violin in your bag. But that being said, your violin case will have to be very sturdy but at the same time comfortable for your back and shoulders. And only top-of-the-line cases have this type of feature. So, unless you have a premium case, this method will be very uncomfortable for you.
Pannier Bag
Ortlieb Back-Roller Classic Rear PanniersCHECK CURRENT PRICE
Now if you need to transport a violin on your bike, then one of the best options that you can opt for is pannier bags. Because of their copious amount of space if managed properly, you can fit two small size violins easily. But if you have a very large violin then it may stick out.
If that's the case then make sure that your pannier bags come with straps built inside the bag. This way you can strap in your violin case or violin so that there will be no possible scenarios of it bursting out of the bag on rocky roads and tracks.
Now for pannier bags, there are quite a few attributes that you need to look out for. And these attributes are:
The bag must have a strong reinforced polyester fabric as its primary material.
It should include a fast attach and detach feature, but they shouldn't be loose at the same time because your bicycle might have to go through some rough & rocky roads in your travels.
Water resistance should also be a top priority if you live in an area or go to an area where there is the possibility of rain or snow.
Also, make sure that the bag is able to withstand and avoid friction.
If you can get all these attributes on your pannier bag, then you can be sure that your violin will be safe and sound whenever you carry them using your pannier bag on a bike. For recommendation, we suggest getting something like the Vuudh Pannier bags.
Front Bike Basket
ZIMFANQI Bike BasketCHECK CURRENT PRICE
Front bike baskets are also a great option for carrying your violin with a challenge. The issue that you face with this method is that the safety of your violin during sudden breaking or going through a rocky road is very difficult if you haven't strapped the violin case firmly.
Also detaching the straps can take a good amount of time and if you are in a hurry then this can become a nightmare.
But if you have no other options, then having a front carrier to support you in carrying your violin can be a good option. You should look out for a strong and sturdy basket that comes with a good amount of space to place your violin case. For recommendation, we recommend something similar to the ZIMFANQI Bike Basket.
Rack Bag
Next is rack bags. They come with a large capacity it allows you to put your violin right inside it without any problem. Large size violins may stick out a bit. But in that case, you can always tie your violin case with your rack bag by using straps.  You can also have multiple storage options when going with a rack bag as they offer multiple pockets for convenience.
When picking a rack bag, you should focus on getting a double-sided zipper because when traveling on a bicycle the road can be very difficult and if the zipper isn't strong enough, your violin might just burst out. And that is something, we all want to avoid. We recommend using rack bags similar to Bluetop Bicycle Rack Bag, which offers ample storage capacity and breathing room for your violin case.
All though this isn't a necessary feature, you should try to get a rack bag that offers good shoulder straps. Because you will most likely, carry the bag into your practice or performance. And you don't want to drop your precious violin now, do you?
So, try to get a rack bag with good shoulder straps for the safety of your violin.
Ways NOT To Carry A Violin
Now, there are a few other options for carrying a musical instrument that I haven't picked because of how risky and inefficient they are. And we suggest that you should avoid them no matter how dire the situation is.
Violin Case In Your Hand
The first method that you should avoid is carrying your violin case in your hand. Maintaining balance on a bicycle is very difficult, to begin with. And if you don't have to go for other options then you might be tempted to carry it in your hand, but don't.
Because most of the time, you won't be able to control your bike's balance. And in a sudden dangerous situation, you will most likely fall off your bike. So, it's safe to say that following this method is a recipe for disaster.
Violin Hard Case Attached To Bike
Another option that you should try to avoid is attaching your violin or violin case to your bicycle's body. Not only is this uncomfortable for the cyclist but also poses a great risk to the violin itself. Because one small incident will lead to permanent damage to your precious instrument. So, avoid this method for your violin's safety.
Final Thoughts
Choosing the best method to carry a violin on a bike depends on the size of your violin and the distance you are traveling.
The most commonly used method is using a violin case with backpack straps which I will also suggest, but pannier bags, front bike baskets, and rack bags are also popular options.
Do not try carrying the violin by your hand. Remember that it is very important to choose a method that is safe for both the violin and the cyclist, so keep that in mind when you select a method. Happy cycling!