How To Carry Guitar On A Bike?
Guitar players often need to transport their musical instruments on a bicycle. Still, depending on the guitar and guitar case type, this simple process can become complicated. Not only do people take their guitars to gigs, but they may also need to transport them on bicycle tours as well. Finally, guitars can help you connect with other people and calm your mind when you're on a long trip.
This article will go over how you can carry your guitar on a bike. After reading this article, you'll be able to find the best transportation method for you. If you're interested in bike touring with a guitar, you should definitely check out this article.
How to Carry Guitar on a Bicycle?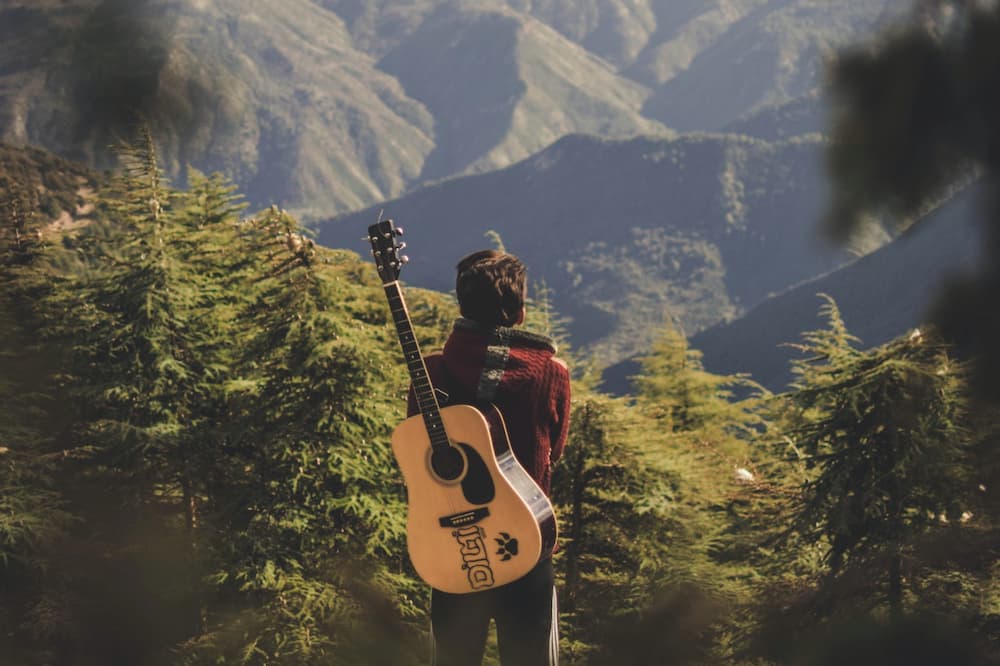 There are several ways to carry a guitar on a bicycle. You can either carry it on your back or use side panniers. Using bike racks is also an excellent way to carry guitars on a cycle.
Carrying Guitar On Your Back
Yes, it's effortless to carry a guitar on your back if you have a guitar case. However, you may not have a guitar case and still need to transport the guitar.
Before we discuss the method, let's make something clear. It's very dangerous to transport your guitar without a case because you could damage it. Guitars are exceptionally delicate, and even the slightest damage can make them unplayable. That's why we don't recommend transporting your guitar without a case. Even if you're forced to do so, you should try to wrap your guitar in bubble wrap or a towel to prevent damage.
Now that we've cleared that up let's look at how you can transport your guitar on a cycle without a case. In this case, all you need is the guitar strap. Wear the strap as usual and twist the strap around your shoulders so that the guitar rests on your back.
This way, you can transport your guitar on the bike without a guitar case and reduce the risk of damaging your guitar.
Regular Pannier Bags
Ortlieb Back-Roller City Rear PannierCHECK CURRENT PRICE
Panniers are usually bags that can be completely closed and are usually waterproof or weatherproof. However, some panniers serve as bags for carrying other large items. These are popularly known as pannier bags.
It's possible to carry a guitar in a pannier, although it's impossible to pack the entire guitar in the pannier. However, if the pannier is at least 16″ high, you can use it as a base for the guitar. 16″ is the minimum requirement because the guitar won't be stable if the bag is any shorter.
You can buy a pannier bag for carrying a guitar on your cycle. You need to install one of these either in front or in the back, but we suggest installing pannier bags on the rear bike rack. Yes, the rear bike rack is required to use the pannier bags.
Read more: Best Rear Bike Rack Reviews & Buying Guide
That's why I recommend this pannier from Ortlieb. It not only allows you to carry your guitar effortlessly, but it's also very sturdy. Typically, even the heaviest electric guitars don't weigh more than 6 kg, so any bag should do if it's not fragile.
Once you're done installing the pannier, you can put the guitar inside, secure it with a rope or Velcro, and off you go. This is definitely an excellent method, but it also has a catch. Since the guitar will hang from the side, it will create a noticeable imbalance. I'm sure you'll get used to it, but it'll take some time as well.
Guitar Panniers
We've just looked at regular bicycle pannier bags, and they will serve you well if you're looking for a versatile solution because you can use these bags to carry different other things as well.
However, if you want to save some money and are willing to opt for a pannier made especially for carrying guitars on your bike, you can choose this one from MundoMusicGear.
This pannier is super lightweight. It weighs only 226 grams, which is only a quarter of the weight of a regular pannier. Although it's lightweight itself, it can easily carry up to 300 lbs, which makes it the perfect pannier for your guitar.
You can easily mount them to your bicycle, on either side of your bike, without having to change anything. They're designed to keep your guitar balanced while you ride and ensure that the guitar doesn't interfere with your cycling.
That's why we recommend these feature-rich panniers for anyone who wants to carry a guitar or similarly heavy items on their bicycle.
DIY Rack
Many bicycles these days don't come with racks these days, and even if your cycle does, chances are it won't fit a guitar. The reason is simple: bike racks aren't designed to hold a heavy musical instrument of that size and shape. But that doesn't mean there aren't workarounds for this.
However, it's possible to build a DIY rack that can hold a guitar. If you know your way around the tools needed to make such a rack, you won't need any help. If not, you can turn to a professional who can do the job for a reasonable price, depending on where you live.
For the project itself, you don't need expensive materials. The steel rods and brackets cost about $20, and you'll need to weld the pieces together so that costs a bit too. If you've a professional do the work, you'll also have to pay a service fee, which depends entirely on the vendor.
To build the base for your guitar, you'll need to create a triangular angled platform that connects the base of the guitar rack to the end of the rack. The goal is to choose such an angle that will cause the base of the guitar rack to be lower than the rear rack to the point where it ends in the middle of the tire. The base can be built by joining four small steel rods by welding. Ensure that there's a wall-like extension at the end of the base so that the guitar doesn't fall off the back.
Once the construction is complete, all you've to do is weld the individual pieces together and connect them to your bike's rear rack. This construction isn't enough to hold your guitar correctly, so you need to tie it down with a rope or some kind of strap. This way, it'll sit securely on your bicycle, no matter how windy or bumpy it gets.
Guitar Case On Your Back
CAHAYA 41 Inch Acoustic Guitar Bag 0.35 Inch Thick Padding Waterproof Dual Adjustable Shoulder Strap Guitar Case Gig Bag with Back Hanger Loop, Black CY0152CHECK CURRENT PRICE
Did you know that there are guitar bags that are specially made for transportation? With these bags, you can safely transport your guitar even on the bumpiest roads because they're equipped with foam.
If you want such a guitar case, you should go for this guitar case from CAHAYA. This 41-inch case is perfect for transporting acoustic guitars. It features 0.35-inch padding that protects your guitar from outside pressure and shocks. It's equipped with two shoulder straps so you can balance your guitar on your back while hiking or biking.
The best part about the shoulder straps is that they can be adjusted individually. So you can adjust the strap until it fits you perfectly. There's also a large front pocket where you can stash your cables, a few extra strings, and a tuner.
There's also a more discreet pocket on the neck of the case. It's perfect for your picks and other slim accessories. You can also carry sheet music in these pockets. The case is made of waterproof oxford fabric, so you can carry your guitar in the rain without worry. The bag has a neutral color and looks good no matter what you wear or your bicycle's color.
Conclusion
Sure, it's not easy to ride a bicycle with a guitar. But as you can see, there are both simple and complicated solutions to this problem, and you can use any of them no matter how small your budget is. So we recommend you to go through them again and find out which one works best for you.
If you regularly carry a guitar on your bike, we recommend the last option, which is about getting the guitar case. Have fun riding your bicycle!