Best Bike Trainer Tire Reviews & Buying Guide 2023
From riding your favorite bike around the suburbs to participating in adrenaline-rushing mountain sports, you can do so much if you have an incredible bike! But during the cold season and due to the pandemic lockdowns, you may have to put your bike on the stationary bike stand in order to reap the ultimate advantages of riding the bike indoors. For this, you probably will need a bicycle training tire that will catapult you into your fun and adventurous future endeavors.
However, there are tons of trainer tires on the market now, so going for only one specific brand and model out of the lot can be a hard and challenging process. But on the bright side, you have us!
In this article of ours, we will be taking a look at some of the finest training tires for bike trainer that you can equip in your favorite bicycle today! So without further ado, let us get right into the article!
5 Best Bike Training Tire Reviews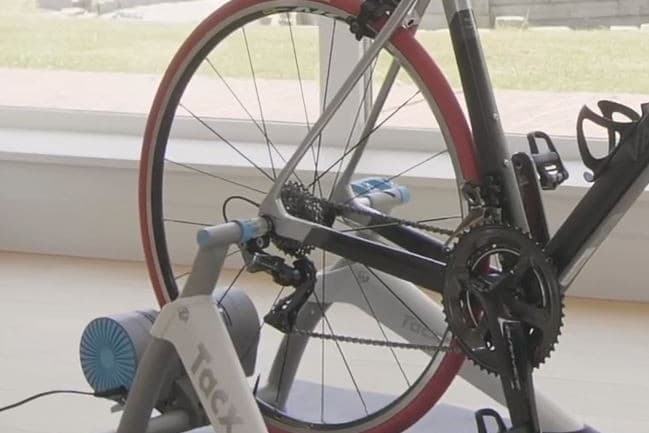 Which one is the best brand for bike trainer tires? Is it Schwalbe Insider or Tacx? Or any other brand? So, without wasting any more time, let us dive into the reviews of this essential indoor cycling accessory right away!
Tacx Trainer Tire
The first product on this list is this amazing Tacx Trainer Tire in blue. This vibrant and bright-colored trainer tire has been manufactured and constructed in the Netherlands.
Right off the bat, we can see that this Tacx trainer tire is compatible with most racing bicycles. Other than that, the rubber of the tire is very supple, which provides riders with the softness that they truly need.
You can find this trainer tire in different sizes ranging from 26 x 1.25 inches to a maximum of 29 x 1.25 inches as well. Note that this trainer tire is specifically constructed for practicing on home trainers only, so make sure to not take it outside.
Since this trainer tire is comparatively less noisy than its predecessors, you will be able to ride with the tire even early in the mornings when everyone is asleep.
Features:
High-quality rubber construction
Noise-free training
The rubber compound works to prevent slipping and tears
Budget-friendly.
Pros:
This trainer tire is ideal for home training
Low-noise production
Convenient minimization of heat and tears
The product is available in different sizes.
Cons:
You cannot use this product for outdoor practices.
Continental Hometrainer Folding Tire
Sporting a chic black color for the external rubber body combined with bright yellow accents, this Continental Hometrainer folding tire is one of the best trainer tires you can get your hands on during this indoor cycling season.
Equipped with a rubber compound body that ensures low noise production, this high-quality Continental bicycle training tire is ideal as it works to minimize heat production to a bare minimum.
You can find the Continental trainer tire in sizes 26 x 1.75 inches and 700 x 23mm approximately. Other than that, note that this bike tire for training is only suitable for indoor practices on rollers.
Do not use it on actual asphalt roads as the high friction of the tire can actually be really dangerous.
Features:
Strong and durable rubber body
Quiet performance
Rubber compound dissipates heat properly
Roller and indoor trainer friendly.
Pros:
Chic, black color for the body
High quality rubber compound enhances friction
Ideal for practice during the night as well
Lightweight and noise-free product.
Cons:
The product is not too budget-friendly.
Vittoria Zaffiro Pro
Made ideally for home training and bicycling, the Vittoria Zaffiro Pro home trainer fold tire sports a bright red color with white accents for the body.
The product is made with a special kind of tread pattern which works to enhance the overall friction and grip of the tire on home trainers and rollers. The compound design on this Vittoria trainer tire makes sure to dissipate excess heat with ease.
You will find the noise-free feature of this home trainer tire to be very beneficial if you like to practice early in the mornings. You can find this trainer tire in sizes 26x 1.1 inch to 29x 1.35 inches in total.
Features:
Special compound design
Amazing heat dissipation
Noise-free feature
Foldable construction
Special tread pattern.
Pros:
Available in a range of different sizes
Ideal for home training on cold days
Strong and durable rubber casing
The compound texture dissipates heat easily
Budget friendly.
Cons:
Attaching the tire to the bike can take a long time.
Kinetic by Kurt
The Kinetic by Kurt 700c training tire is the one you should get your hands on if you want something budget friendly and of high quality at the same time.
This incredible trainer bicycle tire can be found in the size of 700 x 25 inches only, which actually seems like the only unfortunate downside to this product. However, the smooth design and heat dissipation of the product surely makes this tire a top contender on this list.
Given its incredible grip and friction, you can expect this high quality training tire to be able to work smoothly and without any hassle on all kinds of rollers.
Features:
Compatible with 700C wheels
Conveniently noise-free
Durable rubber casing
Very rigid built
Pros:
The product is tough and durable
High quality compound design
Smooth and noise-free practice
Budget friendly
Cons:
Available in only one size
The product is too rigid.
KOM Cycling Indoor Trainer Tire
The last product on this review is this KOM bicycle training tire in plain black color. The rubber on this training tire is very quiet and works well with most rollers and home trainers.
On top of that, this trainer bicycle tire is really durable as well, thanks to the hard gripping rubber that is equipped in the built of this tire. You can find this tire in a specific size of 700x 25 inches in total. The only problem here is that this product is currently not available in other sizes.
The best thing about this tire is the fact that it does not require airing too frequently, so that is always an advantage to have up your sleeve.
Features:
Lightweight product
Convenient noise-free construction
Strong, rubber casing
700X 25 inches size
Amazing grip on rollers.
Pros:
The product does not weigh too much at all
High quality grip and durability
Compatible with different roller brands
Budget friendly.
Cons:
Product is available in only one size.
Bike Training Tire Buying Guide
To find the best bike tire for trainer, you need to know the components that you have to look out for. In this section, we'll discuss some basic features of a good training tire.
What is a Training Tire?
Unlike your standard bike tires, trainer tires are actually much heavier and have a softer grip on the asphalt that you will be riding on. The concept of a bike training tire is to equip the rider with the necessary gears for practice, while saving the real deal for the actual race that he or she might take part in.
Why You Need a Trainer Tire for Your Bike
A bike tyre is usually a must-have gear for many intermediate and professional bikers as it allows them to practice with the same characteristics of a standard tire, without necessarily damaging the actual gear before the big race or match.
In a way, a training tire is kind of used as a dummy tire as it allows the user to familiarize themself with how the grip and roll might be on the actual tire.
On top of that, a bike tire for trainer is much quieter than your standard tires, so it is much easier and comfortable to ride with a training bike tire on during the dead of the night or early in the morning.
Since there are tons of different brands and models on the market, we thought it would be a good idea to first help you learn the basic features that a high quality bicycle tire for trainer should come equipped with in the first place.
Construction
The first factor that you need to consider before you make your bike tire purchase is the construction of it. A trainer tire is meant to provide its rider with the necessary features and characteristics of a standard tire, which is why the product needs to be just as high quality as the latter type of tire.
For example, take a look at the casing of your choice of trainer tire before you make your purchase. A high quality trainer tire will come with a fabric that is usually woven around the body of the tire.
This cloth is what will create an enhanced roll resistance for the tires, which in turn increases friction and provides better grip on slippery asphalt to riders.
Most of the best bicycle training tires come equipped with either silk or cotton on the body of the tires.
Threads per Inches
In general, the higher the TPI or Thread per Inches of the fabric used around the body of the bike tire for trainer is, the less roll resistance the product will have. In return, the tires will also be lighter to travel with, however, it will also be more prone to damage and puncturing.
On the other hand, a high TPI level will mean thicker threads being used, which in turn will contribute to more friction and roll resistance. As a result, the bike tire for trainer will be heavier to spin up, but it will prevent punctures and damage more efficiently.
Rubber
The rubber of the training tire itself can vary in construction and characteristics depending on its brand and model. While most bike tire's come with multiple compounds for the body, some might come equipped with a single compound instead.
Multiple compounds will make sure your tire is heavier and more resistant to punctures and external damages. However, the weight increases drastically, which in turn turns off some riders as the product then feels too heavy to practice with for longer periods of time.
On the other hand, a single compound bike training tire might be lighter in general, but the risks of punctures and other external damages are much higher in comparison to the former compound type.
Durability
It is important that the trainer tires that you invest in for your bicycle are durable enough to withstand all kinds of pressure. On top of that, the product should also allow you to ride on different surfaces with complete ease.
This means a high-quality trainer tire will let you ride on rocky and wet terrains without having to worry about punctures or slips.
Compatibility
Another important factor to consider is the overall compatibility of the trainer tire with your already owned bicycle. There is literally no point in getting a trainer tire if you will not even be able to attach it to your own bicycle.
Purchasing a trainer tire that does not fit your bicycle will only create occasions for accidents and mishaps. Before you make your initial purchase, make sure to check the size and built of the trainer tires so that you can tell if they are compatible with your bike or not.
Frequently Asked Questions
Can I use my trainer tire for outdoor riding?
No, you are not supposed to use your trainer bicycle tire for outdoor riding as the design and construction of the trainer tire is completely different than a standard one. Not only can you damage the product itself, but you can also put yourself at risk of accidents and mishaps.
Should I replace my bicycle trainer tires frequently?
No, you do not necessarily need to replace your bike's trainer tire too often, as the best trainer tire will ensure the best durability and compatibility with your bike and roller for a long time anyway.
You should, however, change the tire if you spot a dent or tear in the body after riding too frequently.
Are training tires expensive?
A bicycle trainer tire is not necessarily too expensive, but you can find different brands sporting different price tags for their models.
Related reading: Bike Trainer Noise Reduction Tips
Conclusion
Getting the right trainer tire might seem daunting at first, but we are sure that you have enough knowledge to choose one specific brand over the rest by now. We hope you found our top picks to be good enough and worth your budget as well.
Make sure to maintain proper safety measures while practicing and only get bicycle tires that fit your budget and preferences.