Do Bicycles Have A Weight Limit?
Bicycles are a standard ride nowadays. They are fast, affordable rides for everyone. Unfortunately, much like any other vehicle, bicycles come with weight limits, which means that not everyone can use one.
Bicycle weight limit is a big concern for some users, especially plus-sized individuals. Let us discuss in-depth their limits and the reasons behind them.
Weight Limits of Bicycles
Well, there are certain limits for the riders. That's because not all bicycles are made in the same way or with the same materials. You can also see the differences in wheels, rims, frame sizes, etcetera.
For example, wheels that are less than 26 inches are meant for kids. When an adult rides a children's bicycle, it's easy to notice the low-quality materials, as the performance will speak for itself.
When a grown-up uses it, it might break the frame or bend the rim easily because these cycles can handle up to 125 lbs.
If 26-inch wheels are used in a cycle, its frame is made of aluminum or steel. The suspension, tubes, and tails are also pretty strong. Thus, these cycles can easily handle between 225 to 300 lbs.
But if you think about road bikes or mountain bikes, they are lightweight with a more durable frame and thin wheels (29 inches) and can handle 275 to 310 lbs.
How Much Weight Can a Mountain Bike Hold?
The average maximum weight most mountain bikes can hold is 300 lbs (130 kg). That being said, MTBs vary in size and construction materials, which is why their specific weight capacities might differ.
Brands like Surly, Trek, and Specialized have weight capacities of 300 lbs. Diamondback, Giant, Cannondale, Raleigh, Marin, GT, and Electra offer an additional 5 lbs on the weight limit. At the same time, Fuji has the highest weight tolerance, clocking in at 355 lbs.
How Would You Find Bicycle Weight Limit?
You can find the weight limits easily by noticing physical changes. Ride your bike for a certain distance to get the best idea. Keep an eye out for these variations:
Suspension
If your weight is too much for your bike, you will find it difficult to move the fork. It happens because your weight is compressing the suspension of the bike.
Another way to define it is that the tolerance limit of that bike is stretched to its absolute limit. Sometimes, extra weight locks the suspension fork from the root, and it cannot absorb any impact.
Seat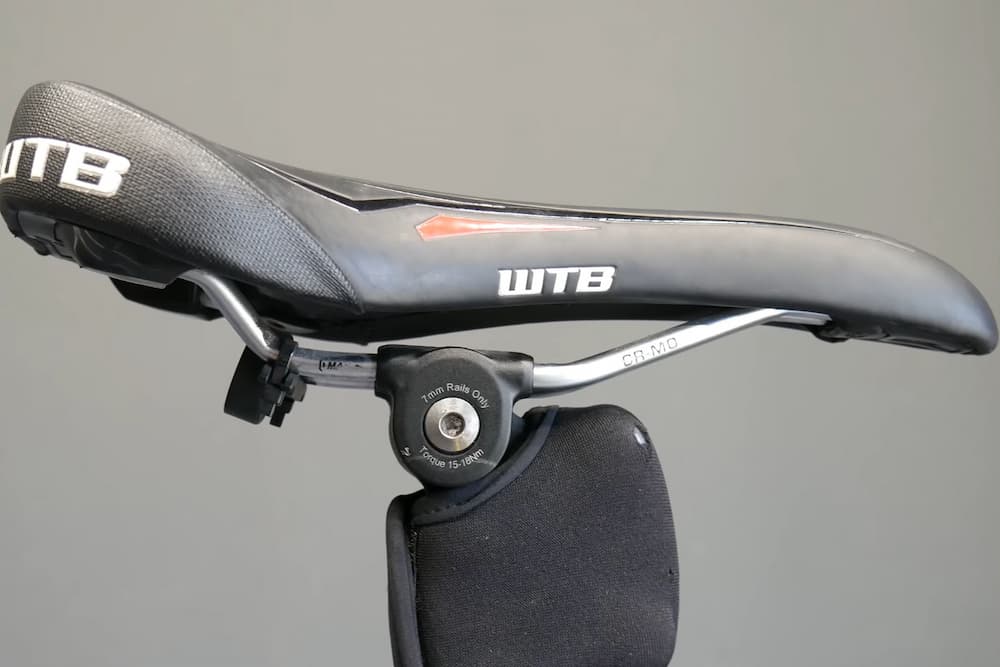 A bike's seat is made to fit tightly to its position. If you are too much for your bike, it will move easily and fall from its original position. I suggest discontinuing the use of your bike at this point.
Tires
Tires give the most blatant indication of the weight limit being exceeded. You will see the tires are over-compressed when the bike is overweight. Flat-shaped tires have a distinct appearance when they are compressed due to loads. We suggest you stop riding the bike if this happens.
On occasion, exerting too much weight on the tires could crack them, and they would need replacement.
Rims
You must check if any of the rims are bent or deformed or not. That is because when you cross the bicycle weight limit, the rims will easily get deformed or sometimes cracked. Along with the rim, the spokes could also break.
Well, there are other ways to find the weight limit of any bicycle. Upon purchase of the bike, the owner receives a handful of documents. Check all those papers for any weight or tolerance limit information.
If you are still looking for something, go to their website and do a quick search. Another way to get the information is to contact the bike manufacturers via call or mail. When none of these works, follow the discussed techniques to find the bicycle weight limit.
Some Exceptional Bikes with Heavier Limits
Not all bicycles are made the same. They vary according to use. Confusing? Let us explain.
Suppose you want to go up the mountains on a bicycle. Bringing your regular bicycle will not be a good decision since mountain roads are rough and will take a toll on the bike's frame.
Hence, your regular bike will not survive in those roots. You will need a mountain bike with a heavier bicycle weight limit.
Mountain bikes are made for the hustle – with extra emphasis on weight tolerance and safety. There are some other options, too, other than mountain bikes. Some custom-made bikes can handle up to 500 lbs.
Many manufacturers pay attention to the frames and building materials to make bicycles more durable, particularly in some regions. That is why some bikes have a higher weight limit, and some have a lower one.
Examples of Bicycle Weight Limit
Potential bike users have always been curious about how much weight a bike can hold while on the move. Well, that depends on your age and a few other factors.
Most manufacturers make bikes for your safety while riding. But they ensure no immediate consequences for crossing the limits. Yet, you have to follow their tolerance limit.
For Children
Consider a situation where a grown-up is riding a children's bike. Not only is that illogical, but it's also unsafe. All the children's bike has a tolerance limit of 85 to 125 lbs, and any grown-up's average weight is above 160 lbs.
You can tell yourself if riding a children's bike as an adult is a good idea.
Mountain Bikes
But when thinking about mountain rides or riding on a rough road, you should get a bike with a weight limit of up to 300 lbs. Generally, custom-made bikes have a weight limit above 400 lbs.
Read more: Best Bikes For Over 400 lbs Reviews & Buyer's Guide
Regular Ride
For regular use, a road bike is a good choice. These bikes can easily handle 220 to 250 lbs. You can also choose some professional bikes as a regular user, which can tolerate up to 400 lbs.
Multiple Persons
That is a possibility but only with an extra-strong bike. A custom-made bike can easily tolerate up to 550 lbs at a time. Therefore, multiple riders can sit on a single cycle.
Another thing to consider is wheel size and shape. For regular use, 26-inch wheels are perfect. But when preparing for a race, you need light and thin wheels of the same size.
Essential Factors That Affect the Weight Limit
Several factors affect the weight limit of any bicycle. The key features are the mainframe, tires, suspension, wheels, seat, and handlebars.
Therefore, any change to these sections will affect the tolerance limit of your bike. Let us show you some more details about them:
Suspension
Suspension is one of the essential factors, especially for mountain bikes which absorb the roads' impacts during riding. Almost all bikes have suspension in the mainframe or a suspension fork to ensure a smooth ride. Without it, your ride will be uncomfortable and unsafe.
Damages to your bike will cost a fortune to fix. Sometimes rigid suspension is recommended for its effectiveness. However, the suspension fork would be locked.
Frame
Most of the bike frames are made of steel or steel alloys. These materials utilize their robust structure to tolerate maximum stress. Aluminum frames are standard nowadays.
But manufacturers consider it a second choice when it comes to building materials. Carbon fiber or titanium frames are very costly. On top of that, these are more fragile compared to steel or aluminum. It is why they are not used in bicycle frames frequently.
Related reading: Bike Frame Size Guide
As the frame is the component that absorbs the most weight, it requires durable construction.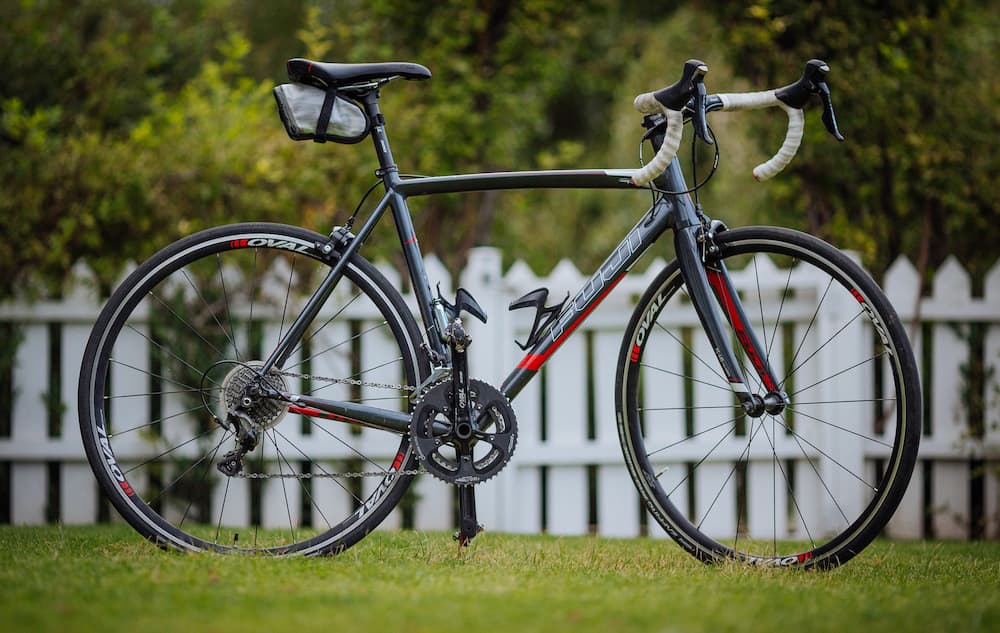 Wheels
Wheels are that part of your bike where all the impact and stress are channeled. While riding, an overload would be enough to deform the rims or crack them. Therefore, they are mostly made of aluminum or steel. Even the spokes of the rim are made of stainless steel to brace the impacts.
When you use larger-diameter wheels, the materials are subpar in quality, making them significantly brittle. Using wheels with smaller diameters and multiple spokes works best as the weight tolerance is raised to 350 lbs.
Tires
Using bad tires will quickly lead to blowouts, rim damage, or other damage. Flat tires are preferable to thin ones as they have better weight distribution. On the other hand, narrow tires cannot handle much weight.
They are for lightweight riders or racing events. If you use flat tired, you will not have enough speed.
Seat
The seat for heavy rider needs to be more resistant to carrying enough weight. Moreover, it needs to be the proper size and shape. If not, the weight distribution will be uneven. Without even reaching the tolerance limit, your bike might be damaged.
Related reading: Best Bike Seat for Overweight Reviews & Buying Guide
Handlebars
These are also responsible for weight distribution. The main job of handlebars is to absorb the impact through the suspension fork and distribute it evenly. Any overload on them might cause damage to the bike and, worst case scenario, to you. Premium materials are used to increase the tolerance limit.
Above the Limit!
The weight limits are fixed for your benefit and safety. When you break the bicycle weight limit, sometimes you would find it acceptable to continue. But the plan may go awry soon.
Bike limits are set through numerous rounds of testing, and it's best to abide by the manufacturers' instructions.
The limit also varies according to how you use your bike. A bike with a thin wheel is not suitable for regular use, nor is a regular bike on a mountain track. Therefore, crossing the limits is dangerous for you and the people around you.
Related reading: Best Banana Seat Bike Review
Strictly Follow the Bicycle Weight Limit
Manufacturers make the bikes according to the limits or fix the limits after various surveys and tests. You can trust the boundaries they set for you! A bit of flexibility is offered as the exact weight cannot be known by the companies. Usually, a bike can handle 10 lbs without frame breaking or rims/wheels bending.
But when riding at the maximum weight limit, try to avoid road bumps or potholes. Since the bike is already at its limit, any extra pressure might blow out the tires or damage the rim. You can also get hurt.
Some Final Tips
Though you have learned about weight limits, some tips might help you before and after your ride. First, you have to know your weight and choose your bike accordingly. Never use a kid's bike as a grown-up.
When you are looking for challenging rides, choose the most durable bicycle. Some professional help will be better for this. Lastly, keep your bike under regular maintenance to avoid unwanted incidents.
Related reading: Am I Too Heavy for My Bike?
Bottom Line
The concept of bicycle weight limit is pretty simple, so there's no reason for anyone to jeopardize their safety by opting for the wrong kind of bike. Maintain your bike regularly and make sure not to overload it at any time.
Related Articles