How To Carry Camping Gear On A Bike?
Bikepacking is a fun and hassle free way of exploring the outdoors. It involves cycling and carrying only the necessary camping gear on your bike. Despite being an efficient mode of transportation, cycles provide little to no storage space for the riders to carry their camping gear.
From cooking systems to sleeping arrangements, you can carry only so much in a backpack. You will need to strategically pack your camping gear so that the weight is balanced and the load is evenly distributed.
In this article, we are going to be looking at all the ways how to transport camping gear on a bike.
How to Carry Camping Gear on a Bike?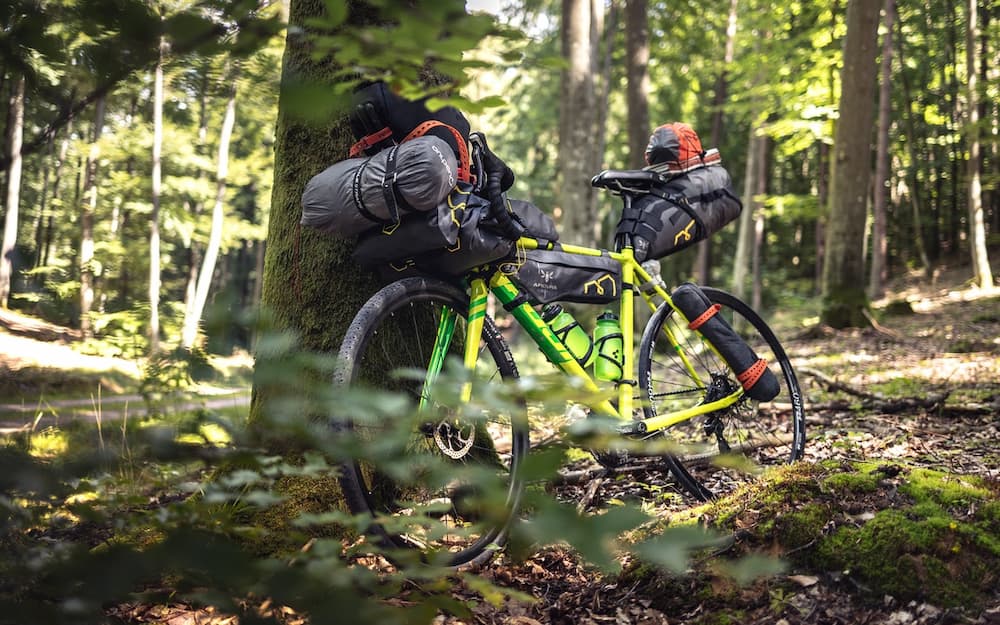 Now, let's go through all the ways you can follow to transport camping gear on a bicycle.
Seat Pack
As the name suggests, seat packs are placed below the seat of the bicycle. You can pack somewhat lightweight items inside a seat pack. Like clothing, rain gear, sleeping pads, or sleeping bags. As the seat pack is located right in the bike's center, it is important not to overload it with heavy items.
Otherwise, there is a risk of disrupting the weight distribution, making it difficult to ride the bicycle, especially if you are going uphill. The best way to ensure that the weight is not thrown off is to place the heavier items closer to the seat post.
If you want to utilize more space, you can disregard using a stuff sack. However, it is best to pack items like clothing and sleeping bags inside a waterproof stuff sack. Despite being close to it, it is not that quick or easy to access the seat pack. As such, remember to only carry things that are not frequently needed.
Handlebar Pack
Just like seat packs, you will want to pack the handlebar pack to balance the weight. Or else you might face difficulties steering or handling the bicycle. If you are wondering how to carry a tent on a bike, then a handlebar pack is your answer.
Tightly fold the tent and place it inside the pack. You can carry other lightweight camping gear like clothing, sleeping bags, and rain gear inside the handlebar pack. However, finding items inside the pack can be tough as they can be deeply buried.
As such, if you feel like you need a certain item immediately, make sure to pack them last. Many handlebar packs come with zippered pouches. You can place small items like gloves or a torch over there for easy access.
Frame Pack
Frame packs are placed inside the triangle of the bicycle. That is between the top tube, down tube, and seat tube. You would want to carry most of your heavy camping gear in the frame pack. This includes food, a camp stove, fuel, bike tools, and spare tubes.
Cyclists choose the frame pack for most of the heavy items and put as much weight as they can into the frame pack as this will help keep the center of gravity of the bicycle low. The items cannot be easily accessed because the pack is located in such a position.
As such, only store the items you will seldom use inside the frame pack. While packing, place the heaviest and the items you will only need once you arrive at the campsite at the bottom of the pack.
Backpack
Cyclists prefer not to carry a backpack with them while camping. This is because the additional weight from the backpacks can be tiring and cumbersome. However, if you are on a long camping trip, you might need to carry a cycling backpack for extra storage.
Try to keep the backpack as light as possible, carrying lightweight items like water bottles, phones, and such. You can also carry oddly shaped camping gear that will not fit in other places. The point is to not go overboard, and only pack the necessary things in the backpack. If you want to ride for a long period of time, you will want to be as comfortable as possible.
Stem Bag
Stem bags are small bags placed behind the handlebar. They are usually attached to the handlebar itself using hook and loop strips. Given the size of the stem bags, bikepackers can only keep a couple of small items inside the bag.
Items that are frequently used and needs ease of access like phones, sunglasses, maps, and such, can be packed inside the stem bag. Stem bags were originally designed for riders to store their food items while riding, you can keep other mentioned items there as well.
Top Tube Bag
Top tube bags are attached to the top of the top tube and behind the head tube. You can also attach top tube bags in front of the seat post. Bigger than stem bags, top tube bags are used to carry small items.
You can keep anything from your phone, maps, food items, sunscreen, and more inside the top tube bag. Any items that are frequently used can be stored here. Top tube bags are often the easiest bag to get access to. They are convenient and provide extra carrying capacity for bikepackers.
Bottle Cage
Bottle cages are pretty self-explanatory. They are designed to carry standard sized water bottles while backpacking. Bottle cages are mostly placed on the seat tube or on the down tube. If you plan on carrying a frame bag, having a bottle cage can be a problem.
In that case, attach the bottle cage using braze-on. Bottle cages are extremely helpful as it gives quick and easy access to cyclists, especially when they are riding and need a drink. However, most bottle cages are only compatible with standard-sized water bottles.
Cargo Cage
The solution to carrying anything beyond a standard water bottle lies in cargo cages. Cargo cages are much like bottle cages, except they can carry large bottles or gear. They are meant to go on the bicycle's fork but can be placed on the down tube or seat tube.
Conclusion
Once you have everything packed on your bike to carry, make sure to take the bike for a test run. This will give you an idea of how the bike feels.
The key to bikepacking is to only pack the necessary items and place them strategically. The weight needs to be distributed evenly for balance.