Best Noseless Bike Seat Reviews | Hornless Bike Saddles Buyer's Guide 2023
As a passionate cyclist, my bike is an integral part of my daily life, accompanying me to work, on vacations, and everywhere in between. Some friends even joke that it's like my second spouse. However, long rides used to be painful, with conventional bike seat designs causing discomfort and forcing me to take breaks on the roadside.
While searching for a solution, I came across articles highlighting the potential health risks of standard bike seats, including damage to sensitive areas. This revelation concerned me—my love for cycling shouldn't come at the expense of my well-being or my future family.
Determined to find an alternative, I visited several bike shops and eventually learned about noseless bike seats. Intrigued by this novel option, I delved deeper into the world of noseless saddles and discovered a wealth of valuable information. This inspired me to write about my findings and share my knowledge with fellow cyclists.
I've encountered many riders who've abandoned biking due to uncomfortable seats, but I believe that by exploring the noseless bike saddles and their benefits, you too can find the perfect solution. Read on to learn more about these innovative saddles and discover how to choose the best noseless bike seat for your needs.
| IMAGE | MODEL | TYPE | PRICE |
| --- | --- | --- | --- |
| | ISM PR 3.0 | | Check Current Price |
| | Hobson Easyseat II Bike Saddle | | Check Current Price |
| | Schwinn Comfort Noseless Bike Seat | | Check Current Price |
5 Best Noseless Bike Seats
Let's try to learn more about some of the best bicycle seats for prostate and the best noseless bike seats available in the market.
ISM PR 3.0 Noseless Saddle (Performance Recreational)
Coming out in 2016, it is an upgrade of the well renowned Typhoon Saddle. It is ISM's widest model. Both men and women can enjoy the gel padding with 60-series foam.
ISM PR 3.0 has gained large popularity for its comfortability. In fact, when we are talking about no pressure bike seats, we definitely care about our comfort on long rides. ISM PR 3.0 is an ideal design for removing stress from your soft areas.
You can easily detect ISM seats by their two-split noses. Their ergonomic shapes allow the pelvis to tilt and be in a comfortable position. Overall, foam padding and a satin steel structure make it much more comfortable for cyclists.  ISM PR 3.0 Noseless bike seat is more accustomed to hybrid bikes, road bikes, city bikes, and mountain bikes.
Features:
145 mm wide seats
Soft 60-series foam and gel padding
Larger and wider rear section for ensuring more comfort
Rear transition hook
Satin Steel rails
Pros:
It is a comfortable seat and suitable for both men and women
Unlike many other models, riders do not move forward while riding
Cons:
It looks weird
Heavier than regular saddles
ISM Touring Noseless Bike Seat (For City)
This is one of the widest noseless bike seats for cyclists. It has been mainly designed for men. You can find these being used by the Biker Police in the USA and UK. When I say police use them, it means that they spend over 25 hours a week on the bike.
More like ISM PR 3.0, the ISM Touring Noseless saddle has a hole in the pelvic region. 60 series foam is also included in this model. As I already said, the ISM Touring seat is wider than ISM PR 3.0.
While attaching the seat to your bike, you will discover sloped fronts. It has been added for easy mounting and demounting. Some of the users have temporarily faced discomfort while using it. With proper seat adjustment, this can be removed.  It is recommended for police bikes, hybrid bikes, and commuter bikes.
Features:
175 mm long and 195 mm wide seat
60 series foam padding
Satin steel rails
Sloped front design
Pros:
Wide seats are comfortable for long rides
Easily adjusts any body size
Affordable price
Cons:
Feels uncomfortable at the primary stage
Hobson Easyseat II (Split Design)
Hobson Easyseat II Saddle Bike, Cycling, Bicycle, Bicycling, Cycle GearCHECK CURRENT PRICE
Hobson is a well-known brand in the cycling world. After successfully launching their first no nose saddle, they launched Hobson Easyseat II. It is in fact one of the very few no-pressure bike seats that are comfortable and healthy at the same time.
Along with the regular designs, EasySeat II has a generic thumb-wheel at the center of the two pads. So, the users can easily adjust the width of the seat. Now, your bike's seat won't be just limited to your use. It can be called a family bike as the seat will suit different ages and sizes of people. The base is made with glass and nylon. The rubber pads on the seat pads allow your seat to be steady while you pedal forward.
You'll need time to get adjusted. But once you're adjusted to it, you'll love it.
Features:
EasySeat is 192 mm long and 284 mm wide
It weighs around 624 grams
It mounts with a standard seat post clamp
Comes with foam or gel padding
Seats can be adjusted with a single dial
Pros:
Width is adjustable
Comfortable and cozy
Cons:
Without an uprise stance, there'll be a good amount of pressure on wrists
Schwinn No Nose Saddle (Budget)
Schwinn Comfort Bike SaddleCHECK CURRENT PRICE
If you are looking for extra comfort in your saddle, then try Schwinn's noseless seat. It is covered with highly soft material.  Cyclists who love to prefer comfort more than anything should try out this seat. Even if you have a big butt, you would be comfortable with it.
It is also rounded and convex for adjusting your backside easily while releasing all the pressure from your pelvis. When we tried this model in mountain bikes, it performed better than most other saddles on this list.
We also need to consider the price. Compared to other bike seats, this might be one of the very few that comes under $30. The low price doesn't dictate its quality. It can compete with any of the saddles we have on our list.
Features:
CCM no-pressure high-density foam seat
175 mm length and 255 mm width seat
Designed for both men and women
Made with polyurethane
Specially designed for adults
Pros:
It is affordable
Comfortable and simple design
Cons:
ERGO The Seat by Lycra Gel Saddle (Hornless)
ERGO The Seat by Lycra Gel SaddleCHECK CURRENT PRICE
If we are talking about a design that has been made thinking about women more than men, Ergo seat is such a hornless bike seat. It is a great choice for anyone who has undergone prostate surgery or suffers from prostate pain.
Unlike ISM PR 3.0, it is a lightweight model. Though women love it more, it is actually a unisex model. Its lycra covered soft gel padding makes it comfortable than other regular prostate friendly bicycle seats. Anyhow, we discovered that it is not suitable for mountain bikes. Even, some of you might not like the hilarious outlook of the seat.
For proper adjustment, we would suggest you provide attention to seat measurements. Acknowledge the size of your butt and choose seats accordingly. On a final note, Ergo hornless saddles have been on the market for a long time, They have their pros and cons. We would recommend it only for those who would strictly remain on the roads. Alongside, as this can take heavyweight, we would recommend anyone who would feel uncozy with regular noseless seats but weight below 300 lbs.
Product Features:
9 x 6 x 3.5 inches size
Comes with rear reflectors
Weighs around 14 oz
Uses sit-bone base design
Lycra Gel padded saddle
Pros:
Primarily, it is one of the most comfortable ones.
The seat can take a good amount of weight.
Cons:
The structure is not durable.
It is not suitable for off-road.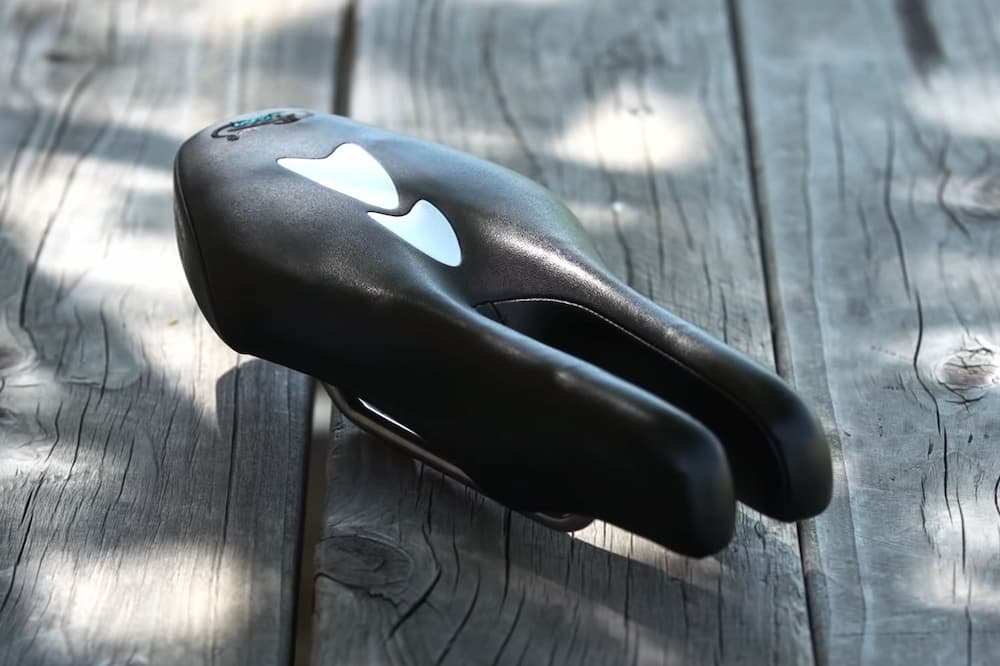 Noseless Saddle Buying Guide
A saddle can create a tour to heaven or even be a nightmare in your life. So, I prefer spending much more time studying different types of saddles before buying one. Some of the key features that I would urge you to consider are described below.
The Science Behind Noseless Bike Seats
Often people claim a lot of things and have no scientific evidence behind them. I actually want to go down deeper into my words and explain to you what I am suggesting. Hornless bike seats are different from regular bike seats mainly by their appearance. They don't have the horn in front of the seat.
Imagine, you're riding a bicycle for more than 3 hours a week. You can have erectile dysfunction. Again, it is scientifically proven that bike seat nose creates high pressure on your perineal area. Now, all humans have a pudendal nerve on the frontal side of their pelvis. When you are sitting on a regular bike seat, you are actually pressing your pubic area against the seat. The pressure falls on the pudendal nerves and pubic arch. It would be okay if the pressure stayed there only for a short while. Constant biking increases the pressure and damages it.
On the contrary, if you are sitting on a noseless saddle or also known as no pressure bike seat, you would be putting pressure on your pivot bones. That will distribute your body weight properly and save your pudendal nerve. Thus you sit in a comfortable position and enjoy your ride without pain or damage.
We can discuss more on the science but that would only make it lengthy. Let's actually focus on different types of noseless bike seats and what to consider before buying one.
Materials and Saddle Rails
Saddle rails are the mainframe that remains underneath your seat and holds your bicyclestrong with the seat post. Primary and basic saddles will have steel rails. With more advanced options you can choose between carbon, titanium, and magnesium bars.
Padding
More padding never means a comfier design. In fact, padding deforms over time and gets uncomfortable. Thick padding can be initially a great choice, but it will get sloppy after months of use. So, instead, try to find something that is suitable for your butt and sit bones. I would suggest you study the design and get a detailed idea before ordering one.
Shape
Even noseless saddles come in different shapes. ISM PR 3.0 looks almost like the regular seats while Schwinn looks semi-circular. They also have different purposes. ISM PR 3.0 is for fast biking and Schwinn is preferred for long time riding. So, you need to clarify your purpose and choose the proper shape of your seat.
Saddle and Sit Bone Width
How wide your seat should be? Simply, it should be 2 cm larger than your sit bone. Smaller ones will be inadequate for your butt while larger ones will have too much empty space.
Frequently Asked Questions
What about Spongy Wonder Noseless Bike Seat?
Spongy Wonder has brought a very unique design. Their mixture of old-school technologies with modern equipment is definitely appreciable. I have enlisted on my future try out list. As soon as get my hand on it, I will provide a detailed description of the Spongy Wonder Noseless Bike Seat.
Which is the best noseless bike seat with backrest?
I couldn't find any noseless bike seat with a backrest on the market. Yes, this is an unfulfilled market niche. I believe, soon some companies will come up with this idea and create a noseless bicycle saddle with a backrest. If you are still interested in a bike seat with backrest, check out my review of the best bike seats with backrest.
Are noseless bike seats comfortable?
This is a very critical question. There are debates about the answer. I wouldn't recommend noseless seats if you are an off-road cyclist. Mountain bikes do not have a good relationship with no-nose saddles.
Horns in bicycle seats also allow you to maneuver and balance your bike when you are riding at high speed. Even, you can't drive without hand using noseless bikes. So, it won't be a comfortable choice for someone who prefers adventure over comfort.
On the contrary, if you are a regular cyclist who travels on the road more often, a noseless bike can help you to remain healthy. It might be a bit uncomfortable at first sight but as you get more used to it, you'll enjoy using it. Your major challenge would be finding a suitable saddle for you.
Conclusion
I would recommend noseless bike seats for regular on-road riders. If you are looking for the best, it is hard to recommend. Each type serves the need of the various type of users.
For budget-friendly entry-level riders, I would stick to the Schwinn No Pressure Bike seat. If you have multiple users or prefer relaxing seats, spend a bit more but go for Easyseat II. Ergo gel padding is especially for adults who want extra softness on their backs.
Both ISM PR 3.0 and ISM Touring saddle are intermediate choices. PR 3.0 is for recreational riders while touring saddle remains for people who have their butt stuck to bike seats above 20 hours a week.
Finally, choose based on your butt size, purpose, and budget. Whether you want a comfortable journey or an endless unhygienic pain-the choice is yours.
Related Articles