Best Mountain Bike Backpack Reviews 2023 & Buying Guide
Mountain biking is an exhilarating outdoor activity that not only provides a full-body workout but also immerses you in the beauty of nature. Often, mountain bike adventures can span hours or even days, requiring bikers to be well-prepared for any situation that may arise.
Occasionally, you might find yourself needing a spare tube, tire lever, or handy multitool to tackle unexpected mechanical issues. But let's not forget that a comprehensive packing list should also include protective gear, food, water, extra clothing, and other essentials for a safe and enjoyable ride.
That's where mountain biking backpacks come in – specifically designed for bikers like us, these packs make it easy to carry everything needed for both day trips and overnight excursions. So, let's dive in and discover the best mountain biking backpacks to accompany you on your next thrilling adventure!
Why Should You Use A MTB Backpack?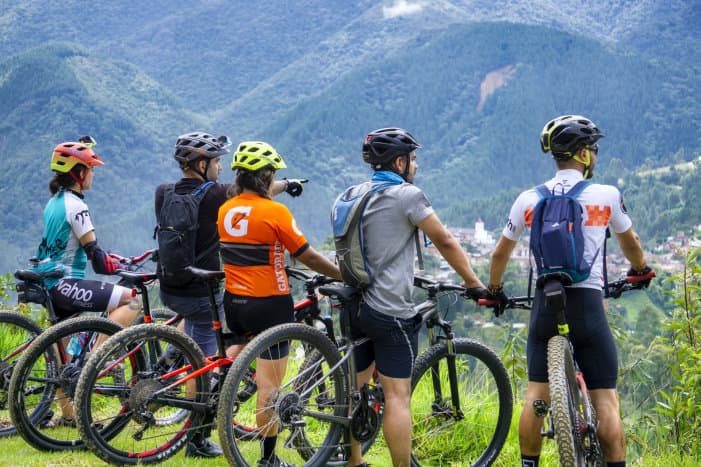 A quality backpack is a must-have for anyone who enjoys riding their bike off-road while living their adventure goals. Even if you're still using your regular bag, now's the time to upgrade your gear because now there are new sensational designs that offer bikers a new level of performance.
Compared to other conventional backpacks, the mountain bike backpack offers a lot of storage space. It can even hold a first aid kit and a cell phone and has a chest strap for support. Plus, it's not as sweaty as regular backpacks. Its comfortable texture makes riding a pleasure. These hydration packs aren't bulky and are easy to carry, so riding thousands of miles is no big deal and becomes much easier.
Since there are a lot of brands on the market, it can be challenging to find the right backpack for mountain bikers. In this article, we've compiled the five best MTB backpacks for you. We've also included a buying guide at the end of the article to better understand the product features. Choose a backpack that meets all your requirements. So let's take a look at the products right now!
5 Best Mountain Bike Backpack Reviews
For this section I have selected my favorite 5 best mountain biking backpacks you can purchase right now.
Here come 5 MTB backpack reviews and descriptions with critical features included that will help you decide which one can match your taste.
1. Osprey Raptor 14 Pack's Men's Bike Hydration Bladder Backpack (Editor's Choice)
Osprey Packs Raptor 14 Men's Bike Hydration BackpackCHECK CURRENT PRICE
The Osprey Raptor 14 Mountain Bike Backpack is a good option if safety & visibility is your primary concern. These high-performing packs are designed for powerful riders who require a backpack with a built-in bladder of a hydration system. It includes a 2.5 liters hydraulics reservoir, which is designed to alleviate sloshing since you ride. In my opinion, this is the best hydration pack of all five I have reviewed here.
Plus, this premium backpack won't weigh you down, thanks to its lightweight structure. The Osprey Raptor MTB backpacks have winged shoulder straps that adapt to your body shape while you try to hold on to the handlebars. The manufacturer always offers innovative designing products with intuitive features.
Design & Quality
The Osprey Mountainbike backpack has an integrated lid lock bike helmet attachment and side compression double straps that hold your helmet comfortably. It features a scratch-resistant, heat-embossed slash pocket for sunglasses. It's also equipped with compression straps.
There are also zippered hip belt pockets, hydration bladders, and stretch mesh pockets for essentials like water bottles, drinks, small tools, and food like energy bars. A flashing light and reflective patch keep you safe. Perfect for rides over rough terrain. You can easily find everything with organized pockets and don't have to waste time looking for it.
Features:
The 14-liter spacious storage capacity
Reliable and durable structure
The weight is nearly 5 pounds
Includes adjustable tool roll
Pros:
Easy access pockets
Great stability
Affordable price
MMultitooleature
Well-ventilated formation
Cons:
Temperature isolation could be better
2. CamelBak KUDU. Protector Hydration Pack
CamelBak KUDU. Protector 20 Hydration PackCHECK CURRENT PRICE
The CamelBak KUDU is well known for its back ventilation system. It features impact protection technology and a design that softens the impact. CamelBak packs won't fade away even if you've used them for years. Two adjustable chest straps hold your bag and protect your back while you ride over bumpy terrain.
If you're planning on going on a long bike ride, these CamelBak mountain bike backpacks are a perfect match for you. The product is available in two soothing colors, one in burnt olive and the other in laser orange. It comes in a unisex design, so both men and women can use this backpack.
Design & Quality
The product is made of several layers of thermoelastic and double-density foam. This feature helps to mitigate any damaging impact. The spacious main compartment with a capacity of 11 liters offers plenty of room for your essentials.
Two sturdy side straps and a hip strap and compression straps deliver comfortable helmet carrying. These helmets and armor come in a stash design and offer protection as well. A highly visible rain cover shield is integrated into the product to protect your pack from harsh weather.
Features:
CE LEVEL II protector absorbs crash impact
Removable roll bike tool
Organized role tool helps to stash CO2 Cartridges
It weighs 100 oz.
Balanced with 3L Crux Reservoir capacity
Tool roll
Pros:
Flexible structure
Fairly reasonable cost
Lightweight product
Large water holding capacity
Cons:
It does not come with a hydration bladder
3. Evoc FR Trail Blackline Protector Hydration Pack
Evoc FR Trail Blackline Protector Hydration PackCHECK CURRENT PRICE
The Evoc FR Trail Blackline is another popular option on our shortlist. The advanced features make it one of the best mountain bike backpacks available. The black color and unisex design make it suitable for both men and women. This 20-liter backpack is equipped with a patented and CE-certified back protection that absorbs 95% of the impact.
It protects your back when you're exposed to extreme impacts while riding on demanding trails.
A mesh design on the EVA foam shoulder straps allows for comfortable cycling without irritation. Inside the backpack are several integrated pockets for essentials. Now long riding is no longer a big deal; you can continue your tour as long as you want.
Design & Quality
The Aero Flex waist belt adds comfort and is a handy waist trimmer to support your workout. So if you're working out, this pack can give you a leaner and smoother look. The 210D nylon ripstop capacity, compression straps, PU-coated body, and 600D polyester material make this product durable and act as an excellent impact absorber.
The added benefit is that you can detach the back protector from the backpack and use it as a standalone piece. The Lite Shield protector is made of breathable material that ensures you stay dry or don't freeze.
Features:
Includes protection gear holder
Compatible with 3 liters bladder of hydration system capacity
The overall dimension of the product is 10.63 x 22.05 x 5.51 inches
The weight is approximately 0.05 Ounces
Dedicated mountain biking backpack
Pros:
Wide stash space
Effective ventilation for airflow
Several organized storage pockets
Easy front panel access
Integrated rain cover and waist belt
Offers double attachment for pads & helmets
Cons:
4. CamelBak Skyline Hydration Pack
CamelBak Skyline 10 LR Hydration PackCHECK CURRENT PRICE
The CamelBak Skyline Hydration Pack comes in two different colors: Pitch Blue and Racing Red. The ergonomically designed Crux delivers 20 times more water per sip, so you can hydrate whenever you want. Plus, the hands-free operation reduces extra effort. The foolproof scheme that lets you comfortably fill up and hit the trails. The Crux is equipped with a handle that makes refilling easy. It also features an on/off lever that prevents leakage.
Crux has a shock-resistant design, so you don't have to worry about going over aggressive descents. The robust and well-made construction allows you to use this backpack for a long time.
Design & Quality
The magnetic hose tap makes your refill safe and easy to access when you need it. Plus, the cargo hip belt pockets are sturdy and portable, giving you the ability to adjust the straps to fit your body size. With this 10-liter backpack, you'll always have the essentials at your fingertips.
The backpack features integrated, individual zippered compartments that provide ample space for your gear essentials. Its practical structure gives your upper body more freedom of movement. The high-quality back panel ensures that your back is well ventilated and comfortable.
Features:
Measures 20.08×24×5.12 inches
Features 3 liter Crux reservoir
A trapdoor offers instant access to the water gauge
Precise weight distribution with waist belt
The weight is about 1 kilogram
The XV back panel protector
High-end bite valve
Pros:
Sturdy and durable
Provides a tight and stable fit
Suitable for long time riding
Good value for money
Enough comfortable
Cons:
The outside pouch is futile in a lofty speedy state
5. Dakine Drafter Hydration Backpack
Dakine Drafter 14L Hydration BackpackCHECK CURRENT PRICE
In a practical design, the Dakine Drafter Mountain Bike Backpack meets your cycling needs, from hydration to safety. Available in four different unisex colors – Ashcroft Camo, Black, Blue Rock, and State Blue. The large 14 liter capacity with a 3-liter hydra pack reservoir keeps you comfortable and hydrated on the go.
A built-in high-flow bite valve in the lumbar area provides a lower body center of gravity. Thanks to the ventilated back panel, you'll always stay cool and comfortable. The ergonomic shoulder straps are made of breathable materials for easy carrying. This product is available at a budget-friendly price. So if you're a beginner mountain biker, this product can be a reliable companion.
Design & Quality
The 400D approvable nylon ripstop and 600D polyester material protects this MTB backpack from instant shocks. It features organizer pockets, so you can always find your tools when you need them. Best of all, it's spine guard compatibility and an external helmet mount.
This MTB backpack is easy to clean. When your backpack gets dirty, it's most effective to wash it by hand. To do this, you just need to mix some mild soap with cold water and then rub it with a soft brush. You can put your backpack in a pillowcase or a mesh bag to keep it from getting tangled.
Features:
Patented spine connector
Reflective design
Deployable armor straps
The weight is approximately 1.1 kg
It measures 19×12×9 inches
Swift stash zippered side compartments
Tool pouch
Pros:
Integrated magnetic hydration hose clip
Offers limited warranty
The black panel comes in an air-suspension design
Compact & unisex product
Adjustable sternum straps
Cons:
Spine connector is not included
Poor quality water bladder
Best Mountain Biking Backpack Buying Guide
When choosing a mountain bike backpack, you need to consider some essential factors and make sure that the main features aren't compromised in any way. If you want your backpack to serve you well, you should pay attention to the product quality rather than the price.
As a result, the wrong product can not only cause losses but also ruin your biking experience. Here we list a few key features that a mountain bike backpack should have.
Storage Volume
The storage volume is the first and most important point in our purchase recommendation. It depends entirely on your requirements. Before buying your MTB backpack, you should think about how many important things you want to take with you when biking. Some people only want to bring food and drinks, while others also carry multiple meals and protective gear.
These backpacks can have a storage capacity from 9 liters to 30 liters. If you're looking for a smaller capacity, you can choose between 9 and 15 liters. The 20-liter capacity is the right choice for a mid-range backpack. But if you're a dedicated mountain biker, we recommend you to choose a backpack with up to 20 liters capacity. Make sure your backpacks offer enough space for convenient storage.
Water Reservoir Volume & Quality
The best MTB backpacks have an integrated water reservoir. The water reservoir volume depends on how much water you need to keep you hydrated and comfortable. Your backpack reservoir should be able to hold the correct amount of water and must fit your backpack.
Sometimes the reservoir isn't included with the backpack. Then you've to buy it separately, which is quite inconvenient. Try to avoid backpacks that don't include a camelbak bladder.
The capacity of hydration bladders ranges from 1 liter to 3 liters or more. We recommend you buy a backpack with a 3-liter water reservoir, as it'll give you enough water capacity.
Make sure that your MTB reservoir isn't made of low-quality material, as it'll leak easily.
Harness & Protection
A backpack should be equipped with a bike-specific shape harness and a built-in spine protector. On a two- or three-day tour, bikers usually prefer to wear larger backpacks. So they definitely need something that fits their body perfectly and doesn't compromise safety.
Very few backpacks offer a chest strap and a hip belt to carry a helmet. Also, some models are equipped with flashing lights and reflective patches to ensure safety. Consider all these factors before you buy an MTB backpack.
Ventilation
A well-ventilated backpack can protect your body from excessive heat. You should opt for an AirScape suspended mesh back panel to keep you cool and comfortable. Breathable materials direct airflow and provide a comfortable cycling experience you'll love.
Organization
What if your tire gets punctured after a while? You should be prepared for any unwanted situations. The best bike backpacks are equipped with zippered pockets or special compartments for critical equipment.
Some models have additional scratch-resistant slash pockets on the inside to store cell phones, chargers, multitool, tire levers, CO2 cartridges, etc. Since they offer multiple pockets, you can organize your stuff properly. So you have the most important things while cycling always at hand.
Another must-have is the removable tool roll pouch. It keeps your tools systematically so that they're easily accessible.
Size & Shape
What size and shape you want to take ultimately depends on your needs. Backpacks come in three convenient sizes: large, medium, and small. Although most mountain bike hydration packs are relatively smaller than regular backpacks, they're well suited for mountain biking.
The size and shape of your backpack will have a big impact on how you control your bike's speed. Your backpacks should be sturdy enough to counteract wind resistance. It also comes down to the size that suits your needs. If you're not a frequent rider, a medium size is right for you. On the other hand, large size may be a suitable choice for cycling enthusiasts.
Helmet Holder
Some backpacks offer special built-in helmet holders. Others come with a LidLock full-face helmet attachment, such as Osprey's Raptor Packs. Choose one that you can stow your helmet in. A cheap backpack without a helmet attachment is nothing more than a piece of junk.
Fit
A lightweight and comfortable backpack makes for refreshing moments and a pleasant biking experience. Your backpack needs to be properly fitted to your body. If your backpack moves and doesn't fit your body, it'll be uncomfortable, and you won't be able to concentrate on riding. Also, if your backpack doesn't keep your balance, there can be severe consequences.
A backpack with many adjustable straps will allow you to adjust the straps to your needs. The backpack's weight should be evenly distributed on your back and supported by straps if you want to carry a lot of items. Soft pads on the straps make cycling more comfortable.
Additional Features
You will be happy to know that a superior quality mountain biking backpack has some fantastic additional features. These backpacks are straightforward to maintain. You can easily wash these packs by using a mild soap. These are machine washable, but it would be better if you washed them with your hands. Furthermore, dedicated pockets permit you to keep weather-resistant gear in your pack to protect it from adverse weather conditions. Rain covers can be used to protect it from heavy rains.
With its ample space, you can store all the tools you need to solve mechanical problems. Sometimes a few brands come with a whistle for security. Several models come with a sternum strap magnet to ensure convenient accessibility.
Hipbelt pockets or mountain bike rucksacks offer a comfortable place to keep necessary items close at hand. Whenever you want to get something swiftly, you can use this compartment. The scratch-free and impact-resistant texture protects your backpacks when you are riding over challenging trails.
Most backpacks are made of BPA-free materials. So, you don't have to worry about health issues as it's completely free from toxic chemicals. Finally, the overall sturdy structure allows cyclists to use it for long days.
Frequently Asked Questions
What should I carry in my MTB backpack?
It depends on how much time you are planning to spend mountain biking. Whenever you're planning a trip, you should keep these ten essentials. The essential items include food, hydration, a patch kit, spare tubes, a tire lever, a multitool, chain lube, a pump, protective gear, and most importantly, a first-aid box. If you have a smaller pack, you may have to adjust the list accordingly.
Which hydration pack is the best?
Among other models, Osprey Packs Raptor Hydration Backpack is our top recommendation. Specifically designed for mountain biking, Osprey Packs Raptor comes with great features and is incredibly comfortable. Whether you intend to go on long trips or want convenient storage, the Osprey hydration pack will never disappoint you. In addition, the price is also reasonable.
How do you prepare yourself for a long mountain bike ride?
You have to consider some essential factors before heading out for a long mountain bike ride. Firstly, you need to store sufficient food and hydration. Foods like sugar, chocolates, and protein shakes can be sources of energy. Then you should pace yourself for a while. Your cycle should be checked, most notably.
Because if you face any awkward situation after sometimes of biking, it will be more disturbing. After that, you should include enough clothes or armor on your preparation list. Make sure you don't put too much pressure on yourself. And that's why getting good mountain bike backpacks is essential.
What is the best CamelBak?
CamelBak Powderhound hydration pack is the best one. It offers ample storage space and keeps your water warm while riding in cold weather—moreover, it is a comfortable and affordable option for outdoor enthusiasts.
Are mountain bike backpacks waterproof?
None of our 5 Best Mountain Bike Backpacks are naturally waterproof. However, most of their construction materials are water-resistant. However, if it rains in a torrential downpour, your bag is more likely to get wet.
A backpack cover is a suitable solution for this problem. The lightweight and removable features of backpack covers allow you to protect your bag from heavy rain in just a few seconds. Further, some popular brands offer pack covers with their hydration backpacks. So, you don't have to face problems adjusting its size.
Can you put ice in a hydration pack?
Obviously, you can add ice cubes to your hydration reservoir to chill water—all you have to do is fill the reservoir with half the amount of ice cubes. You should be careful not to pour too much ice as it can freeze your entire bag. Alternatively, you can refrigerate your hydration system for a few hours.
Are mountain bike backpacks suitable for motorcycling as well?
You can utilize these MTB backpacks not only for mountain biking but also for regular cycling. Since motorcycling needs extra protection than mountain biking, these backpacks are big for cycling purposes. Most time, motorcycles come with integrated storage space; in this case, mountain bike backpacks are unnecessary and only increase weight.
What is the difference between an MTB backpack and a regular bike commuter backpack?
The primary difference between an MTB pack and a regular bike commuter backpack lies in its design and purpose. MTB backpacks are built to withstand the rough and rugged conditions of off-road biking, featuring more durable materials and added ventilation for better airflow. They often include integrated hydration systems, allowing riders to stay hydrated without stopping. On the other hand, regular bike commuter backpacks are designed for urban cycling and daily use, emphasizing comfort, storage compartments for gadgets, and often featuring reflective elements for increased visibility.
Do mountain bike backpacks have camera compartments or should I get a special camera backpack?
While some mountain bike backpacks may offer padded compartments or pockets suitable for carrying a camera, they are generally not specifically designed for camera gear protection. If photography is a significant aspect of your biking adventures, it's recommended to invest in a specialized camera backpack. These camera bags provide dedicated compartments for various camera equipment, such as lenses and accessories, and offer better padding and protection to safeguard your gear from potential damage during your ride. Additionally, camera backpacks often feature easy-access points, enabling you to quickly grab your camera for those impromptu shots without having to rummage through your bag.
Final Words
A top-notch cycling backpack is an absolute must-have for any dedicated mountain biker. When it comes to enjoying the perfect ride, you need a reliable hydration backpack to carry everything you need with ease. The market today offers a wide range of mountain biking backpacks, with each brand showcasing its unique features and benefits. However, it's essential to remember that everyone's needs are different, and the ideal choice will vary based on individual preferences.
In this article, we've unveiled the top 5 mountain biking backpacks and provided crucial factors to consider before making a purchase. Additionally, we've included an FAQ section to help clarify any doubts and guide you in making an informed decision. After thorough research and personal experience, I wholeheartedly recommend the Osprey Raptor 14 Mountain Bike Backpack as our editor's choice. It strikes the perfect balance between functionality and comfort, ensuring you can carry everything required for an unforgettable mountain biking adventure.
Related Articles