Best Bike Commuter Backpack Reviews 2023 & Buying Guide
Whether you want to spend some chilling time on holidays or commute easily to the office and school, bike travel can meet all your needs.
In addition, cycling is a great way to stay healthy and helps quickly achieve your fitness goal. But what about the stuff you want to carry while commuting?
In the current marketplace, a wide range of bike backpacks are available for commuters.
Why Should You Use a Backpack for Bike Commuting?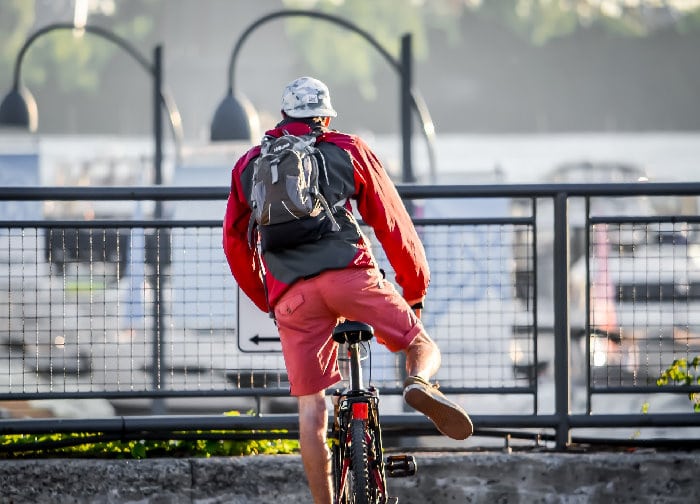 If you're still using that conventional rucksack, you're not aware of the great benefits of commuter backpacks. Cycling backpacks are specifically designed for cyclists that let them haul everything for regular activities. These backpacks allow you to carry water, books, papers, work-related technologies, clothing, security equipment, and whatever you want to keep.
Most of the time, people don't pay much attention while choosing it, although it plays a vital role in making your commuting life easier and more comfortable. Having the wrong backpack is nothing but an extra nuisance to your bike commuting. Hence, you need a suitable one that can meet your requirements.
5 Best Bike Commuter Backpacks Reviews
And now, I will go through my selection of the 5 best cycling commuter backpacks I have selected from all models available in the market.
Osprey Metron Bike Commuter Pack
The Metron backpack by Osprey is an Urban-styled bike commute pack equipped with features in subdued silhouettes. This pack includes a dedicated pack that is perfect for helping you on both rainy and sunny days.
The added advantage is its separate clothing and shoe pockets. If you need to go somewhere far away, you can keep enough stuff. It also features a padded laptop sleeve compartment that can hold up to 15 inches laptops.
Designed with reflective print and zippered pockets, which ensure safety. The pack volume size can be customized within 26 to 8 liters for its StraightJacket compression. Though the blinker light doesn't come with the product, a specific point is available for blinker light attachment.
Design & Quality
Osprey Metron Backpack is one of the best large-storage options for bicycle commuters. It includes a rain cover to protect you from a heavy downpour. A lid-lock helmet holder is included to make your biking trip comfortable.
The stretch mesh pockets on the front panel allow you quick access to items. If you need small or frequent items while riding, the built-in front organizer pocket will enable you to keep them.
These bicycle backpacks include a zippered side panel pocket for the safe carrying of a drink or phone. The smart look with bike-specific features is something that can attract commuters towards this product.
Features:
Multiple integrated compartments
Air-suspended back panel
Aesthetic design
The overall dimensions are 22 x 15 x 6 inches
The weight is approximately 2.65 pounds
Pros:
Offers stability
Easy to maintain
Convenient structure
Sturdy & durable
Good value for money
Cons:
Blinker light is not incorporated
Osprey Radial Bike Commuter Backpack
Osprey Radial Commuter Backpack comes in two different colors- Rise orange & Black. The main compartment padded laptop sleeve is perfect for carrying 15 inches laptops. This bike backpack has an integrated rain cover to prepare yourself for any adverse weather.
Osprey commuting backpack offers LidLock helmet attachment and a loop for blinky light to keep you secure at all times. If you have a busy working schedule and need to carry more items, the individual organized compartments allow you to store your electronic devices along with regular stuff.
It looks roomier, with the 26 to 34 liters extra carrying capacity for its zippered expansion. Also, it features a zippered side panel stretch mesh pocket to accommodate all your daily essentials.
Design & Quality
Osprey commuter backpack comes with a built-in Kickstand. When you're not riding your bike, you can keep the pack in an upright position. It features the spacious volume to stash in a full day's worth of gear from work to the gym and home again.
Loading with dedicated pockets that separate your cycling kits from the other daily stuff. This nifty commuter backpack offers an adjustable rain cover to protect you from rainy days.
Two side straps with a lid-lock helmet holder offer flexibility during cycling. Whatever you want to keep sunglass or electronic gadgets, this backpack provides sufficient space to fit your requirements.
Features:
Scratchproof pockets
The overall measurements are 20 x 14 x 12 inches
Offers airspeed back panel
Cooperative customer service
Greatly-visible rain cover
Pros:
Multiple spacious compartments
Extends for additional storage
Convenient handling
Long time usability
Reasonable cost
Cons:
Not good-quality reflective print
Tough to access a water bottle from its storage pocket
Brooks England Pickwick Day Pack
The Italian company Brooks has been manufactured this Pickwick Day Pack by using 100-year-old traditional techniques. It's one of the best vegetable tanned leathers all over the world. The manufactures have been making qualified products for their customers since it's founded. They still supply the finest cycling accessories, as user satisfaction is their main motto.
This backpack includes a roll-top closure that protects the inner stuff from the elements. A massive front pocket allows you to stash all standard kits. In addition, built-in side pockets for easy accessibility. It offers a versatile feature. Not just for commuting, you can utilize it whenever you want.
Design & Quality
This commuter pack is made of waterproof cotton canvas averts soaking and premature wear. Moreover, the rich leather detailing gives it a durability feature. It offers a dedicated tool pocket to keep your compact tools, spare tube, and multi-tools from the regular contents.
Since the production materials are Bluesign certified, it eliminates toxic substances from the beginning of the construction process. Brooks England commuter backpack includes roll-top closure, so you can easily organize your daily transporting needs. Besides, it comes with an adjustable feature that allows you to customize the interior space. The nature-friendly and sturdy material with a modern look can be a perfect companion for bicycle commuters.
Features:
Ergonomic design
Spacious main compartment
Adjustable side straps
The weight is about 3.9 pounds
The width of tanned leather is 3.5 mm
Pros:
Enhanced stability
Ergonomic design
Convenient maintenance
Weatherproof product
Cons:
Thule Pack-n-Pedal Commuter Backpack
Thule Pack-n-Pedal Commuter Backpack is the final product on our choice list. With its precise curved lines, vast storage capacity, it's a great cycling backpack among commuters. It's quite famous because of its waterproof main compartment. The roll-top closures allow you to keep everything dry.
The rain cover with reflective screen print makes you visible in the dark area. This backpack features a removable laptop compartment with tablet sleeves. The stylish and weatherproof design is felicitous for bike commuting in all weather conditions.
Design & Quality
This backpack offers multiple compartments for your essential daily gear. Also, separated pockets keep your gadgets separate from the rest of standard kits. This commuting backpack features 360-degree reflective elements that enhance visibility from different angles.
A helmet attachment system is included to hold your gear while you're not using it. Two front pockets allow you quick access to necessary items. Also, it has mesh side compartments to carry your beverages or snacks, or phones. Overall, the right choice if you are seeking comfort while biking.
Features:
High visibility reflective print
Padded laptop compartment
Breathable back panel
Measures 18.9 x13.4 x 6.7 inches
IPX4 weather-resistant material
Pros:
Lightweight
Affordable price
Ensures safety
Longevity
Cons:
Overall quality needs to be improved
TIMBUK2 Robin Commuter Backpack
TIMBUK2 Robin Commuter Backpack is an exceptionally designed backpack for bike commuting. This backpack for bike commuting is loaded with internal laptop sleeves with hooks and a looped flap. It can hold up to 13 inches laptop safely when you voyage.
Although it's small in size, perfect for daily carry as it comes in a feature-packed weatherproof design. If heavy rains start suddenly, there is no reason to worry. These bicycle backpacks offer rain cover with a reflective panel that is arranged in a dedicated pocket which is a much-needed feature while riding your bike commuters.
The flat-top pack with magnetic closures keeps your stuff separate from the elements. Built-in hidden vista loop allows you to carry expensive items. This cycling commuter backpack features reinforced drainage holes inside pockets to protect your backpack from downpours.
Design & Quality
This small cycling backpack is made of Cordura Nylon, and the Cordura detail on the outside makes it an extremely durable quality which is perfect for a commuter bike. You can use this backpack for rugged performance. While you go out at night, it keeps you fully visible since it comes with a woven mesh reflective panel.
The back panel offers breathability that can give commuters a comfortable riding experience. Customizable shoulder straps along with a waist buckle help keep the backpack firmly attached to your body while cycling. In an overall view, this laptop commuter backpack is a good mid-range option.
Features:
Completely waterproof
Anti-scratch texture
Measures 10.8 x 19.7 x 5.31
The 20 liters large storage capacity
Weighs 2 lb.
Pros:
Great versatility
Unisex-style
Multiple organizer pockets
Budget-friendly price
Sleek & stylish appearance
Cons:
Low-quality water bottle holders
The top flap needs to be more functional
Important Features of Bicycle Commuting Backpack
The Best Cycle Commute Backpacks are the most reliable products for bicycle commuters. These bike backpacks come with outstanding features that separate it from other standard backpacks.
The waterproof texture is something that a dedicated commuter must look for. While an old-fashioned backpack doesn't let your skin breathe, a good quality bike commuting backpack has a breathable back panel.
The bike backpack equally distributes the weight on your backside, so you don't get irritated during cycle riding. Since it offers built-in side straps, these cycle backpacks don't need additional fixings attached to the bike's handle.
While carrying a commuting backpack, you don't have to think about security. The built-in locks, zippered chain, hidden pockets, and slash-proof fabric construction make these backpacks one of the safest choices for carrying your expensive stuff.
Endless options are available based on storage capacity. Also, a few come with internal organizer compartments to stash your stuff. Whether you want to keep your laptop safely or want to use it just for everyday essentials, it helps you carry an extra load.
The cycling commuter backpacks are attainable at a budget-friendly price. Moreover, the best bike commuting backpacks are incredibly versatile. Not just for commuting, you can use it for mountain biking or even road biking.
When browsing a long list of models of backpacks for bike commuting on the market, we have compiled a list of the five best backpacks for commuter cycling that will help you make a quick choice. Without further delay, let's check out the top five products!
Essential Factors to Consider Before Buying (Buying Guide)
From bike commuting to daily activities, a cycle commute backpack is a must-have item. Nowadays, plenty of commuting backpack models are available for commuters. Before you delve into making the decision, you need to consider some crucial features.
Most remarkably, if you want to get the best service from your backpack, you should give importance to the product quality rather than the price. You shouldn't buy something for which you will have to face an extra hassle later. Let's take a look at which features make a commuting backpack compatible with similar products.
Comfort
The first factor in our buying list is how much comfort a backpack can give you. If you ended up buying an inferior quality, it would compress your neck and backside. You should choose a product that can offer enough comfort during your riding.
Air-speed Backpanel
A good backpack must be equipped with a breathable back panel that enhances the ventilation system. Thus, commuters can ride the bike quickly and don't get tired too soon.
Adjustable Straps
Usually, a commuter backpack comes with customizable side straps along with a waist strap for helmet attachment. Having a bag with adjustable straps can equally distribute the weight on the commuter's back. Make sure your backpack is loaded with this feature.
Well-padded
A Built-in well-padded backpack lets you carry extra load conveniently and don't put much pressure while you're riding.
Capacity
The storage capacity ultimately depends on your demands. If you want one for long trips, 20 to 30l commuter backpack will be perfect for you. On the other hand, if you have many things in your busy daily schedule, you will need immense size. But if you intend to use it to keep regular and a little essential, you can go for small storage sizes.
Clothing & Shoe Compartments
Some decent commuter backpacks come with individual compartments for shoes and clothing items. To keep your dirty clothes along with other things, is no longer a big issue. If you plan to go on a weekend trip, then a backpack with separate pockets can be a suitable pick to make your vacation more vibrant.
Laptop Compartment
If you are going to carry laptops, you should look for backpacks equipped with a padded laptop sleeve compartment. Make sure your laptop size can perfectly fit in your backpack.
Pockets
The zippered mesh pockets can keep your electronics securely and tightly. You should check that the pocket size is spacious enough to stash your daily stuff. A few brand offers dedicated hidden pockets for your valuable things.
Waterproofing Properties
An essential factor that a cycling pack must-have. Your bag should be made of waterproof materials and must include a rain cover. A dedicated backpack offers a reinforced drainage system to give the highest safety to your backpacks. Now cycling on rainy days is nothing about to concern. You can comfortably enjoy your riding in even heavy downpours.
Closure Type- Roll-top or Flap
The backpacks closure part comes in two different types- roll-top and flap.
Roll closure offers the anti-splash feature. All you have first to open the axillary closure and then side buckles, and it's easy to open. You should roll it at least 3 to 4 times to keep your stuff secure and water-proof.
If we talk about flap closure, it's relatively easy to handle than roll closure. In this case, you have to open drawstrings to reach inside the backpack. After keeping the stuff inside, simply tie the strings and close the flap forwards.
If you are looking for something easy to handle, you can choose flap closure. On the other hand, if water-resistant is your primary concern, roll-top closure can be suitable for you.
Durability
Your commuting backpack should be manufactured with high-quality materials and sturdy enough to give you a long time usage capability.
A low-quality product is likely to damage easily, which is nothing but a waste of money. You must check the product's specifications before buying it.
Hydration
If you have a purpose of utilizing your backpack for holidays or weekend trips, you should explore one that's loaded with a hydration bladder. So, you don't need to carry extra bottles with you. Fill up the bladder and enjoy your riding.
Reflective Details
The tremendous advantage that a commuting backpack offers. Most times, when you're riding in the dark or foggy place, this feature is going to help you. The high-visibility reflective screen allows others to detect you easily. This built-in quality is much necessary for road safety.
Additional Features
Since a good quality backpack is an essential gear for bicycle commuters, you should purchase one that's comparatively easy to maintain. Try to wash your packs with your hands, but they are also machine washable. You should make a combination of mild soap and warm water and then scrub it with a brush. Follow the user's manual to avoid product damage.
Some gorgeous backpacks are loaded with front dedicated pockets to stash all your items, which you frequently need while riding. A built-in kickstand is an added benefit for commuters. If you are tired of riding and sit somewhere to rest, you can keep the backpack in the upright position.
The scratch-proof texture is a must needed quality that a backpack should contain. You should make sure your packs are made of anti-scratch materials. Some great models offer blinker light attachment for extra safety.
As every people has different styles to ride their bikes, they want to take some aesthetic or stylish product to make them classy. But it is not a better idea to go for a look rather than performance.
Most importantly, your backpacks should have a versatile feature. The adjustable straps & buckles are sturdy to provide the pressure evenly on the backside. The zippered expansion offers flexibility to accommodate extra items, which you don't need always.
Considering all these properties, pick an appropriate one that has the ability to make your biking feeling refreshing as well as comfortable.
Frequently Asked Questions
What is a commuting backpack?
A commuting backpack is specially designed to fulfill commuter's demands. It should be water-resistant, spacious, highly visible, and contain enough compartments to carry all the stuff. These backpacks also should be well-padded, include a helmet holder, and, most importantly, be comfortable.
What is the best bike commuter backpack?
In my opinion, Osprey Radial Cycling Commuter Backpack is the best bike commuter bag. This backpack comes with qualified features that are important for a dedicated commuter. Moreover, the affordable price with large storage capacity makes it a perfect backpack for bike commuting.
What capacity of cycling commuter backpack is right for you?
The backpack storage capacity varies from 10 to 30 liters of commuter backpack. It depends on you which size can perfectly match up your demands.
Conclusion
There is no doubt that commuter backpacks are definitely a necessary item in our daily life. So, it doesn't make a bad idea to invest in it. In our article, we have attached all the necessary information that a commuter needs while buying a backpack.
Since plenty of brands are available globally, it might be a challenging task to pick one. We have included our top five products and an FAQ part to help you make a better choice just for your convenience. Now the task depends on you, choose one that perfectly matches your taste.
Related Articles